IRT Theater
Freek Show/Fundraiser: Carnival Round the Central Figure
&nbsp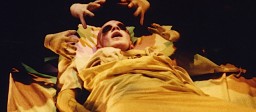 November 8, 2010
A benefit to support:
Carnival Round the Central Figure
Presenting at IRT: January 13-30, 2011
A young dying man unwillingly plays ringmaster in this absurd carnival, surrounded by forces of despair, denial, religion, and the personal fears of those who cannot let him go. Staged by Karen Kohlhaas as a heightened circus-like atmosphere, Diana Amsterdam's Carnival Round the Central Figure is a hi-wire act where the simple fact of death is not allowed.
First presented as a co-production of the Atlantic Theater School and Tisch School of the Arts Theater Department in 1996, then fully produced at Washington D.C.'s Gunston Arts Center, Carnival Round the Central Figure returns to New York this winter with director Kohlhaas and five of the original cast members–Livia Scott, Kori Rushton, Shane LeCoq, Cynthia Silver and Christine Rowan–uniting from all over the country to reprise their roles. The rest of the large cast including a rousing chorus will be cast exclusively from Atlantic Acting School alumni.
FREEK SHOW/FUNDRAISER
Free admission
All proceeds benefit… Carnival
Death Defying Acts | Freaks | Death Tarot | End of the Lifeline Fortunes | Kiss of Death | Scaffle | Body Painting | Tattoos | Scartinis
1 NIGHT ONLY
Monday, November 8
7-10:30 pm
@ IRT Theater
154 Christopher Street NYC 3B
Carnival Round the Central Figure
"Like dying itself, it's a weird unpredictable trip."
– Washington Post
Jan 13 – 30, 2011: Monday, Thursday, Friday at 7pm; Sat at 3pm & 7pm and Sundays at 5pm
ARTISTS/ACTS
Shayna Ferm — Shayna Ferm performs her music all over NYC, both solo and with her band, The Upper Deckers. Her comedy has been featured on Comedy Central, CNN, Glamour.com, heebmagazine.com, thefrisky.com and she's been nominated two years in a row for an ECNY award for Best Music Comedy Act. She is also a co-founder of the sketch comedy group Fearsome, and has written and produced and stars in their most recent opus, Grease 3: Threase. You may have also seen her on multiple Law and Orders as well as a slew of ridiculous commercials. Her debut album, Blonde, was released in 2008.She will be performing some comedy-rock songs on the guitar for the benefit.
RAGING TRIUMPH = Livia Scott and Sean Crespo — A free audit of the Gold Star Acting Workshop, taught by a couple of crazy and delusional failed actors: Collette Priester ("The Empress Of Dinner Theater," played by Livia Scott) and Rodney DeGiles (Sean Crespo), who describes himself as "A younger, sexier Gary Oldman with more range."
Livia Scott — Livia Scott is a critically acclaimed actress and character comedian who has been hailed as "A chameleon extraordinnaire" -The Comedy Central Insider, "A rising star" -Playboy.com and "I could watch her all day" by David Mamet. Her credits include the Comedy Central series Honesty (Webby Award), Law & Order, As The World Turns, the upcoming feature Snatched as Andrew McCarthy's kooky nurse, Late Night With Conan Brien, AMC's Date Night, and she pulls a Peter Sellers by playing 7 different characters in National Lampoon's Dirty Movie, directed by Christopher Meloni. Favorite theatre credits include Once In a Lifetime (Atlantic Theater Company), Honey in Who's Afraid Of Virginia Woolf (Westbeth), and Dorothy Parker in Historic Times (78th St. Theater Lab). Livia is on the writing staff and cast of Wake Up World, created by Lizz Winstead (co-creator of The Daily Show) and The Shushan Channel, by writers from The Daily Show with special appearances by Will Forte, Scott Adsit, Rachel Dratch, Jonathan Katz, Andy Richter and John Oliver. She also does stand up and is a double ECNY nominee for Best Emerging Comic Of The Year and Best Solo Show for Goodnight, O.J. based on real letters written to OJ Simpson, directed by Baron Vaughn and which ran for a year at UCB. Her current project is "Live And Let Livia," a video series attempting to create 365 different characters (youtube.com/liveandletlivia).
Sean Crespo — Sean Crespo is one of the most prolific and respected comedians in the New York scene, hailed as "Aggressive, sharp and smart" by the The Comedians magazine and winning an ECNY Award for Best Video for I Am Drugs. A graduate of Emerson College and the London Academy of Music and Dramatic Art, his unique style of high-brow/ low-brow humor has contributed to his being the youngest ever Senior Editor of National Lampoon, as well as a writer, performer and founding member of Wake Up World, the critically acclaimed Off-Broadway satirical morning show helmed by Lizz Winstead, co-creator of The Daily Show. "The best thing I've seen in a million years." -Rachel Maddow. Writing/performing credits include: MTV, AMC, The Electric Company, Comedy Central, FUSE, The Onion News Network, Michael Ian Black's Cracked Magazine, Time Out New York, Bravo, and many more. Currently, Sean is the head writer of Drink At Work, the sketch group and production house which creates videos, live shows, and was named "BEST COMEDY TROUPE" in 2008 by NY Press. Most recently Sean was featured in The New Yorker magazine when he appeared on Bloody Bloody Andrew Jackson star Benjamin Walker's comedy show Find The Funny. You can also see him every week in the popular long running video series No Prior Knowledge for Television Without Pity on Bravo.
Joe the Shark, Misty Lux and Apathy Angel
Joe the Shark — As a native Manhattaner, Joe the Shark grew up loving theater and is happy to provide the burlesque for this fundraiser. He has been called the busiest doorman in burlesque, and there really are few better jobs in the world. In addition to co-writing and co-producing HOTSY TOTSY BURLESQUE, Mr. Naftali also works with Princess Sunshine's Hard Candy Burlesque & Wham Bam Slam Variety Hour and is the co-producer of ORIGINAL CYN BURLESQUE. In 1987 Mr. Naftali founded Continüm Comics in and is also the author of numerous published short stories (facebook.com/JoetheShark).
Misty Lux — Misty Lux is a narcissistic, sideshow obsessed, Burlesque performing, evil genius who has been stealing my money in the name of art for years. She has the slightly questionable habit of thinking up stage acts involving dangerous talents she can't yet do then making her mission to learn them ( facebook.com/misty.lux).
Apathy Angel — New York City professional anarchist. Sarcastic, egotistic, amazing. An A+ failure, but still cooler than you. Known to play with weird food and strange animals. Hobbies include heavy drinking, nudity, and sarcasm. Burlesquer, model, and painter (apathyangel.carbonmade.com).
Pipeline Theatre Company — a New York based, non-profit company started by a group of emerging actors, directors, writers, and designers. Pipeline has produced five full-length productions since its inception in 2008 – Timberlake Wertenbaker's Love of the Nightingale, company member Tim Chawaga's Sleepless City, Charles Busch's Psycho Beach Party, company member Alex Mills' Shakespeare the Dead, and most recently Bekah Brunstetter's Fat Kids on Fire – hosted multiple evenings of new works by emerging downtown theater companies, and produced several short films (www.pipelinetheatre.org).
Performing ATTICS by Alex Mills. On this week's episode of ATTICS, a TV-show investigating the supernatural, a Druid with occult expertise and supposed mystical powers is interviewed about the haunted past of a Denny's restaurant.
Mary Jane Gibson — Mary Jane grew up in Newfoundland, trained in Montreal, and moved to New York after spending some time in Seattle. She is an actor and sometime playwright; plays include Anaphylaxis (IRT 3B residency) and (with Nicole duFresne) Burning Cage. Mary Jane also performs a one-woman Fatal Attraction. She is a founding member of The Fabulists (www.thefabulists.com).
Bree Sharp — Graduated NYU (Atlantic Theater Company) for Acting, released solo album with the cult hit, "David Duchovny" (Why Won't You Love Me), wrote 14 episodes of the children's anime show, "Magical Do Re Mi" on Fox and workshopped the new Pete Townsend rock opera, 'The Boy Who Heard Music' with New York Stage and Film. Her new electro-pop band, BEAUTIFUL SMALL MACHINES, has been heard on the new ABC show Castle, 90120 and The Hills and recently released her duet with Duran Duran's Simon Le Bon. She's still into sci-fi, animal rights and [adult swim] and shot her first commercial for KY Jelly a few months ago – her 96-year-old grandfather is very proud. Excited to be singing a couple of songs on acoustic for the benefit.
Chris Gerard and the CARAVAN Players — performing songs from the upcoming 3B workshop of Group Theory's CARAVAN.
Brandon Kyle Goodman/ Preacher with David James Boyd — Speak Straight to Jesus comes at you live from the airwaves of W.I.R.T. as the fiery Preacher from our play burns his message of hellfire directly into your soul, brought to fiery life by Brandon Kyle Goodman as the Preacher with the scorching church music of David James Boyd.