Screening and Conversation with Director Amy Rice
By The People: The Election Of Barack Obama (HBO Documentary Films)
&nbsp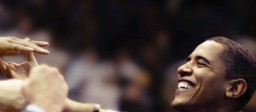 Saturday, March 6 - 7pm, 2010
Nearly a year before Barack Obama announced his candidacy for the presidency on Feb. 10, 2007, filmmakers Amy Rice and Alicia Sams began to roll cameras on the young senator. Over the next 19 months, they found themselves travelling all across the country, chronicling the daily ups and downs of the campaign trail as experienced by Obama, his family, his staff and volunteers. While Obama's meteoric rise to the White House has been well documented in the press, few have witnessed the behind-the-scenes story of the passionate campaigners who helped a young African-American freshman senator attain the nation's highest office.
Rice conceived the idea of making a documentary about Obama long before the Illinois Senator announced his decision to run for president. Inspired by his oratorical skills and star appeal at the 2004 Democratic Convention, she set out to film his political career in 2006. Rice approached documentary producer Sams, who joined to co-direct and actor Edward Norton's production company, Class 5, agreed to produce the project. After Norton approached Obama's team with the idea, the senator agreed to grant the filmmakers what turned out to be unprecedented and exclusive access.
Saturday, March 6 – 7pm
IRT Theater
154 Christopher St., buzzer 3B
New York, NY
Screening will be followed by drinks and conversation with director Amy Rice, hosted by journalist Marisa Mazria Katz (New York Times, Financial Times, Wallpaper).
Space extremely limited, buy tickets at: www.brownpapertickets.com/event/101025
Learn more at HBO Documentaries »