IRT Theater
STEPCHILD, A New Musical
&nbsp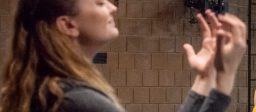 May 29-June 2 2019
This spring, IRT Theater will present a fully accessible, work-in-progress presentation of STEPCHILD, focusing on the complex and magical fusion of ASL, music, and theater brought to life by a visionary team of Deaf and hearing artists.
A WORK-IN-PROGRESS PRESENTATION: 
SOLD OUT IN TWO DAYS-For general audience please contact stepchild@irttheater.org to be placed on a waiting list. 
May 29: 7pm
May 30: 2pm & 7pm
May 31: 2pm
June 1: 7pm
June 2: 7pm
DEVELOPMENT DONATION: $20 and up
At IRT:154 Christopher st. NYC #3B (third floor)
Sign Language Interpreting for theatre goers who are Deaf and use American Sign Language as their primary means of communication.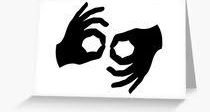 Inspired by the classic tale of Cinderella, "Stepchild" tells the story of Orella, a deaf girl coming of age during the Italian Renaissance. After a mysterious fortune teller teaches her how to communicate using sign language, Orella discovers a joyous new world. Her bliss is soon shattered by the ignorant and fear-mongering King, who ruthlessly punishes anyone that dares to embrace what makes them "different." With her kingdom rapidly succumbing to prejudicial fears, Orella must dig deep for  inner strength to combat darkness and save her people from tyranny. 
It is believed that American Sign Language (ASL) is the THIRD  most commonly used language in the United States. However, the long, grim and extraordinary path towards modern Deaf culture is hardly common knowledge.  Through the eyes of a Deaf heroine, this underrepresented historical topic is given a musical fairy tale spin in this sweeping  story of empowerment.
Book by David James Boyd & Chad Kessler
Music & Lyrics by David James Boyd
Based on an Original Idea by Kori Rushton

Director Kim Weild
Dramaturge Kalen Feeney
Director of Artistic Sign Language Terrylene Sacchetti
Musical Director Luke McGinnis
Producer IRT Theater

Associate Director Josh Castille
Associate Producer Shelly Guy
Assistant Director of Artistic Sign Language Siena Rafter
Featuring: Tony Chiroldes*, Zina Ellis, Craig Fogel*, Tamra Hayden*, Dickie Hearts*, Amelia Hensley*, Christopher Isolano*, April Lavalle*, Johnny Link*, Catalene Sacchetti-Manganelli, Alexandra Mazzucchelli*, Nicole Vande Zande*,  and Alexandria Wailes*
Production Manager Jaclyn Biskup
Stage Manager Miriam Rochford*
Assistant Stage Manager Samuel Langshteyn

Lighting Designer Annie Wiegand
Lighting Supervisor Jennifer Hill

Musicians Luke McGinnis, Evan Tyor and Camellia Hartman
Witters Assistant/OC supervisor Ann Barkin
Assistant Director Rose Beth Johnson Brown
Publicity and Social Media Manager Carm King
General Assistant Emilia Salazar
Interpreters Shannon Abruzzo, Candace Broecker-Penn, Claire Bretschneider, Maria Cardonza, Jacinda Damas, Lisa Dennett, Kimberly Hale, Emily Hart, Jamie Hays, Michael Kourouklis, Bill Moody, Christine Quinton,Victor Rivera and Amanda Stein
*Appearing courtesy of Actors Equity Association
Photo Credit Nina Wurtzel
Original Artwork by Olga Whitmoyer

Council for IRT Theater 
S. Jean Ward | Frankfurt Kurnit Klein & Selz PC
For more information, contact Susan Gurman, Gurman Agency LLC
assistant@gurmanagency.com or 212-749-4618;
PRESS
Plays With a Difference: Steppenwolf Launches the Mix List
-American Theatre

Deaf And Hearing Broadway Vets Reunite For Presentation Of New Musical STEPCHILD
-Broadway World

Deaf and Hearing Theatre Professionals Collaborate in New Musical 'Stepchild'
-The Mighty
Previewing 'Stepchild, A New Musical' in the Rough Draft Festival at LaGuardia Performing Arts Center: An Interview with David James Boyd, Chad Kessler, and Kim Weild
-DC Metro Arts
The leading Sign Language channel, DPAN, (Deaf Professional Artist Network), shows clips and interviews on opening night of Stepchild's workshop at the Rough Draft Festival In NYC.
-DPAN Feature, TRUBIZ Entertainment
IRT Theater is a grassroots laboratory for independent theater and performance in New York City, providing space and support to a new generation of artists. Tucked away in the old Archive Building in Greenwich Village,  IRT's mission is to build a community of emerging and established artists by creating a home for the development and presentation of new work. Some of the artists we have supported include Young Jean Lee, Reggie Watts and Mike Daisey.
This program is supported, in part, by public funds from the New York City Department of Cultural Affairs in Partnership with the City Council, New York State Council on the Arts, The Nancy Quinn Fund, a project of ART-NY, Mostly N Charitable Foundation Trust, and Mostly Z Charitable Foundation Trust.
PLEASE NOTE: All sales final and there is no late seating at IRT Theater.
***IRT is a fully wheelchair-accessible facility.***