You Sound Like a Girl
You Sound Like a Girl
&nbsp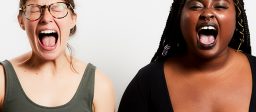 September 10-15 2019
IN RESIDENCE: August 20 – September 16, 2019
Starting in infanthood, cis women's and trans women's voices are constantly criticized, conditioned, and policed: Shrill, harsh, too low, too high, boyish, girly, too loud, too quiet, etc. No wonder so many of us are silenced, since every time we open our mouths we are subject to scrutiny. And what does it even mean to "sound like a girl"? The You Sound Like a Girl performance and voice workshop empowers audience members to interrogate this question and reclaim the answer.

PERFORMANCES: 9/10-9/15
TIME: Tues-Sat 7:30pm, Sat-Sun 2pm
LENGTH OF SHOW: 2 hours
PRICE: $15
At IRT:154 Christopher st. NYC #3B (third floor)
Artists/Creative Team & Bios
Colleen Hughes (Director/Creator, she/her) is a Brooklyn based director and arts administrator, and creator of You Sound Like a Girl. Her select directing credits include, What Screams I Hear are Mine by Annalise Cain (reading, The Tribe Theatre Company), The Shapes We Make With Our Bodies by Meg Whiteford (The Hive), Jelly Bean Junkyard by Sean Pollock (Under St. Marks), Chatroom by Enda Walsh (The Hive), Let Them Eat Cake by Ted Malawer (TinyRhino), and Disco Pigs by Enda Walsh (A.R.T.'s Oberon). Her assisting credits include 12th Night by William Shakespeare, directed by Shira Millikowsky (A.R.T. Institute) and Death of a Salesman by Arthur Miller, directed by Phil Soltanoff (Skidmore College). Colleen studied directing at the National Theatre Institute at the Eugene O'Neill Theater Center and theater at Skidmore College. www.colleenehughes.com
Joy Lanceta Coronel (Vocal Consultant, she/her) is a voice, speech, and dialect coach based in NYC. In addition to coaching privately, Joy has coached alongside Centre Theatre Group, Ma-Yi Theatre, NAAP, New Dramatists, Attic Theatre Co, and Comedy Central. She has served as speech faculty at HB Studio, AADA, and College of Staten Island. Joy holds an MFA in Voice Studies from Royal Central School of Speech and Drama, University of London. www.joylancetacoronel.com
Martina Fernandes (Performer, she/her) is a Queens-based actress, writer, and pianist currently studying at the Atlantic Acting School in New York City. She is dedicated to women's and queer rights as well as keeping the conversation of what true inclusivity means active and challenged. She thanks her mom and dad for all of their love, and the women of You Sound Like a Girl for their teachings and bravery.
Sara Jane Munford (Performer, she/her) is a multimedia performance artist, designer and puppeteer based in Brooklyn, New York. She is the resident set designer and puppet captain of Little Did Productions. Currently, Sara Jane is working on birth/control/project, a community based art making process and art installation intended to create a space to empower female identifying participants in the pursuit of autonomy over their bodies. For more information, email sarajane.munford@gmail.com.
Alessandra Ruiz (Performer, she/her) is a Latina actress who moved from Los Angeles this January. She graduated from California State University, Fullerton with a B.A. in Theatre Arts, emphasis in Devised/Physical Theatre. Her NY tenure has already included shows at the Gene Frankel Theatre and St. Paul's Lutheran Church. Alessandra is very excited to be creating with the You Sound Like a Girl cast and crew. She wants to use theatre to open minds and hearts and create a more understanding society, and believes theatre is a powerful art form that can truly make change. www.alessandraruiz.com
Alexandria Smalls (Performer, she/her) is an actor, writer and director who hails from Brooklyn, NY. She has an AS in theater from BMCC and a BA in Drama and Africana Studies with a focus on Prison Studies. She is an activist with a passion for social justice issues and uses her creative work to explore difficult conversations on topics such as race, economic inequality, and education.
Rev. Yolanda (Performer, she/her) is a singer/songwriter/trans-femme genderqueer performance artist and interfaith minister, originally from Muscle Shoals Alabama, the Hit Recording Capital of the World. Rev. Yolanda and husband Rev. Glen Ganaway are the founders of the monthly "spiritual happening" Church With A 2 Drink Minimum. Rev. Yolanda's ministry and body of musical work has been captured on film by Avaiya Media with the movie "Rev. Yolanda's Old Time Gospel Hour" (available on Amazon), and has been honored with induction into the The GLBT Hall Of Fame, the Blues Hall of Fame, and two MAC Awards (Manhattan Association of Cabarets and Clubs). She is currently working on a full length, autobiographical musical theater piece entitled "The Church Of The Alien Love Child Presents: The Passion of Rev. Yolanda." yolanda.net
Dylan Amick (Projections Designer, he/him) is a Virginia native writer, director, and storyteller based out of New York. A production design student at Virginia Tech, Dylan began his career working regularly as a lighting and video designer and technician off-broadway. He was the Associate Artistic Director of Critical Point Theatre from 2013-2018 where his work was featured in The New York Frigid Festival and Capital Fringe Festival. He was the co-creator of The Grayscale Podcast (iTunes) and the web series En Route (YouTube). Learn more at dylanjamick.com.
Kenzie Carpenter (Lighting Designer, she/her) is an NYC-based lighting designer. She graduated from Michigan State University with a BFA in Design specializing in Lighting. Most recently she designed lights for The Tempest with No Name Collective and Heist! A New Musical; served as associate designer for Selkie; and completed her apprenticeship at Juilliard for master electrician work. She's very excited to be working on YSLAG. Check out her other work at kenzievcarpenter.com.
Sarah Finkle (Scenic Designer) Sarah Finkle (Scenic Designer) is a Brooklyn based fiber and installation artist from Upstate New York. She uses textile techniques and natural fibers to create environments where we can explore how our selves and our bodies perceive and interact within space. She has participated in several group shows in New York and abroad, including at Sotheby's Institute, Vogue Knitting, Gowanus Loft, Bískúr Gallery, Textílsetur, Textile Arts Center, Tang Museum, Schick Art Gallery, and Art Studio Fuji. She has further explored textiles within scenic design, creating interactive fiber installations for the productions of Chatroom (The Hive), The Shapes We Make with Our Bodies (The Hive), You Sound Like A Girl (The Hive), Echo (Colonel's Row, Governor's Island), and Ghost Women (Triskelion Arts). She has been an Artist-in-Residence at the Textílsetur (Blönduós, Iceland), the Textile Arts Center (Brooklyn, NY), Dragon's Egg (Mystic, CT), Eileen Fisher Making Space (Brooklyn, NY), and Textílmiðstöð (Blönduós, Iceland).
Courtney D. Garvin (Videographer & Photographer, she/her) Courtney D. Garvin is a visual artist currently based in NYC. She received her B.S. in Communications and Rhetorical Studies with a minor in Art Photography from Syracuse University's College of Visual & Performing Arts. She is a Magnum Foundation 2018 Photography & Social Justice Fellow. Her work examines Blackness and the ways in which it has been portrayed across various mediums. She also has a deep interest in family histories, memory, storytelling, sexuality, and challenging the boundaries between relationships. www.cdgarvin.com
Rachel Levens (Dramaturg, she/her) is a Brooklyn based new play director, dramaturg, and applied theater artist. Rachel's directing has been seen at La MaMa, Edinburgh Fringe Festival, United Solo, The Tank, Dixon Place, Hudson Guild, and The International Human Rights Festival at The Wild Project. Her dramaturgy work has ranged from production dramaturgy, new play development, literature performance, and dance dramaturgy. She is the resident dramaturg for The Holding Project, a dance company based in Portland, Oregon. Rachel holds a BFA in Theater with an emphasis in Original Works from Cornish College of the Arts in Seattle, WA. www.rslevens.com
Margaret Montagna (Sound Designer, she/her) is freelance sound designer, engineer, and technician born and raised in Brooklyn, NY. She first got involved in theatrical sound during her sophomore year of high school, and hasn't stopped since. Margaret has designed at various venues throughout Manhattan, including Raw Pasta (The New Ohio Theater), Pippin (Theater for a New City), Anna in the Tropics (Stella Adler Acting Studio), Wizard of Oz (Bishop Kearney High School) Queen (Astoria Boys and Girls Club), Prisoners of Quai Dong (The Tank), Williston (IATI), Holy ghosts (Urban Stages), The Color of Desire (Stella Adler Studios), They Promised Her the Moon (Theatre at St. Clements). margaretmontagnasd.com
Emily Rose Prats (Producer, she/her) came to NY more than a decade ago to get her BFA in Drama from NYU/Tisch. Since then, she's produced a country music EP, performed Shakespeare, voiced commercials, taught music to children, and now works in marketing for startups. She believes in theatre as a teaching tool and hopes You Sound Like a Girl can empower women and girls to stop internalizing misogyny and make themselves heard. Follow her thrifty, feminist adventures on insta @the_gremily and/or offer to publish her children's book.
IRT Theater is a grassroots laboratory for independent theater and performance in New York City, providing space and support to a new generation of artists. Tucked away in the old Archive Building in Greenwich Village, IRT's mission is to build a community of emerging and established artists by creating a home for the development and presentation of new work. Some of the artists we have supported include Young Jean Lee, Reggie Watts and Mike Daisey.
This program is supported, in part, by public funds from the New York City Department of Cultural Affairs in Partnership with the City Council, New York State Council on the Arts, and The Nancy Quinn Fund, a project of ART-NY.
PLEASE NOTE: All sales final and there is no late seating at IRT Theater.
***IRT is a fully wheelchair-accessible facility.***