Pamela Enz/Vera Beren/Bad Rep
w'Holy unHoliday series of events "Fractured Hearts and Lurid Details"
&nbsp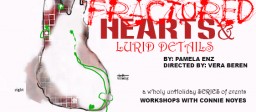 Dec. 20-31 2016
IN RESIDENCE: December 20- January 2, 2017
Part One & Two of The Family Plays
"Fractured Hearts and Lurid Details "
America's Big Band period of the1930's and 40's open hearted beat provides a sound track for this wistful pean to a romantic ideal that shattered shortly after it reached its zenith in the imaginations of 1950's America although it continues to live on in the DNA of lovers all around the globe.
"Are You My Kitchen Table?"
"…and when you're gone..who's gonna walk me down the street?"
An exploration of what happens when the music stops and we forget to continue dancing anyway. Mothers, gramma and little girls look to each for the next steps, who leads whom, whether to take them together, or choose an altogether different journey on a solitary road.
PERFORMANCES: Dec. 21- 23, & 27- 31, 2016
TIME: 8:00pm (Dec. 31 performance 6pm)
LENGTH OF SHOW: 90 Minutes
PRICE:$20 for play
Combo Special:
Connie Noyes Workshops & Play $27
Workshop alone $16
**Connie Noyes Workshops- One-Sock Tree & Where Does Love Live?

One-Sock Tree
The lonely one-sock will be used as a jumping off point to inspire contemplation of loss, love and all things left behind.
Where does love live?
Ms. Noyes will use music, dialog and characters from Ms Enz's Fractured Hearts and Lurid Details to explore the Heart acknowledging and opening imaginations to infinite possibilities of connection.
At IRT:154 Christopher st. NYC #3B (third floor)
Performers:
Connie Castanzo *
Gordon Ramsey
Maja Wampuszyc*
Maddy Campbell
Nicole Beninato
Paul Megna
* of course appearing courtesy AEA
BIOS:
Pamela Enz
"Language is a grid on reality. I strive to create worlds that transcend explanation, moments of seeing where the intangible becomes palpable. Working towards an insight into love and being that doesn't line up with the shorthand of everyday vision I aspire to zoom past the representational into the realm of poetic realism. Theater is the medium that best serves my storytelling, supported by an innate skill that I have with dialogue, and because of the still listener in me who came gradually to understand the art that lies in the hearing what lays deeper beneath both words and silence it remains my greatest joy."
Connie Noyes–Visual Art Workshops, creating costumes & sets
The work of Connie Noyes examines the social constructions of idealized beauty and the values assigned to it by transforming inherited, found, forgotten, discarded, and unvalued materials. As objects her work often exemplifies the existential struggle for existence while questioning the over-determined role beauty plays.
Vera Beren – Direction, Sound Design and Installation
Vera is a NYC actress, director, sound designer, composer and singer. Her work as a performer, director and/or sound designer has been seen in productions at Abrons Art Center, HERE, The Signature Theatre, Ontological, La Mama, 3 Legged Dog, The Vineyard Playhouse, TNC, Dixon Place, The Culture Project, The Kitchen, EST, 29th St. Rep, Harold Clurman Theater, Soho Rep, Symphony Space, The Flea, Blue Heron Arts Center, 45 Bleecker, Theatorium, Paradise Theater, One Dream, The Women's Project & New Georges. She is a founding member of Concrete Temple Theatre and has worked with The Living Theatre, The Alchemical Theatre, and her own company Let's Slap Ulysses http://www.broadwayworld.com/people/Vera-Beren/#
Robert Neapolitan – Stage Manager
Angela Rodriquez – Make-Up Instagram linage
IRT Theater is a grassroots laboratory for independent theater and performance in New York City, providing space and support to a new generation of artists. Tucked away in the old Archive Building in Greenwich Village, IRT's mission is to build a community of emerging and established artists by creating a home for the development and presentation of new work. Some of the artists we have supported include Young Jean Lee, Reggie Watts and Mike Daisey.
This program is supported, in part, by public funds from the New York City Department of Cultural Affairs,New York State Council on the Arts, Office of Council Member Corey Johnson and The Nancy Quinn Fund, a project of ART-NY.