What Will the Neighbors Say?
Untitled Shape Show: A New Musical for Young Audiences- ASL Interpreted Performances
&nbsp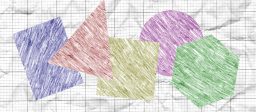 Aug. 26 & 27 2017
IN RESIDENCE: August 8-28, 2017
Untitled Shape Show is a new musical for young audiences that celebrates self-expression, promotes individuality, and posits that it is our differences that make us beautiful. Inspired by the WWTNS? commitment to diversity and inclusion, the show uses the metaphor of shapes to create a positive, affirmative theatrical experience. 
The show follows the life of a young Polygon as they try to transition into both a new school and adolescence. Using non-gendered shapes as a stand in for human characters, Untitled Shape Show is designed to resonate with all students regardless of their gender, ethnicity, or creed.  The performance puts on stage situations that young people experience on a daily basis: bullying, stress, and understanding yourself. Book writer and company member Sam Hood Adrain has worked as an actor, director, and teaching artist in theatre for young audiences for over a decade and brings that expertise and experience to this project. Composer and lyricist Will Davis is a Brooklyn-based musician and actor whose musical, And Then: A Science Fiction Folk Event, premiered at the New York Fringe in 2016. Company members Hood Adrain, James Clements, Jorge Morales-Picó, and Ana Cristina Schuler will be performing and sharing direction. The rest of the cast will consist of young actors local to NYC as well as other professional actors from the community. The WWTNS? team have extensive experience in youth theatre at companies including Missoula Children's Theatre, Jovenes del 98 Theatre, and Kaleidoscope Children's Theatre. The show is supported by the Gracie Annabelle Fund for the Arts and the Rhode Island Foundation.
PERFORMANCES: August 26 & 27, 2017
TIME:11:00 AM
LENGTH OF SHOW:35 mins
PRICE: $10.00
At IRT:154 Christopher st. NYC #3B (third floor)
ASL interpreted Performances

Performed by Sam Hood Adrain, Mika Bella Bergonzi, Hailey Duarte, James Clements, Cynthia Nesbit, Julia Labusch, Jorge Morales Picó, Matt Retcho, Victoria Rooney, Ana Cristina Schuler,  Aubrey Swain, Misha Tremols, Malia Tremols, Jenna Young
Music & Lyrics by Will Davis
Book by Sam Hood Adrain
Set/Prop Design Adam Ramsey and Advanced Production and Design
Costume Design by WWTNS?
Stage Manager: Maria Privitera
ASL interpreted by Jamie Hayes, Victor Rivera, and Liz Milana
Produced by WWTNS?
IRT Theater is a grassroots laboratory for independent theater and performance in New York City, providing space and support to a new generation of artists. Tucked away in the old Archive Building in Greenwich Village,  IRT's mission is to build a community of emerging and established artists by creating a home for the development and presentation of new work. Some of the artists we have supported include Young Jean Lee, Reggie Watts and Mike Daisey.
This program is supported, in part, by public funds from the New York City Department of Cultural Affairs, New York State Council on the Arts, and The Nancy Quinn Fund, a project of ART-NY.
PLEASE NOTE: All sales final and there is no late seating at IRT Theater.
***IRT is a fully wheelchair-accessible facility.***