Matthew Antoci & Hillary Gao
Untitled Gabbie Project
&nbsp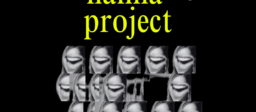 August 27, 2023
IN RESIDENCE: August 22 – 28, 2023
The Untitled Gabbie Project synthesizes and documents 48 hours of footage on internet personality Gabbie Hanna's TikTok from August 22-24, 2022. The story: Gabbie's been journaling, writing music, working super hard – and also just learned she's God's Messiah. After going public, she's on the front-page of the Internet. California Police and a rogue fan named Nick invade her house. In the background, a crowd forms, unsure if they should look. Her race is debated, her decades-long history in the public eye is crucified… they're meme-ing her ass to death, girl. They laugh and pity and bite back, all while Her holy book is written. Exploring this project for the first time in space with performers, Matthew & Hillary present a work-in-progress workshop of an untitled Gabbie Hanna project
PERFORMANCE:
Sunday, August 27 at 3:00pm
RUNNING TIME: 40 min
PRICE: Suggested Donation: $0 $10 $20
At IRT: 154 Christopher st. NYC #3B (third floor)
ADA Accessible
VISIT/CONTACT US»

Performers:
Gabriella Gonzalez
Miranda Kang
James La Bella
April Lichtman
Sam Xu
Movement Consultant:
Mars Garcia
Creators:
Matthew Antoci is a queer creator and performer based in New York City. They work in various mediums, including multi-media devised theater, internet performance, and drag. Matthew has shown original work onstage at The Brick, The Kraine, Purgatory, Celebration Barn, and the Ballard Museum of Puppetry, as well as performed at CultureLab LIC, The Tank, Connecticut Repertory, and across the internet. Their original play I AM MY OWN MILF had a sold-out run at the 2023 New York FRIGID Fringe Festival, winning three festival awards. A co-founder of the Cinnamon Summer Series, they facilitated the devised website experiment THE FIRES WE DON'T SEE (2020) and produced and directed the company's inaugural production of MUCH ADO ABOUT NOTHING. Outside of their work in performance, Matthew is a practicing Hellenistic astrologer and freelance dialect coach.
Hillary Gao is a queer interdisciplinary artist, performer, writer, and curator interested in animal hybridity, myths, and chaos. Hillary has had her work presented at The Brick, The Brick Aux, the Tank NYC, CultureHub/SFPC, and has co-created Harvesting, a socially distant performance party that features artists and their current works. Her work has been supported by the Puffin Foundation as well as ART-NY. She thinks animals are cool, and is always interested in the intersection of tech and performance.
Producer:
Leigh Honigman is an arts administrator and producer working in theater, film, and live events, dedicated to amplifying the voices of the marginalized through a psycho-social lens. Recent theatre credits include YOU DON'T HAVE TO DO ANYTHING. (IRT Theater 3B Development Series, 2022) and the upcoming NO GOOD THINGS DWELL FLESH (A.R.T./New York). Events include Mask4Mask (Purgatory, 2021) and the sold-out Missed Connections and Support Your Local Sex Worker (Museum of Sex, 2018).
Dramaturgs:
Adin Lenahan (they/them) is a writer and performer. Adin makes art about losers, the kinds of people who can't even pull it together to make themselves look cool on Instagram, but whose depth of experience could fill a million feeds and timelines. Their work has been presented/produced at Ars Nova, Dixon Place, Culture Lab LIC Judson Memorial Church, The Kraine, The New Ohio, The Tank, Theater for the New City, Tom Noonan's Paradise Factory, wild project. They were a Fresh Ground Pepper BRB Resident Artist, a finalist for the Dramatist Guild Fellowship, a semi-finalist for the Jerome Fellowship, and winner of the Vera Mowry Roberts Foundation Fellowship. They are a producer with the Brooklyn-based multidisciplinary arts incubator, Undiscovered Countries. BFA in Student Loans from NYU and MFA in Playwriting from CUNY Hunter College.
Lizz Mangan (They/Them/Theirs, She/Her/Hers) is a playwright, dramaturg, and educator with a devotion to promoting and supporting queer and underrepresented voices. Her work often plays with stream-of-consciousness dialogue, movement, and contains an unapologetic and unquestioned focus on modern-day queer experiences. As a dramaturg, Lizz has worked closely with Connecticut Repertory Theatre on six of their productions including IF WE WERE BIRDS, A CIVIL WAR CHRISTMAS, and THAT POOR GIRL AND HOW HE KILLED HER. They have also interned in the Artistic/Literary offices of Vineyard Theatre (New York, NY), Hartford Stage and TheaterWorks (Hartford, CT), and Portland Stage Company (Portland, ME). At Portland Stage Company, Lizz founded Eleven & One Theatre Collective with 12 other emerging theatre artists. Lizz is a proud alumna of the University of Connecticut where she received her BA in Theatre Studies with a focus in Playwriting and Dramaturgy and the National Theater Institute's Advanced Playwriting Program (Spring 2018).
IRT Theater is a grassroots laboratory for independent theater and performance in New York City, providing space and support to a new generation of artists. Tucked away in the old Archive Building in Greenwich Village,  IRT's mission is to build a community of emerging and established artists by creating a home for the development and presentation of new work.
This program is supported, in part, by public funds from the New York State Council on the Arts and the New York State Legislature; New York City Department of Cultural Affairs in Partnership with the City Council; A.R.T./New York's NYC Small Theatres Fund made possible with support from the Howard Gilman Foundation & support for ASL interpretation provided in part through funding from Access A.R.T./New York.
ACCESS: IRT is a fully wheelchair-accessible facility. Please reach out to Kori Rushton if you have any accessibility questions or concerns, krushton@irttheater.org
PLEASE NOTE: All sales final and there is no late seating at IRT Theater.