Malik Paris and Jessica Ranville
Untitled Apartment Project
&nbsp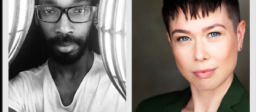 June 30 2023
3B Development Series | ASL Creative
IN RESIDENCE:July 2022-June 2023
Two theatrical solo pieces encounter one another in this collaboration between theater artists Malik Paris and Jessica Ranville. Exploring themes of family history, belonging, generational trauma and language deprivation, the process begins as two solo pieces that take place in the same apartment building. Working with the Six Viewpoints, poetry, historical documents and photography, the piece asks what we take with us when moving into a new home, despite our efforts to leave it all behind.
Performed in ASL and English.
Writer | Performer| DASL: Malik Paris
Writer | Performer: Jessica Ranville
Tech Director | Lights | Projection | Sound Design: Paul Lieber
Dramaturg: Deborah Black & Daniel Irizarry
Interpreters: Samantha Geffen, Emily Hart, Alonso Rivera, Victor Rivera, Aaron Rudner & Mark Weissglass.
Creative Producer: Kori Rushton
ARTISTS:
Malik Paris (he/him) Malik Paris is a Deaf actor and artist based in Philadelphia. He has been a performer and co-founding member of the ASL poetry performance group "Dangerous Signs" since 2010. He enjoys the range of work done in "Dangerous Signs" from theater for Young Audience performances to Fringe Festival creations.  He is most proud of his performance work in Godspell as Jesus, Pippin as Leading Player, and Ronnette in Little Shop of Horrors at Rochester's Equity Theater, GEVA. This year he won a Kennedy Center Award for his work in Fences at NTID and starred as Don Quixote/Cervantes in Man of La Mancha. He has been recognized with Rochester Theater Award nominations. His favorite New York Deaf Theatre (NYDT) production included: TITUS as Aaron the Moor and Riff Raff in Rocky Horror Picture Show. He also has worked with IRT theater on many shows here in NYC.
Jessica Ranville (she/they) is an actor and teaching artist from Winnipeg, Manitoba and based in New York City. Her work in the theater spans devised, movement-based plays to folk musicals to Shakespeare, to new play development. Jessica is a citizen of the Manitoba Métis Federation and has performed in new and classic works within the Native theater community for nearly a decade. Past work at IRT includes a residency in 2020 in which she developed an original solo piece, and as a teaching artist for the Westside Experiment theater camp. Jessica is an adjunct for Brooklyn College's BFA Theater Program where she teaches movement. She has developed new works at The Playwright's Realm, The Drama League, The Lark, WP Theater, The New Ohio Theater, and LaMama. Regional: Where We Belong (Woolly Mammoth), Men On Boats (Baltimore Center Stage). MFA: The New School for Drama. jessicaranville.com
IRT Theater is a grassroots laboratory for independent theater and performance in New York City, providing space and support to a new generation of artists. Tucked away in the old Archive Building in Greenwich Village,  IRT's mission is to build a community of emerging and established artists by creating a home for the development and presentation of new work.
This program is supported, in part, by public funds from the New York State Council on the Arts and the New York State Legislature; New York City Department of Cultural Affairs in Partnership with the City Council; A.R.T./New York's NYC Small Theatres Fund made possible with support from the Howard Gilman Foundation & support for ASL interpretation provided in part through funding from Access A.R.T./New York.
ACCESS: ***IRT is a fully wheelchair-accessible facility. Please reach out to Kori Rushton if you have any accessibility questions or concerns, krushton@irttheater.org ***