Jody Christopherson
Tussaud/Antoinette
&nbsp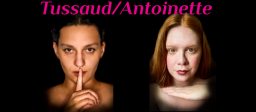 October 1-17 2021
IN RESIDENCE: September 28 – October 18, 2021
A story of two Maries.
One ruled wax, one ruled France.
One survived, the other did not.
So one made a sculpture of the other's guillotined head… and launched an empire.
Before Madame Marie Tussaud achieved wax museum fame, she was a sculptor, nearly guillotined during the French Revolution. She escaped the Reign of Terror by using her talents, and went on to not only document history but to become it.
Inspired  by outrageously unreliable legends and claims, this story reimagines the historical fantasy of Marie's Marie.
*Covid-19 Proof of Vaccination required for entry – more information below.

Sign Language Interpreter Provided
October 10, 2021 2pm
PERFORMANCES:
Fri Oct 1st 7pm preview, Jody Christopherson
Sat Oct 2nd 7pm preview Kodi Lynn Milburn
Sun Oct 3rd 2pm preview Jody Christopherson
Wed Oct 6th 7pm preview Jody Christopherson- Cancelled
Thurs Oct 7th 7pm preview Kodi Lynn Milburn
Friday Oct 8th 7pm opening Jody Christopherson
Sat Oct 9th 7pm opening Kodi Lynn Milburn
Sun Oct 10th 2pm Jody Christopherson
Wed Oct 13th 7pm Kodi Lynn Milburn
Thurs Oct 14th 7pm Jody Christopherson
Fri Oct 15th 7pm Kodi Lynn Milburn, 9pm Jody Christopherson- Cancelled
Sat Oct 16th 2pm Kodi Lynn Milburn, 7pm Jody Christopherson
Sun Oct 17th 2pm Jody Christopherson
LENGTH OF SHOW: 60 minutes
PRICE: $20
At IRT:154 Christopher st. NYC #3B (third floor)
Written and Directed by Jody Christopherson
Performed in rep by Jody Christopherson and Kodi Lynn Milburn
Sound Score/Design and Assistant Direction by Kodi Lynn Milburn
Lighting and Projection Design by K8 August
Dramaturgy by Amelia Parenteau
BIOS
K8 AUGUST (they/them) (Lighting Design) has hidden out in downtown theater spaces, turning things on and off for the past decade. When not turning lights on and off, they're often found in tech closets muttering. Past Lighting projects include but are not limited to Devil in a Box, a sex thing (or, a bunch of liberals getting uptight about the sociopolitical implications of their desires), Basil Twist's Puppet Parlor.  They have a profound enjoyment of french toast. 
JODY CHRISTOPHERSON (she/her) (Performer, Writer/ Director) is a New York based, Nebraska-born, generative artist. Her mediums include; performance, writing, conceptual design, direction, music/foley, photography, film, and curation. Reviewers have called her a "visionary in the theater world and legendary storyteller", who is "a talent to watch, not to mention a pleasure to hear". Her works have been performed in 28 cities in 6 countries, including Canada, Detroit MI, New Orleans, Key West FL, Miami, Amsterdam, Germany, Lithuania, Australia, New York. She has been producing and co-producing her work since 2004 in America and abroad. Her productions have been nominated for a Drama League Award and 6 Innovative Theater Awards. Ms. Christopherson is the recipient of an Indie Theater Fund Emergency Grant, a New York Society Library Grant for emerging female writers underwritten by Alexander Sanger, the All for One So-Co Residency, and The LIT Fund Grant. Generative works include; Greencard Wedding, AMP: The Electrifying Story of Mary Shelley, St Kilda, Necessary Exposure, and Excavation. https://linktr.ee/JodyChristopherson
AMELIA PARENTEAU (she/her) (Dramaturgy) is a writer, French-English translator, and theater maker with a passion for social justice, based in New Orleans. An alumna of Sarah Lawrence College, she has worked with 600 HIGHWAYMEN, Ping Chong + Company, The Civilians, the French Institute Alliance Française (FIAF), The Lark, the New York International Fringe Festival, the Park Avenue Armory, and Theatre Communications Group in New York City, as well as Trinity Repertory Company in Providence, RI, People's Light in Malvern, PA, the Eugene O'Neill Theater Center in Waterford, CT, the Théâtre du Soleil in Paris, France, and Intramural Theater and No Dream Deferred in New Orleans, LA. Her writing and translations have been published in numerous outlets including American Theatre Magazine, Asymptote, Contemporary Theatre Review, and HowlRound. www.amelia-parenteau.com
KODI LYNN MILBURN (she/her) (Performer, Sound Designer, Assistant Director) is a mixed-indigenous American performer, writer, and designer from Nebraska, based in Brooklyn. Cross discipline credits include: Sylvia Milo's The Other Mozart (Hong Kong, Players Theatre NYC, U.S. Tour), Jody Christopherson's AMP (HERE arts center), My Onliness  (The New Ohio), Chess (American Theater for Actors), Uta Hagen Centennial Salon (Lincoln Center Library), I am the utterance of my name (Baryshnikov Arts Center), Sparkle Spa (Jill Santopolo, BMI World Trade Center), Obsessions (Brooklyn Arts Exchange), Ewalt & Walker (54 Below), Mary & Max (Bobby Cronin & Crystal Skillman), Jean Brassard's Voyage en Chanson (National Sawdust), Till Soon, Anne, Of Trains and Heroes (NYU Casa Italiano), L'autre Mozart (Fringe North, Halifax Fringe), Joni, Je L'aime a Mourir (Dir. Patrick Karambizi), The Resurrection of (original piece, Plains Theater), The Making of Madeline Moore, Anne of Green Gables, Urinetown (under D.W. Costumes), Seeking Alice (Best musical NOVA film fest '17), Chrysalis (original piece, 100 Bogart st.), Could you dance in my shoes? (Dir. Deidre Goodwin), 4 women, Oddville, Requiem for a Butterfly (The Delancey, Bar Nine), Midnight Ramblings, Morning Revelations, Modern Renaissance, and Pine now available on Spotify & iTunes. kodilynnmilburn.com
COVID PROTOCOL: 
This performance will be seated at 60% capacity. All guests (ages 2+) are required to wear a face-covering, regardless of vaccination status and must show proof of vaccination. However, performers will not be masked.
There are multiple ways to show proof of vaccination.
1. A photo or hard copy of their CDC vaccination card
2. NYC COVID Safe App
3. New York State Excelsior App
4.Official vaccine record
5. A photo or hard copy of an official vaccination record of a vaccine administered outside the United States for one of the following vaccines: AstraZeneca/SK Bioscience, Serum Institute of India/COVISHIELD and Vaxzevria, Sinopharm, or Sinovac.
Photo credit Jody Christopherson and Kodi Lynn Milburn
IRT Theater is a grassroots laboratory for independent theater and performance in New York City, providing space and support to a new generation of artists. Tucked away in the old Archive Building in Greenwich Village,  IRT's mission is to build a community of emerging and established artists by creating a home for the development and presentation of new work.
This program is supported, in part, by public funds from the New York City Department of Cultural Affairs in Partnership with the City Council. Support for captioning and ASL interpretation provided in part through funding from Access A.R.T./New York, a program of the Alliance of Resident Theatres/New York (A.R.T./New York) and The Peg Santvoord Foundation, Inc.
PLEASE NOTE:
-All sales final
-There is no late seating at IRT Theater
-Covid-19 Proof of Vaccination required for entry.
***IRT is a fully wheelchair-accessible facility. Please reach out to Kori Rushton if you have any accessibility questions or concerns, krushton@irttheater.org ***