Stable Cable Lab Co.
The world premiere of In the Event of My Death
&nbsp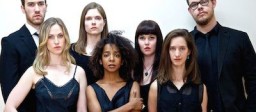 August 6-21 2016
IN RESIDENCE: August 2-22, 2016
In the Event of My Death is about eight small-town twenty-somethings, who know each other from high school, who share an impromptu time of mourning and celebration after the suicide of a mutual friend.  This play was originally developed through The Farm Theater's College Collaboration program , under the artistic direction of Padraic Lillis.
WRITTEN BY Lindsay Joy
DIRECTED BY Padraic Lillis
PERFORMANCES:
8/6/2016 at 7pm *first preview
8/7/2016 at 3pm *2nd preview
8/8/2016 at 7pm *Opening night
8/10-12/2016 at 7pm
8/13/2016 at 3pm & 7pm
8/14/2016 at 3pm
8/15/2016 at 7pm
8/17-18/2016 at 7pm
8/19/2016 at 7pm
8/20/2016 at 3pm & 7pm
8/21/2016 at 3pm
LENGTH OF SHOW:105 min.
PRICE: $18.00 Online, $20.00 Door
At IRT:154 Christopher st. NYC #3B (third floor)
FEATURING
Lisa Jill Anderson, Lillith Fallon,
Breanna Foister, Cory Kosel,
Ian Poake, John Racioppo,
Samantha Strelitz, and Kara Young
PRODUCED BY Margaret Santa Maria
​STAGE MANAGED BY Gabriela Gowdie
SET DESIGN BY Doss Freel
LIGHTING DESIGN BY Katy Atwell
​COSTUME DESIGN BY Irma Brainard
SOUND DESIGN BY Andy Evan Cohen
​PROPS DESIGN BY Andrew Hennelly
​PUBLICIST: Emily Owens PR
​
ABOUT STABLE CABLE LAB CO.
"…Stable Cable Lab Co. is one to watch…" – Theatre is Easy
Founded in 2011 by a group of emergent artists, STABLE CABLE LAB CO. is a 501(C) nonprofit organization that strives to create an environment for new work and theater artists to flourish. We do this through developmental readings and workshops, ensemble laboratories and full-fledged productions. We are dedicated to producing new plays that are intrinsically theatrical, ensemble-driven and bold. Past productions include Because Me and Live From the Surface of the Moon by Max Baker (recipient of an LMCC MCAF grant) at Wild Project, the workshop production of Nibbler by Ken Urban, Accidents Waiting to Happen by Jonathan Libman (IRT), the devised piece I Love You More Than All the Stars in the Sky by Emily Daly (featured in foolsFURY's Factory Parts in San Francisco in the Summer of 2013), the devised piece The Eden Project (Dream Up Festival at Theater for the New City and The Bridge Theater), the World Premiere of Barter (Or, Stealing Other People's Credit Cards) by Emily Daly (Washington DC Capital Fringe), and the annual LiveWire Short Play Festival in 2014,  2015, and 2016 featuring works by playwrights including Halley Feiffer, Christopher Gabriel Nuñez, Nat Cassidy, Breanna Foister, and more. Developmental and staged readings include Lauren Yee's Hookman (as part of Rattlestick's Good Plays Fest), and eight new plays by a diverse group of playwrights selected to participate in a 5-month playwriting lab, which culminated in the groundUP Reading Series hosted by Stable Cable and the Dramatic Question Theatre. www.stablecablelabco.org
Lindsay Joy (Playwright) was born and bred on the mean streets of rural New Hampshire and has since become a Brooklyn transplant. She's a proud member of the Beehive Collective, and the Amoralists Wright Club. Most recently, she served as Co-Artistic Director to the award-winning LabRats Theater Company. The Rats' production of her full-length play, The Rise and Fall of a Teenage Cyberqueen, garnered two NYIT Awards, including Outstanding Premiere Production of a Play and Outstanding Director for Padraic Lillis. Mr. Lillis commissioned her to helm the first College Collaboration project of the Farm Theater. The resulting play, In the Event of My Death, was produced at Ashland University, Centre College and Clark University and will make it's New York premiere this coming summer with Stable Cable Lab Company. Her short play, Clinch, was a part of Vertigo Theater Company's Bareknuckle at Gleason's Gym in Brooklyn alongside pieces by Pia Zankel and Lucy Thurber. Her play, The Unearthing, was a part of the newTACTics festival in the summer of 2012 and was presented in the Ground Up
New Works Festival the winter of that same year. Her short pieces have been seen all over the country—from the Bowery Poetry Club to the Actors Theater of Louisville. In 2001, Lindsay won the award for best short play at the Kennedy Center's American College Theater Festival for her piece Life, Love and a 7-11.
Padraic Lillis (Director) is the founding Artistic Director of The Farm Theater. He has been awarded the NY IT Award for Outstanding director for Lindsay Joy's Rise and Fall of a Teenage Cyberqueen, Overall Excellence Award from NY International Fringe Festival for Lee Kaplan's Bully, and inducted into the Indie Theater Hall of Fame. Other solo shows he has directed are Adina Taubman's award winning show – A Line In The Sand (a documentary show about Columbine), Kelly Kinsella's When Thoughts Attack, and How To Do A One Person Show, and he wrote and performs his own solo show How To Survive Crack Addiction. His plays have been produced nationally and are published with Dramatist Play Services and Indie Theater Now. His film Hand Over Hand, which he wrote and directed, was awarded Best Short Film at the Milan International Film Festival. He taught at NYU's Department of Dramatic Writing and helped design and lead the education programming for Labyrinth Theater Company for ten years. Padraic was awarded the Dayton Hudson Distinguished Artist Fellowship. He is a member of Labyrinth Theater Company and a life long Yankee fan.
ABOUT THE FARM THEATER & THE COLLEGE COLLABORATION PROJECT
The Farm Theater, founded by Artistic Director Padraic Lillis, is a 501 (C)(3) not-for-profit organization that cultivates artists, companies, and projects through workshops, productions, and mentoring.  www.thefarmtheater.org
The Farm Theater's College Collaboration: Three schools commission an early career playwright to write a play that each school will independently produce throughout the academic year. The faculty, students, and playwright collaborate throughout the year in the development of the text. The script will be a full-length play with a minimum of five characters. The majority of the characters will be under thirty years of age so that undergraduate actors can successfully play the roles. The play will reflect the students' thoughts on the theme suggested by the playwright.  Stable Cable's world premiere of Lindsay Joy's In the Event of My Death was developed through The Farm's College Collaboration program with Ashland University in Ohio, Centre College in Kentucky, and Clark University in Massachusetts.
photo credit: Nadia Quinn
IRT Theater is a grassroots laboratory for independent theater and performance in New York City, providing space and support to a new generation of artists. Tucked away in the old Archive Building in Greenwich Village, IRT's mission is to build a community of emerging and established artists by creating a home for the development and presentation of new work. Some of the artists we have supported include Young Jean Lee, Reggie Watts and Mike Daisey.
This program is supported, in part, by public funds from the New York City Department of Cultural Affairs, Office of Council Member Corey Johnson and The Nancy Quinn Fund, a project of ART-NY.