The Wake of Ur Problematic Fav Prty Grl
&nbsp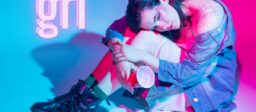 July 28-30, 2023
IN RESIDENCE: July 25 – 31, 2023
The Wake of Ur Problematic Fav Prty Grl is a solo show about a young woman's struggles with sobriety, self-awareness, and self-actualization. Claire wants to follow her long-lost dreams of becoming an actress, so she writes herself a play in the form of a wake for her mid 20's self, with the hopes of being reborn as an autonomous, clear-headed, HIGHLY sought-after morally upstanding artist and woman. Both her artistic and personal growth processes are incredibly flawed; ever-looming over the protagonist's head are the ghosts of her former self, threatening to sabotage her personal growth with the memory of her generational trauma, her addictions, and her own culturally ingrained perspectives on fame and artistry. The play interrogates themes of failure, family, death, and religion, and the form of the play itself plays a hand in critiquing current modalities and trends in contemporary theatre-making and seeks to challenge the relationships between audience and performer, performer and text, and ultimately, artist and world.
PERFORMANCES:
7/28: Prty Grl 7pm
7/29: Prty Grl 9pm
7/30: Prty Grl 3pm
RUNNING TIME: 1hr
PRICE: $10
At IRT: 154 Christopher st. NYC #3B (third floor)
ADA Accessible
VISIT/CONTACT US»

TEAM
Playwright and Prty Grl: Claire Tumey
Director: Sarah Elizabeth Yorke
Costume/Scenic Design & Associate Director: Hannah Bird
Lighting Design: Kate Parker-Lentz
Sound Design: Natalie Szende
Projection Design: June Buck
Stage Management: J Ragland
Co-Producers: Sarah Elizabeth Yorke and Claire Tumey
"I was floored and enamored and delighted and I can't wait to see it again."
"[Her] humor, strength and intelligence and soul-wanderings were all there, inviting us in… As glorious… as Jessie Buckley for 'Wild Rose' at TIFF."
"The whole production had a slick glam rock Blanche Dubois vibe."
"She is striking and so authentic, and the entire production is so thoughtful and an incredible balance of a whole range of sensations."
IRT Theater is a grassroots laboratory for independent theater and performance in New York City, providing space and support to a new generation of artists. Tucked away in the old Archive Building in Greenwich Village, IRT's mission is to build a community of emerging and established artists by creating a home for the development and presentation of new work.
This program is supported, in part, by public funds from the New York State Council on the Arts and the New York State Legislature; New York City Department of Cultural Affairs in Partnership with the City Council; A.R.T./New York's NYC Small Theatres Fund made possible with support from the Howard Gilman Foundation & support for ASL interpretation provided in part through funding from Access A.R.T./New York.
ACCESS: IRT is a fully wheelchair-accessible facility. Please reach out to Kori Rushton if you have any accessibility questions or concerns, krushton@irttheater.org
PLEASE NOTE: All sales final and there is no late seating at IRT Theater.