Jessi D. Hill
The Starving Dress by Matthew Freeman A closed developmental reading
&nbsp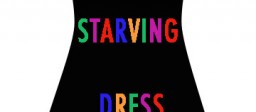 December 5 2016
IN RESIDENCE: December 5, 2016
The Starving Dress is a surreal tale of discovery, murder, and escape. When a woman in a red dress becomes aware that she is in sealed, liminal world, she searches her scattered memory and the fractious tribes that form around her for answers and, perhaps, a path to freedom.
PERFORMANCES:Monday Dec 5, 2016 (Invited Audience Only)
TIME: 8-10:30pm
At IRT:154 Christopher st. NYC #3B (third floor)
Matthew Freeman is a playwright, director and freelance writer. In New York City, he has been produced at the Access Theater; 4th Street Theater; The Brick Theater; HERE Arts Center; The Metropolitan Playhouse, Manhattan Theatre Source, The New Ohio, 80WSE Gallery, and at the Incubator Arts Project at St. Mark's Church.  His audio work has been a part of the HearNow Festival and Atlanta Fringe Radio.
His plays include The Language, Bluebeard, When is a Clock, Traveling to Montpelier, The Listeners (Nominee: Best Production – Performance Art: New York Innovative Theatre Awards 2015), Why We Left Brooklyn (Semi-Finalist O'Neill National Playwrights Conference 2013), That Which Isn't, The Starving Dress (Semi-Finalist O'Neill National Playwrights Conference 2015), The Most Wonderful Love, Glee Club, The Death of King Arthur, Confess Your Bubble, and Brandywine Distillery Fire.  His plays and monologues have been published by Samuel French, Applause, Smith & Kraus, NYTE, IndieTheaterNow and Playscripts.
As a freelance writer, he has been published by Maxim, Complex, Premiere and Samuel French's Breaking Character. He has also served as the Assistant Producer/Senior Writer for the official webcast for New Year's Eve live from Times Square from 2009-2011. He was the script writer for the New York Innovative Theatre Awards in 2009 and 2010. Additionally, he has hosted the "New Books in Theater" podcast, and has hosted various "Playwrights in Conversation" nytheatrecasts on nytheatre.com.
Freeman is a graduate of Emerson College. He is a member of the Dramatists Guild, a MacDowell Colony Fellow and a proud resident playwright at New Dramatists.
JESSI D. HILL is a NYC-based theatre director who's recent and upcoming play development projects include work at New York Theatre Workshop, The Public Theater/Joe's Pub, The Playwrights' Center, Primary Stages, Labyrinth, The Women's Project, 59E59, The New Group, HERE Arts Center, Ensemble Studio Theatre, Culture Project, The Acting Company, The Barrow Group, PS122, Baruch Performing Arts Center, New Dramatists, The Lark, The Playwrights Realm, New Georges, Theatre Row, The Wild Project, Abingdon, Naked Angels, the claque, Jewish Plays Project and others. She has been a director in professional training programs at Yale School of Drama, Juilliard School, NYU/Tisch, Fordham University, The Eugene O'Neill Theatre Center, Marymount Manhattan, Long Island University, Powerhouse/NY Stage & Film, Strasberg Institute of Theatre & Film, CAP21, The Atlantic School, Playwrights Horizons, Hunter College and others. Her work has been seen internationally in Edinburgh, London, New Zealand, Bucharest, Berlin and Hamburg.
Jessi is a recipient of the Denham Fellowship from the Stage Directors and Choreographers Foundation, an Alum of the Women's Project Lab, an Affiliated Artist at New Georges, and a Finalist for the NEA/TCG Career Development Program for Directors. She served as Associate Artistic Director of terraNOVA Collective from 2009-2015 where she co-created the Groundbreakers Playwrights Group and Groundworks new works program. In 2016, she will officially join the staff of Flying Carpet Theatre Company as Artistic Associate. MFA Directing: Yale School of Drama. Member SDC.
IRT Theater is a grassroots laboratory for independent theater and performance in New York City, providing space and support to a new generation of artists. Tucked away in the old Archive Building in Greenwich Village,  IRT's mission is to build a community of emerging and established artists by creating a home for the development and presentation of new work. Some of the artists we have supported include Young Jean Lee, Reggie Watts and Mike Daisey.
This program is supported, in part, by public funds from the New York City Department of Cultural Affairs, New York State Council on the Arts, Office of Council Member Corey Johnson and The Nancy Quinn Fund, a project of ART-NY.