F*It Club
The Spring Fling: Happily Ever After
&nbsp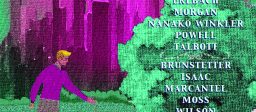 May 7-16 2020
CORONAVIRUS UPDATE:
In the interest of protecting the health and well-being of our artists and our patrons Spring Fling is closed.
IN RESIDENCE: May 5 – 18, 2020
The Spring Fling is an annual, award-winning presentation of world-premiere, commissioned short plays around a central theme. In 2020, we're using 10 playwrights to celebrate our 10th anniversary with the theme "happily ever after": Bekah Brunstetter, Matthew Lee Erlbach, Daniel K Isaac, Chelsea Marcantel, Allyson Morgan, Greg Moss, Leah Nanako Winkler, Larry Powell, Daniel Talbott, and Pia Wilson.
PERFORMANCES:
May 7-9, 12, 14-15 @ 8pm
May 13, 16 @ 7pm
May 13 @ 9pm
May 9-10, 16 @ 2pm 
LENGTH OF SHOW: 70 min
PRICE: $25.00 or $35.00 for two tickets
At IRT:154 Christopher st. NYC #3B (third floor)
Closing evening show on May 16 special earlier curtain @ 7pm, followed by closing party.
SERIES A 
Thurs 5/7 @ 8p
Sat 5/9 @ 8p
Sun 5/10 @ 2p
Wed 5/13 @ 7p
Fri 5/15 @ 8p
Sat 5/16 @ 2p
Matthew-Lee Erlbach's AMY, directed by Michelle Bossy
Allyson Morgan's TRYING, directed by Kevin Laibson
Leah Nanako Winkler's AFTER THE FINAL ROSE, directed by Chika Ike Larry Powell's NEVER AGAIN, directed by Amy Berryman
Daniel Talbott's LODI, directed by Chris Stack
SERIES B 
Fri 5/8 @ 8p
Sat 5/9 @ 2p
Tues 5/12 @ 8p
Wed 5/13 @ 9p
Thurs 5/14 @ 8p
Sat 5/16 @ 7p
Bekah Brunstetter's APPLES, directed by Geordie Broadwater
Daniel K. Isaac's BATMAN AND SUPERMAN GO TO DISNEYLAND, directed by Adam Arian
Chelsea Marcanel's CLIMAX, directed by Tom Costello
Gregory S. Moss' CARRIE AND DINAH, directed by Dara Malina
Pia Wilson's SIREN SONG, directed by Lisa Strum
"The writing here is insightful and often funny."
– The New York Times
"A sumptuous theatrical buffet…It is thrilling to see how each playwright has imaginatively explored the theme and developed rounded, detailed characters and powerful dialogue. It's a gratifying marathon of plays that gives your feel-good synapses a workout. It's such a lot of fun to watch this carousel of creativity whip past. It's a wonderful project to support. "The Spring Fling" is a well rehearsed, sleek, sophisticated evening where you can see the evidence of a strong production and design team ensuring a high standard of work…an extremely enjoyable night at the theater."
– Stage Biz
"F*It Club delivers, yet again… talented actors and clever writing…the production value is extremely impressive. The night is a home run. Sitting in the IRT Theater for The Spring Fling was the most pleasurable evening I could have imagined. Corny humor, profound ideas, beautiful singing, hysterical plots, and quality direction all contribute to an oasis of happiness."
– Theatre Is Easy
"… another strong year for F*IT club, showcasing plays that one legitimately feels would not exist anywhere but here. More than that though, it should once again be stressed how few evenings of one-act plays are assembled with any sense of cohesion. Spring Fling categorically feels like it is put together with care, nuance, and with the aim to produce a night of plays that flow gracefully from one to the other, rather than zig-zagging across a wild spectrum of content, and quality, as most similar festivals do. Everything here is consistently enjoyable, comparable in its content, and creative in its presentation."
– PopDust
"Shows like 'Spring-Fling' are rare. Indomitably weird and high-brow, but without being esoteric to the point of pretension. The writing is unique, the direction excellent, and the cast on-point. I highly recommend it if you need to see theatre that is unlike every other show on or off Broadway. It's what I wish every one-act festival could be. This was a venue for honest theatrical experimentation, performed by people who unquestionably knew what they were doing. I love that. I recommend checking out F* It Club's work in future."
– On Stage Blog
IRT Theater is a grassroots laboratory for independent theater and performance in New York City, providing space and support to a new generation of artists. Tucked away in the old Archive Building in Greenwich Village,  IRT's mission is to build a community of emerging and established artists by creating a home for the development and presentation of new work.
This program is supported, in part, by public funds from the New York City Department of Cultural Affairs in Partnership with the City Council, New York State Council on the Arts, and The Nancy Quinn Fund, a project of ART-NY.
PLEASE NOTE: All sales final and there is no late seating at IRT Theater.
***IRT is a fully wheelchair-accessible facility.***