F*It Club
The Spring Fling: Chemistry
&nbsp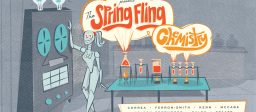 May 3-May 13 2018
IN RESIDENCE: May 1-14, 2018
The Spring Fling is an annual, award-winning presentation of seven world-premiere, commissioned short plays around a central theme, written specifically for this project by seven different playwrights of note, now going into its eighth year. In 2018, playwrights will draw inspiration from the theme "chemistry."
PERFORMANCES: May 3-May 13, 2018
TIME:Wed-Sat @ 8p, Sun @ 2p
LENGTH OF SHOW:90 mins, no intermission 
PRICE: $20 general admission, Pay-What-You-Can performance on Wed May 9
At IRT:154 Christopher st. NYC #3B (third floor)
Playwrights
Mario Correa, Jahna Ferron-Smith, Jon Kern, Dan McCabe, Mara Nelson-Greenberg, Erica Saleh, & Amy Staats
Directed by
Rachel Dart, Matt Dickson, Luke Harlan, Mikhaela Mahony, Danny Sharron, & Courtney Ulrich
Featuring
Alton Alburo*, Brett Epstein, Dawn Evans*, Ceci Fernandez*, Monica Gonzalez*, Mara Kassin*, Emma Kikue Munson*, Adam Langdon*, Liz Leimkuhler, Eric Miller*, Allyson Morgan*, Emma Orme, Paula Pizzi-Black*,Richard Prioleau*, Federico Rodriguez*, Cesar Joel Rosado*, Dana Scurlock, Lori Vega*, & Rosanny Zayas
Producer – Allyson Morgan
Associate Producer – Mara Kassin
Set/Prop Design – Polina Minchuk
Light Design – David Sexton
Sound Design – Emily Auciello
Costume Design – Christina Wells Madison & David Mitsch
Stage Manager – Emely Zepeda*
Assistant Stage Manager – Christina Woolard
Fight Direction – Alex Gould
Graphic Design by Brelyn LeCheminant
*denotes AEA member / AEA approved showcase
Mario Correa's hit comedy Tail! Spin!, starring "Saturday Night Live" vet Rachel Dratchand directed by Tony nominee Dan Knechtges, played an acclaimed, extended run Off Broadway in 2014 and 2015. Mario's next play, Commander, won the Carol Weinberg Award for Best Play and was named Best Production at the 2015 Baltimore Playwrights Festival (Chelsea Dove directed at Vagabond Players Theatre). National Public Radio commissioned Mario to write a radio play, Santa for President, that was broadcast on NPR's All Things Considered Christmas Day, 2015 and was featured on the acclaimed storytelling podcast The Truth. Rachel Dratch and Mo Rocca starred. Mario also writes for television and film. He was a staff writer for two seasons on Animal Planet's Whoa! Sunday with Mo Rocca, a script consultant on the acclaimed PBS documentary Electoral Dysfunction, and a co-creator and host of the NBC4/WRC-TV pilot PowerHouse. He has written for numerous TV pilots and proofs of concept as well as advertising campaigns for major networks, TV shows and movies. Mario has also written for news and entertainment outlets that include The Hollywood Reporter, Us Weekly, The Huffington Post, The Denver Post, The Washington City Paper, and Travel Weekly.
JAHNA FERRON-SMITH is a graduate of Boston University College of Fine Arts. She is a part of the Obie-winning playwriting collective, Youngblood, and her plays have been performed at Ensemble Studio Theatre, the The Flea and UglyRhino Presents: TinyRhino. They include, "Hello, My Name Is", Tuesday", and "Salt: A Rom Com. "
Jon Kern's plays include Modern Terrorism, or They Who Want to Kill Us and How We Learn to Love Them (Second Stage Theatre), We in Silence Hear a Whisper (Red Fern Theatre Co.), Do Not Disturb: a hotel experience (Roma B.), and Hate the Loser Inside (2013 Marathon at Ensemble Studio Theatre). Alumnus: Ars Nova Play Group, Civilians R&D Group, EST/Youngblood, Ma-Yi Writers Lab. Awards: 2010-2011 Van Lier Fellowship from New Dramatists, 2012 Laurents/Hatcher Prize. University of Chicago (BA), Columbia University (MFA). TV: "The Simpsons" Current projects include "Son of Zorn" for Fox and a number of plays.
Dan McCabe is a current Lila Acheson Wallace Playwright Fellow at The Juilliard School. His plays have been produced and developed at The New Group, The LABrynith Theatre Company, The Flea Theater, The Juilliard School, Stella Adler, Laguardia College, The Twilight Theater Company and more. Plays include The Purists, Christina Martinez, and The Magic Kingdom amongst others. He wrote 8 episodes of the hit serial Me, My Girl and My Grandpa Shmulee for #serials at The Flea Theater and 7 short plays for Rule of 7×7 at The Tank.
MARA NELSON-GREENBERG grew up in Brooklyn, NY. Her work has been developed at Clubbed Thumb, Playwrights Horizons, Theater Intime, Dixon Place and AmoraLAB, and her short plays have been produced by Hansel and Gretel Pocket Utopia, Parade Ground Gallery, TinyRhino, Yes Noise and Communal Spaces, among others. She is a member of EST/Youngblood, an alum of Clubbed Thumb's Early Career Writer's Group and a mentor at Girls Write Now. She co-wrote and co-starred in the web series End Times Girls Club, which was produced by Above Average and released in March 2016.
Amy Staats is an actor, writer, producer, director, and founding member of DODO: A Theater Collective. She is thrilled to be a 2017-2018 Tow Playwright in Residence with TheAtlantic Theater Company. As a writer, her full length plays include: EDDIE AND DAVE (Developed at Berkeley Rep's Ground Floor and SPACE on Ryder Farm); HANDS (Developed at Naked Angels 1st Mondays and SPACE on Ryder Farm with Ensemble Studio Theater); I HOPE SHE'LL BE OKAY (Atlantic Theater Company Launch Commission, developed at Williamstown Theater Festival); BAT KITTY and CHEMISTRY TEST. Among her short plays are: CHANGING OF THE GUARD (EST Marathon, published: Best American Short Play Anthology) and THROWS OF LOVE (Samuel French Short Play Festival winner, directed by Jess Chayes, published by Samuel French.) Screenplays include: MR. RAWLS (BVEW Screenplay Fellow) and MARY AND LOUISE (Winner: Best Script- LA Comedy Shorts). Pilot scripts include CITY ALIVE AT FIVE and FARM TO TABLE. She is a member of The Ensemble Studio Theater and a regular at Naked AngelsTuesdays @9.
Erica Saleh is a playwright and screenwriter. Her play include In Memory of Julie Simmons, The Morning After, and Still. For TV, she has written on Channel Zero (Syfy), Snowpiercer (TNT), and Wisdom of the Crowd  (CBS).  She's  a proud member of Ensemble Studio Theater and alum of Youngblood, and Ars Nova Playgroup. B.A. Brown University, MFA The University of Texas.
F*IT CLUB (Allyson Morgan, Executive Director) is an award-winning New York based company of film and theatre artists, founded in 2010, which produces short plays, short films, and short-term events. F*It Club is committed to providing equal opportunity for all of its members. We hope to build both a home and a community for artists to share, grow, and create. Our company was founded with the goal to provide access and opportunity. We say "f* it" to waiting for opportunity to knock. We are seizing opportunity and making it ours. We want to make work and we want to make it NOW.
Previous Spring Fling participants have included Ngozi Anyanwu, Kevin Artigue, Annie Baker, Brooke Berman, Hilary Bettis, Lucy Boyle, Bekah Brunstetter, Jon Caren, Stephanie Del Rosso, Matthew Lee Erlbach, Halley Feiffer, Kate Gersten, Jason Grote, Ashlin Halfnight, Elizabeth Irwin, Nick Jones, Greg Keller, Anna Kerrigan, Krista Knight, Victor Lesniewski, Caroline V. McGraw, Catya McMullen, Seth Moore, Greg Moss, Janine Nabers, Isaac Oliver, Sarah Sander, Heidi Schreck, Mark Schultz, Mark Sitko, Tommy Smith, Ariel Stess, Daniel Talbott, Joe Tracz, Leah Nanako Winkler, Lauren Yee, and Anna Ziegler. The Spring Fling series has been nominated for a total of twelve New York Innovative Theatre Awards and won two consecutive years.
"The writing here is insightful and often funny." – The New York Times
"The Spring Fling has its S*IT together. Not only are all of the pieces thoughtful, but the overall production values make for a cohesive and enjoyable evening of theatre. Producers Allyson Morgan and Mara Kassin have assembled a stellar team of playwrights, performers and directors to bring these works to life… The Spring Fling includes work by artists who are simply good at what they do. This evening of quick and high-quality work is well worth your time and attention." – Theatre Is Easy
"Shows like 'Spring Fling' are rare. Indomitably weird and high-brow, but without being esoteric to the point of pretension. The writing is unique, the direction excellent, and the cast on-point. I highly recommend it if you need to see theatre that is unlike every other show on or off Broadway. It's what I wish every one-act festival could be. This was a venue for honest theatrical experimentation, performed by people who unquestionably knew what they were doing. I love that. I recommend checking out F* It Club's work in future." – On Stage Blog 
"A good crop of plays, all featuring moments of excellence, and some transcending the limits of a one-act play in to being something more. What's always so nice about F*It Club is the overall tone of the evening. Their works are endearing, unique, and worth the experiment to go and see. … keep a look out for their work in future." – Popdust
IRT Theater is a grassroots laboratory for independent theater and performance in New York City, providing space and support to a new generation of artists. Tucked away in the old Archive Building in Greenwich Village,  IRT's mission is to build a community of emerging and established artists by creating a home for the development and presentation of new work. Some of the artists we have supported include Young Jean Lee, Reggie Watts and Mike Daisey.
This program is supported, in part, by public funds from the New York City Department of Cultural Affairs in Partnership with the City Council, New York State Council on the Arts, and The Nancy Quinn Fund, a project of ART-NY.
PLEASE NOTE: All sales final and there is no late seating at IRT Theater.
***IRT is a fully wheelchair-accessible facility.***