Rady&Bloom
THE ORANGE PERSON/THE GIRL OF THE GOLDEN WEST
&nbsp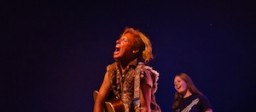 May 19 – 26, 2012
3B Development Series | Productions
In Residency: May 14 – 27, 2012
Rady & Bloom, is a new play and music company dedicated to new plays and collective theater-making.
This May, Rady & Bloom and IRT present their newest full production The Orange Person: a devised tale of an imaginary south Texan desert town with songwriter Laura Dunn, a host of diverse vocalists, and featuring instrumentation by composers Joe White and Ellen O'Meara.
Check out the review by Martin Denton.
Rady & Bloom will also be developing The Girl of the Golden West, composed by Catherine Brookman, O'Meara and White in workshop at IRT. The Girl of the Golden West will make it's world premiere at The New Ohio's Ice Factory 2012 August 1-4. The Orange Person and The Girl of The Golden West make up numbers one and two of Rady & Bloom's FRONTIER TRILOGY: plays from fields unknown in collaboration with Rady & Bloom's core ensemble of designers, music makers, actors and vocalists.
THE ORANGE PERSON
At last, the story of THE ORANGE PERSON, told from the perspective of the people who actually experienced it – a celebration of existence, of difference, and of song. From within both sides of a duplex in Terlingua, a rural town in the south Texan desert, a family confronts a medical marvel: an orange baby is born.
Scheduled Performances:
Saturday  May 19 8pm
Sunday May 20 8pm
Monday May 21 8pm
Friday May 25 8pm
Saturday May 26 8pm
At IRT:154 Christopher st. 3B (third floor)
With an original book written by director Jeremy Bloom ("Stylish and inventive" – Theatermania) and Brian Rady who also plays the title role ("entertaining, hilarious, seamless" – Happiest Medium), the production also features original songs by Rady&Bloom and singer-songwriter Laura Dunn ("Bjorkish runaway melodies" – music critic Mark Mayer), all performed by a stellar and eccentric host of performers, vocalists and multi-instrumentalists.
"a quirky tale of a bright-orange baby born in a Texas border town, told in a style that merges docutheater with eclectic concert."
- Time Out New York
"The cast and creative team conjures more stage magic with a spare set and an assortment of lamps, placards and lawn chairs than most Broadway musicals muster with budgets a hundred times the size. …a genuine, but not sentimental, tale of growing up orange in a podunk Texan town. …homespun theatre done right – with foot stomping songs, quirky humor and fistfuls of charm."
- The American Shot
THE ENSEMBLE
Performers: Ashley Biel, Laura Dunn, Dana Kaplan-Angle, Robert Lavenstein, Ellen O'Meara, Madalyn McKay, Jose Paz, Brian Rady, Kirk Siee, Catherine Brookman, Joe White
Costumes: Olga Mill

Set:Chris Morris

Lighting: Christopher Weston

Makeup Design: glam-rock's Chelsea Monet Dunaway
THE GIRL OF THE GOLDEN WEST
an invite-only workshop presentation
Exploding onto the frontiers of uninhabited California, the only female in the entire Gold Rush town of Cloudy Mountain sets up her saloon. Mythologized in David Belasco's grandiose 1911 novel, and canonized as one of the great spaghetti westerns – a play- turned-novel-turned-Puccini-extravaganza, this modernized golden paradigm is a new music and soul-filled ode to the unexplored and untouched expanse of our nation's forgotten periphery, and thebaffling potential successes of what could've been.
"In those strange days, people coming from God knows where, joined forces in that far Western land, and, according to the rude custom of the camp, their very names were soon lost and unrecorded, and here they struggled, laughed, gambled, cursed, killed, loved and worked out their strange destinies in a manner incredible to us of to-day. Of one thing only are we sure—they lived!"– David Belasco's epigraph to THE GIRL OF THE GOLDEN WEST
THE ENSEMBLE
adapted and directed by Jeremy Bloom
composed by Catherine Brookman, Ellen O'Meara, and Joe White
a Rady&Bloom World Premiere for Ice Factory 2012
ABOUT RADY & BLOOM
Rady & Bloom is a play company that creates theater works from scratch led by the collaboration of Jeremy Bloom and Brian Rady. With an inclusive spectrum of mediums and performer backgrounds, Rady & Bloom makes stories using narrative and experimental approaches, blending word, gesture, music, site-specificity and spectacle. Each performance is a celebration and an invocation: party meets epic meets chorale meets ethnography. Past Rady & Bloom collaborations include La Boheme (Spoken), a full length spoken version of Puccini's libretto at The Flea and at The Cell, adapted by Rady, and conceived and directed by Bloom; The Green Knight at 45 Bleecker, an original play by Brian Rady based on the myth of Sir Gawain, directed in pink by Bloom; Anchor Women, an under-the-covers study of television's ladies created by Rady, directed by Bloom; Live Mermaids Live, adapted and directed by Bloom, performed with song writing by Rady and produced by art party theater company; and most recently The Orange Person written and developed by Rady & Bloom with banjoist Laura Dunn.
JEREMY BLOOM directs new music, plays and his original, large-cast adaptations which include, Peter~Wendy (dark), La Boheme (spoken), and Leaves of Grass (nude).  He has assisted at The Met and on Broadway, and is a Drama League Fellow, EST Resident, Soho Rep Lab Director, alum of the TS Eliot Exchange at the Old Vic and an alum of Northwestern University's Performance Studies. Recent credits include The Orange Person, an original live music play, written with Brian Rady and Laura Dunn.
 BRIAN RADY is an actor and vocalist specializing in cabaret, ensemble movement and vocal based works, as well as new plays. Brian is also a playwright. His plays have been seen in New York at the cell, The Robert Moss, The Gene Frankel, and The Bleecker Street Theatre, among others. Brian is also dedicated to creative producing, playing in bands, and collaborating with a slew of dancers, writers and musicians.