Punchline Productions
The Koan of Seymour
&nbsp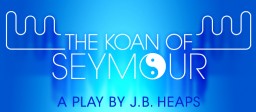 Sep. 2-18 2016
IN RESIDENCE: August 30- September 19, 2016

It would be impossible to name a performer who more effectively blurred the lines between his real life and his life on stage than Seymour Fitzgerald Payne. While his fans loved adorable characters like The Purple Orange and The Bellowing Mime, Seymour was also involved in a series of public confrontations that left his public wondering if these incidents were rehearsed routines or spontaneous tantrums. But just as his career was beginning to soar, his life reportedly ended. Was his mysterious demise an unavoidable and calamitous tragedy? Or the latest, and most elaborate, of Seymour's hoaxes?
In this two-act play, Seymour's fellow comedians gather together to mourn his passing and celebrate his life. But as the evening progresses, truths are revealed, lies are invented and Seymour – may or may not – have one last surprise.
PERFORMANCES:
Fri. Sept. 2 & Sat. Sept 3  (8:00)
Sun. Sept. 4 (2:00)
Thurs. Sept. 8 thru Sat. Sept 10  (8:00)
Sun. Sept. 11 (2:00)
Thurs. Sept. 15 thru Sat. Sept 17  (8:00)
Sun. Sept. 18 (2:00)
LENGTH OF SHOW: 75 minutes
PRICE: $18.00
At IRT:154 Christopher st. NYC #3B (third floor)
PERFORMERS: ANDREW GOMBAS , MATTHEW STUART JACKSON, CORY LAWSON, MARY LINEHAN, ERIC PARGAC, ELISE WILLIAMS 
J.B. HEAPS (Playwright) is an Emmy winning television producer for Showtime Sports. His critically acclaimed plays include Private Disclosures and The Immortal Coil.
JUSTIN BENNETT (Director): Justin has studied directing with teachers including Tony nominees Moritz von Stuelpnagel, Leigh Silverman, and Liesl Tommy.  He most recently directed The Adding Machine Off-Broadway. Other professional directing credits include The Boys Next Door, Separate Tables, 45 Seconds From Broadwayand All In The Timing. Justin is also a member of Actors' Equity Association.  Professional acting credits include One Flew Over The Cuckoo's Nest, Complete Works of William Shakespeare (Abridged), Laughter on the 23rd Floor, Legend Of Sleepy Hollow (East Lynne Theater Company in Cape May, NJ), King Lear, and Much Ado About Nothing. National tours include a one-man show entitled Kid Power for elementary schools.  He graduated Summa Cum Laude from LaGrange College with a BA in Theater Arts.
CHARLES CASANO (Stage Manager)
YI-CHUNG CHEN (Lighting Design)
ANTHONY FREITAS (Set Design)
RUDY JAIMES (Graphic Design)
ANNA WINTER (Costume Design)
ANNIE R. SUCH (PR & Marketing)
IRT Theater is a grassroots laboratory for independent theater and performance in New York City, providing space and support to a new generation of artists. Tucked away in the old Archive Building in Greenwich Village, IRT's mission is to build a community of emerging and established artists by creating a home for the development and presentation of new work. Some of the artists we have supported include Young Jean Lee, Reggie Watts and Mike Daisey.
This program is supported, in part, by public funds from the New York City Department of Cultural Affairs, Office of Council Member Corey Johnson and The Nancy Quinn Fund, a project of ART-NY.