Oldest Boys Productions/ Accidental Repertory Theater
The Fool's Lear
&nbsp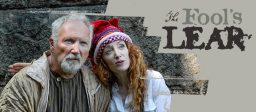 January 9-26 2019
IN RESIDENCE: January 1-28, 2019
A national leader with cognitive impairment. A dysfunctional family with political power. Concern about caring for an aging parent. Intrigue, war, and death. The Fool's Lear: William Shakespeare's King Lear from the Fool's perspective.
PERFORMANCES:
Wed-Sat 1/9, 10, 11, 12, 16, 17, 18, 19, 23, 24, 25, 26 at 7:30pm
Sat 1/19, 26 at 2pm
Sun 1/13, 20 at 3pm. (No show Sun 1/27)
LENGTH OF SHOW: 2 hrs 15 mins including a 10 min intermission
PRICE: $20.00
At IRT:154 Christopher st. NYC #3B (third floor)
"The master is only the sort of master the servant lets him be…," wrote Bertolt Brecht. In King Lear the Fool is more than a servant, of course. The Fool is a companion, confidant, foil, and sometime protector. The dialogue is full of comparisons between Lear and the Fool, which are hinted at in the double meaning of our title The Fool's Lear.
The Fool's Lear follows the story of Shakespeare's King Lear, from dividing the kingdom between two of his three daughters and banishing the third, only to find himself rejected by the daughters he favored. Joined by the son of an ally, they plot against him as he finds himself wandering the countryside with his companion, the Fool, and what seems to be a homeless person. Lear's world falls apart as he loses friends, allies, family – in short everything dear to him – while the Fool can only watch.
Our cast includes:
Virginia Armitage, Elizabeth Bell*, Sean Demers*, Brian Heuer, Judy Krause*, Robert McKay*, Joe Penczak*, Mark Peters*, Fariaz Rabbani*, Mike Roche*, Annie Winneg.
* Members of Actors Equity Association.
The Fool's Lear is adapted and directed by H. Clark Kee and is an AEA approved Showcase.
Assistant Director: Ruth Guimera
Production Coordinator: Audrey Lavine
Lighting Design: Elizabeth M. Stewart
Graphics and Photography: Christina Bliss
IRT Theater is a grassroots laboratory for independent theater and performance in New York City, providing space and support to a new generation of artists. Tucked away in the old Archive Building in Greenwich Village, IRT's mission is to build a community of emerging and established artists by creating a home for the development and presentation of new work. Some of the artists we have supported include Young Jean Lee, Reggie Watts and Mike Daisey.
This program is supported, in part, by public funds from the New York City Department of Cultural Affairs in Partnership with the City Council, New York State Council on the Arts, and The Nancy Quinn Fund, a project of ART-NY.
PLEASE NOTE: All sales final and there is no late seating at IRT Theater.
***IRT is a fully wheelchair-accessible facility.***