Willie Johnson
The Followers & Age of Extinction: Two Plays about Women at The End of The World
&nbsp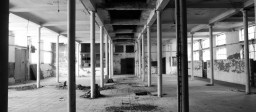 October 31- Nov. 7 2016
IN RESIDENCE: October 31- Nov. 7, try 2016
In The Followers and Age of Extinction, playwright Willie Johnson examines the social forces that pressure women to conform in two very different apocalyptic landscapes.
The Followers uses the backdrop of a high school sex scandal to examine the nature of adolescent loneliness and the ways that social media can intensify teenage isolation. The play alternates between teen and adult perspectives, examining both the brutal dynamics of adolescent social life and the absurdity of school as a social environment.
Age of Extinction is a clown show about gentrification. The play centers around a volatile animal lover named Grundrisse who is grappling with the recent death of her mother and the transformation of her rapidly gentrifying neighborhood. As Grundrisse becomes increasingly alienated from her urban ecosystem, she begins to see how the forces transforming and destroying her neighborhood are linked to the forces destroying ecosystems all over the world. Note: this is a comedy.
The Followers
Written by Willie Johnson Directed by Sarah Stites
PERFORMANCES: Saturday, 11/5 at 2:00, Sunday, 11/6 at 7:00pm
LENGTH OF SHOW:100 minutes
PRICE: Suggested donation of $10
At IRT:154 Christopher st. NYC #3B (third floor)
Age of Extinction
Written by Willie Jonson Directed by Ashley Monroe
PERFORMANCES:Sunday, 11/6 at 1:30pm
LENGTH OF SHOW:80 minutes
PRICE:
At IRT:154 Christopher st. NYC #3B (third floor)

Willie Johnson is a New York-based writer and teacher. Previous productions include ICE CREAM MAN, ("Audience Favorite", 2015 Unchained Festival, New York; Festival Selection, ActOne Series, Renaissance Guild, San Antonio) and BLUE BALLS (Labute New Theatre Festival, St. Louis). A trilogy of his short plays ICE CREAM MAN, BLUE BALLS, AND THE FUNNY THING was featured at The Secret Theatre's 2016 UNFringed Festival. His essays have appeared in The New York Times, The Nation, Jacobin, and the Thomson Gale Encyclopedia of Race and Racism.
IRT Theater is a grassroots laboratory for independent theater and performance in New York City, providing space and support to a new generation of artists. Tucked away in the old Archive Building in Greenwich Village, IRT's mission is to build a community of emerging and established artists by creating a home for the development and presentation of new work. Some of the artists we have supported include Young Jean Lee, Reggie Watts and Mike Daisey.
This program is supported, in part, by public funds from the New York City Department of Cultural Affairs, Office of Council Member Corey Johnson and The Nancy Quinn Fund, a project of ART-NY.