Double Down Productions
The Disposal
&nbsp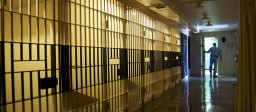 May 23- 28 2017
IN RESIDENCE: May 23- 29, 2017

The Disposal by William Inge
Jess was convicted for killing his pregnant wife, and now he sits on death row, awaiting execution today. He alternates between calm acceptance and violent hysteria, raging at his fellow inmates and the prison's chaplain. Jess is desperate for forgiveness from his father, but his father refuses to accept that Jess is guilty, robbing his son of the possibility of some kind of understanding. 
PERFORMANCES:
May 23–8:00, May 24-8:00, May 25- 8:30, May 26-8:00 , May 27- 3 and 8, May 28- 7
PRICE: $20 at door $18 on line
At IRT:154 Christopher st. NYC #3B (third floor)
Cast: Alex Haney, Tony White John P. Naughton, Julia Morantini, Henri Douvry Kevin Obrien, Anthony Lee Fontayne.
IRT Theater is a grassroots laboratory for independent theater and performance in New York City, providing space and support to a new generation of artists. Tucked away in the old Archive Building in Greenwich Village,  IRT's mission is to build a community of emerging and established artists by creating a home for the development and presentation of new work. Some of the artists we have supported include Young Jean Lee, Reggie Watts and Mike Daisey.
This program is supported, in part, by public funds from the New York City Department of Cultural Affairs, New York State Council on the Arts, and The Nancy Quinn Fund, a project of ART-NY.
PLEASE NOTE: All sales final and there is no late seating at IRT Theater.
***IRT is a fully wheelchair-accessible facility.***