Hard Sparks
The Cabaret At The End Of The World
&nbsp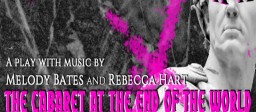 March 10-19 2017
IN RESIDENCE: February 28- March 20, 2017
THE MARCH 14TH SHOW HAS BEEN CANCELLED

It's the Ides of March—What could go wrong? Irreverent and vivacious hosts Flora and Fawna invite you to the hottest club in Ancient Rome for a sly, sexy, hilarious romp through Julius Caesar, affectionately burlesquing Shakespeare and Rome while casting a sharply satirical light on the play's themes and how they reflect our own times. 

The Cabaret At The End Of The World is a play with songs created by Melody Bates (book) and Rebecca Hart (music and lyrics), and directed by Joan Jubett. It was originally commissioned by Maine's Opera House Arts at The Stonington Opera House.
PERFORMANCES:
March 10, 12, 13, 14, 16, 18, 19 at 7pm
March 11, 15, 19 at 3pm
LENGTH OF SHOW: 90 Min.
PRICE: $25.00
Greco-Roman Special! See BOTH Bareback Ink and The Cabaret At The End Of The World for just $35.
At IRT:154 Christopher st. NYC #3B (third floor)
Melody Bates' sly, sexy, hilarious romp through Julius Caesar, affectionately burlesques Shakespeare and Ancient Rome while casting a sharply satirical light on the play's themes and how they reflect our own times. Irreverent and vivacious twins Flora and Fawna run the hottest underground club in Ancient Rome, regaling nightly audiences with song, dance, and just the right amount of scandal. It's the Ides of March and Caesar's back in town: the club is abuzz with soothsayers, saboteurs, Senators, and other degenerates. Flora and Fawna launch into their show, but with Rome on edge, satire can be a dangerous game. The feisty hostesses strive to keep their audience entertained–and safe–while the events of Shakespeare's play threaten to overwhelm the evening. Will Caesar become Emperor? Will anyone become Emperor? Will Rome survive the mob? Will democracy survive a Roman meltdown?—and just what does democracy mean if not everyone gets to participate? Showbiz, glamour, original music, comets, philosophy, assassinations, war, ghost stories, knock knock jokes, and one particularly surly lion…It's the Ides of March at Club Caesar—what could go wrong?
MELODY BATES is a native Oregonian actor and writer based in Brooklyn. Theatre includes Alas, The Nymphs (BAM), If Colorado Had an Ocean (La MaMa E.T.C.), Eightythree Down (Theatre St. Marks–NYIT Award Outstanding Lead Actress nominee), and performances at the Public Theatre, Classic Stage Company, St. Anne's Warehouse, Cleveland Public Theatre, and Boston's ART. At Maine's Stonington Opera House: Juliet in R & J & Z, Maria in Mr. Burns, Cleopatra in Antony & Cleopatra. She plays featured roles this season in Bartlett Sher's Romeo et Juliette and Barbiere di Siviglia at the Metropolitan Opera. Film/TV credits include Public Hearing, Naked/ Spurious, and I Am Homicide. The sold-out NY premiere of Melody's play R & J & Z was nominated for three NYIT Awards. MFA in acting from Columbia University. www.melodybates.com
JOAN JUBETT (Director) NEW YORK: The Laramie Project (LREI), The Millay Sisters (Gowanus Loft) R & J & Z, (The New Ohio, Three NY Innovative Award Nominations including Outstanding Revival), Struck (HERE Sublet Series), Multimedia True West (3LD). AD on A Midsummer Night's Dream (Blessed Unrest), Oph3lia (HERE, NY Innovative Award Nomination for Outstanding Ensemble). REGIONAL: R & J & Z, The Millay Sisters and Burt Dow, Deep Water Man, at Stonington Opera House (Opera House Arts), Maine. Joan has guest lectured at SVA, The New School, MIT and Colgate University and holds a MFA in Acting from Columbia University.
IRT Theater is a grassroots laboratory for independent theater and performance in New York City, providing space and support to a new generation of artists. Tucked away in the old Archive Building in Greenwich Village,  IRT's mission is to build a community of emerging and established artists by creating a home for the development and presentation of new work. Some of the artists we have supported include Young Jean Lee, Reggie Watts and Mike Daisey.
This program is supported, in part, by public funds from the New York City Department of Cultural Affairs, New York State Council on the Arts, Office of Council Member Corey Johnson and The Nancy Quinn Fund, a project of ART-NY.