Immediate Medium
The Assassins Chase Pinocchio
&nbsp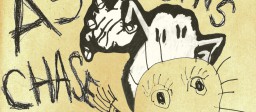 October 4-24, 2010
"Once upon a time there lived…'a king!' my little readers will say immediately. No children, you are mistaken. Once upon a time there lived a piece of wood." — Carlo Collodi, The Adventures of Pinocchio
How do you blow the mind of a five-year-old? And why do we adults build such hard shells around the forces that were so active in us as kids? Immediate Medium takes up these questions in its latest multimedia exploration, The Assassins Chase Pinocchio. Conceived as an avant-garde performance piece for children and adults, The Assassins Chase Pinocchio combines the surreal world of Carlo Collodi's 1883 coming-of-age tale "The Adventures of Pinocchio" with the formal techniques of experimental theater to examine the process of growing up and those childlike aspects of ourselves that we assassinate in our mad dash to become "real boys." Inspired by the read-along story albums of the late 1970s and early 1980s and rooted in the belief that even very young children can process complex works of art in unique ways, the piece uses live video compositing, found objects, masks, gibberish, and psychedelic music and soundscapes to fracture the oral storytelling tradition and expand it into an immersive, multidiciplinary story experience for young and old.
The Pinocchio of The Assassins Chase Pinocchio is not the Pinocchio of Disney; he is the Pinocchio as written by Collodi. Played by Immediate Medium's 6'-6" artistic director JJ Lind, he is an alien among his human peers, a tantrum-prone and pleasure-driven wild child born from a piece of wood and carved forcibly into the image of his maker. Collodi, unlike Disney, correctly perceived childhood not simply as an age of innocence but also as a confusing time of cosmic loneliness, alienation, difficult choices, frequent mistakes and abstract fears. In his original, he recognizes the adventure of growing up as complicated: Disney's whale Monstro is a nameless Terrible Shark, the Blue Fairy first appears as a corpse and the Talking Cricket is swiftly dispatched by Pinocchio with a hammer. It is a vision of childhood that embraces the shadows of life as much as its light and heat.
Child psychologist Bruno Bettelheim described tales such as these as "works of art which are fully comprehensible to the child." Their beauties and horrors are important first encounters with life's complexities and help a child experience the range of emotions they need to cope with the stress of growing up. The Assassins Chase Pinocchio brings Bettelheim's definition of children's art to bear on the world of performance and seeks to forge within that world the kind of complex and often sublime encounter that we ourselves craved as children, a psychedelic and experiential work of art where the adult-child divide breaks down and growing up can be seen not as a quantum leap but as a long and complicated series of encounters with assassins and blue-haired fairies.
Two work-in-progress presentations:
Saturday, October 23 at 12:00pm and 7:00pm (***7PM SOLD OUT!***)
$10 for adults, $5 for adults who bring kids, and free for kids.
To reserve a spot, email info@immediatemedium.org.
Conceived and directed by Max Dana
Created by the ensemble
JJ Lind
Liz Vacco
Siobhan Towey
Max Dana
Lisa Clair
Set Design by Maki Takenouchi and Jason Gandy
Video and Sound by Rob Ramirez
Music by Alex Bleeker (Real Estate) and G. Lucas Crane (Woods)
Immediate Medium is a non-profit performance collaborative founded in 2002 and dedicated to building a community of artists through the creation of original works of art utilizing live performance and multimedia. We do not hold easy allegiance to any given genre, with works that integrate performance art, dance, fine art and theater. We favor asking challenging questions over offering easy answers and create new works of experiential art that engage artists and audiences in a shared emotional, artistic and intellectual journey.