The Arctic Group
The 1st New York International FRIDGE Festival
&nbsp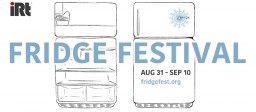 Aug.31-Sep.10 2017
IN RESIDENCE: August 29- September 25, 2017
FESTIVAL PASS- CLICK HERE
FRIDGE Fest was born out of the Arctic Group's mission to pick a snowflake our of an avalanche. With this in mind, TAG has curated a festival of unique, thought-provoking works by both establish and emerging artists.  is a multidisciplinary theater festival featuring new works of all genres. All plays include (nay, feature) a fridge. No matter what night they attend, audiences will be captivated by three pieces, for the price of one. Come chill with us!
But wait, there's more: half of all performances will be FILL OUR FRIDGE nights; in which tickets can be purchased with non-perishable goods instead of money. These donations will be delivered to food banks local to the theater. FILL OUR FRIDGE is our way to solidify our belief that The Arts play an essential role in the community.
PERFORMANCES: 8/31, 9/1, 9/2, 9/3 (dark on 9/4) 9/5, 9/6, 9/7, 9/8, 9/9, 9/10
TIME: 7pm and 9pm
LENGTH OF SHOW: 75 minutes
PRICE: $18.00/ Festival Pass $50.00
At IRT:154 Christopher st. NYC #3B (third floor)
Featured playwrights include: Daniel Talbott, Katie Cappiello, Matthew Minnicino, Jenny King, Korde Arrington Tuttle, Steve McMahon, MJ Halberstadt, Jordan G. Teicher, Glenn marla, and Suzanne Willett.  
Show Block A (Thu 8/31 7pm, Sat 9/2 9pm, Wed 9/6 7pm, Fri 9/8 9pm)
Moving Day
By Jenny King & The Barrington Collective
Rock Paper Scissors
By Suzanne Willett
Show Block B (Thu 8/31 9pm, Sun 9/3 7pm, Wed 9/6 9pm, Sat 9/9 7pm)
Nick and Zoe
By Daniel Talbott, Directed by Shira-Lee Shalit
Sad Indie Love Song
By Steve McMahon, Directed by Benjamin Viertel; Produced by Lianne Kennedy
Show Block C (Fri 9/1 7pm, Sun 9/3 9pm, Thu 9/7 7pm, Sat 9/9 9pm)
Funny Voices (Or A Thing I Cannot Name)
By Matthew Minnicino, Directed by Kate Hopkins
Two Below Zero
By MJ Halberstadt
Show Block D (Fri 9/1 9pm, Tue 9/5 7pm, Thu 9/7 9pm, Sun 9/10 7pm)
Scarcity Freezer 
By Glenn Marla, Directed By Kathe Mull
no seconds
By Korde Arrington Tuttle
Show Block E (Sat 9/2 7pm, Tue 9/5 9pm, Fri 9/8 7pm, Sun 9/10 9pm)
JOY
Written & Directed by Katie Cappiello
What's In Your Fridge? 
By Jordan G. Teicher
The Arctic Group is (mostly) theater collective with members hailing from five different continents.We create a space for the harmonious, explorative destruction.We resist comfort and convenience.Failure is our common language. Disclaimers are our enemy.With an appetite for the irregular and an itch for the bizarre, we collide, connect, collaborate, and create.Pick a snowflake out of an avalanche. Take the polar bear plunge.
Core founding members are: Charlotte Arnoux, Adrian Burke, Victoria Giambalvo, Florence LeBas and Ran Xia. Associate Artist: Jake Geary.
IRT Theater is a grassroots laboratory for independent theater and performance in New York City, providing space and support to a new generation of artists. Tucked away in the old Archive Building in Greenwich Village,  IRT's mission is to build a community of emerging and established artists by creating a home for the development and presentation of new work. Some of the artists we have supported include Young Jean Lee, Reggie Watts and Mike Daisey.
This program is supported, in part, by public funds from the New York City Department of Cultural Affairs, New York State Council on the Arts, and The Nancy Quinn Fund, a project of ART-NY.
PLEASE NOTE: All sales final and there is no late seating at IRT Theater.
***IRT is a fully wheelchair-accessible facility.***