The Syndicate
Syndicated
&nbsp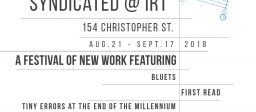 Aug.25- Sep.16 2018
IN RESIDENCE: August 21- September 17, 2018
Syndicated is a festival of new work by ensemble theater company The Syndicate and their collaborators. It features two new plays and a week-long readings series.
FESTIVAL PASS- CLICK HERE
$25 for tickets to each part of the festival!
(Select one performance of Bluets, one performance of Tiny Errors, and two First Read readings)
Bluets
by Maggie Nelson
adapted by Leigh Hendrix and Ellenor Riley-Condit
performed by Ellenor Riley-Condit

"Suppose I were to begin by saying that I had fallen in love with a color…" A new solo performance adapted from the critically acclaimed book by Maggie Nelson.
Saturday August 25th, 8pm
Sunday August 26th, 5pm
Monday August 27th, 7pm
Tuesday August 28th, 7pm (Pay what you wish)
Wednesday August 29th, 7pm
Tickets: $15
Run time: 70 minutes, no intermission
First Read
Readings of new plays by queer, trans, and non-binary theater artists, featuring…

The Beasts of Warren by Azure D. Osborne-Lee
the desert play (or Nothing Feels Like) by Hal C.
Hunting by Nelle Tankus
Thursday September 6th, 7pm
Friday September 7th, 7pm
Saturday September 8th, 7pm
Tickets: $5 (suggested donation)
Run times will vary, please check back for more details soon
Tiny Errors at the End of the Millennium
created by The Syndicate
directed by Mikhaela Mahony

It's 1999. Boy bands. Y2K bunkers. Dance competitions. Monica Lewinsky—we laid the groundwork for a new millennium. So how did we get here?
Thursday September 13th, 8pm
Friday September 14th, 8pm
Saturday September 15th, 3pm (pay what you wish)
Saturday September 15th, 8pm
Sunday September 16th, 5pm
Tickets: $15
Run time: 80 minutes, no intermission
At IRT:154 Christopher St. NYC #3B (third floor)
IRT Theater is a grassroots laboratory for independent theater and performance in New York City, providing space and support to a new generation of artists. Tucked away in the old Archive Building in Greenwich Village,  IRT's mission is to build a community of emerging and established artists by creating a home for the development and presentation of new work. Some of the artists we have supported include Young Jean Lee, Reggie Watts and Mike Daisey.
This program is supported, in part, by public funds from the New York City Department of Cultural Affairs in Partnership with the City Council, New York State Council on the Arts, and The Nancy Quinn Fund, a project of ART-NY.
PLEASE NOTE: All sales final and there is no late seating at IRT Theater.
***IRT is a fully wheelchair-accessible facility.***