Stepchild, A New Musical
IRT & TGF 12 Productions , in association with LaGuardia Performing Arts Center
&nbsp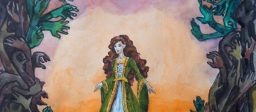 April 18-20 2018
3B Development Series | ASL Creative
Orella is born deaf at the brink of the Italian Renaissance. Her journey takes her through a childhood of poverty, an adolescence in hiding, and a young adulthood at an asylum for the "cursed". However, her drive to learn and her courage to communicate with Sign Language unites a broken kingdom, and Orella is ultimately crowned the world's first proud Deaf queen.
It is believed that American Sign Language (ASL) is the THIRD most commonly used language in the United States. However, the long, grim and extraordinary path towards modern Deaf culture is hardly common knowledge. Through the eyes of a Deaf heroine, this underrepresented historical topic is given a Gothic folktale spin in this sweeping story of empowerment. LPAC's Rough Draft Festival will present a work- in- progress presentation of this original piece, focusing on the complex and magical fusion of theater, music and ASL.
PRESS- Deaf & Hearing Broadway Vets Team Up For Workshop Of New Musical STEPCHILD
PERFORMANCES:
April 18 & 20 2018, 7pm
April 19, 2018, 3pm
LENGTH OF SHOW: 45 Min
LOCATION: LaGuardia Performing Arts Center at Laguardia Community College 31-10 Thomson Ave, Long Island City,NY
Sign Language Interpreting for theatregoers who are Deaf and use American Sign Language as their primary means of communication.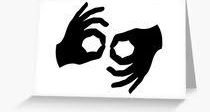 Music & Lyrics by David James Boyd
Book by David James Boyd & Chad Kessler
Concept by David James Boyd, Chad Kessler and Kori Rushton
Directed by Kim Weild
Director of Artistic Sign Language Alexandria Wailes
Musical Direction by Dan Pardo
Assistant Director Jenna Hoffman
Assistant Director of Artistic Sign Language Siena Rafter
Additional Casting by Jake Krickhan
Featuring: Dickie Hearts*, Amelia Hensley*, Jacob Hoffman*, April Lavalle*, Johnny Link*, Catalene Sacchetti-Manganelli, Alexandra Mazzucchelli*, Melissa Van Der Schyff*, Nicole Vande Zande*, and Alexandria Wailes*
Keyboard, Dan Pardo
Strings, Joseph Brent
Percussion, Kevin Garcia
Stage Manager: Ann Barkin*
*Appearing courtesy of Actors Equity Association
Photo: Original Artwork by Olga Whitmoyer
Interpreters: Craig Fogel, Frenchetta Perez, Samantha Kuperberg, Veronica Staehle
NEW UPDATES: We are thrilled to report that Stepchild is one of the recipients of this inaugural grant.
This pilot program, building on recommendations from CreateNYC, will provide $640,000 to 22 organizations for programs that deepen engagement in the arts for people with disabilities as artists, cultural workers, and audience members.
Stay tuned….
IRT Theater is a grassroots laboratory for independent theater and performance in New York City, providing space and support to a new generation of artists. Tucked away in the old Archive Building in Greenwich Village, IRT's mission is to build a community of emerging and established artists by creating a home for the development and presentation of new work. Some of the artists we have supported include Young Jean Lee, Reggie Watts and Mike Daisey.
This program is supported, in part, by public funds from the New York City Department of Cultural Affairs, New York State Council on the Arts, and The Nancy Quinn Fund, a project of ART-NY.
PLEASE NOTE: All sales final and there is no late seating.
***Fully wheelchair-accessible facility.***