Sanguine Theatre Company
Sanguine Spring Break: Playwrights' Week
&nbsp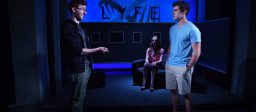 March 27-31 2018
IN RESIDENCE: March 27-April 2, 2018
Sanguine Spring Break: Playwrights' Week is designed to cultivate relationships with playwrights both in NYC and regionally, and to expand opportunities for writers to work on whatever they choose with a new group of high-caliber collaborators.
From March 27 to 31, we will host five playwrights in a series of one-day workshops. Sanguine provides the space, artists, and resources for playwrights to work on parts or the entirety of a piece at any stage of development. The workshops will culminate in a public performance each evening, a showcase of a day's work that aligns with the playwright's individual and specific goals.
Showcased playwrights are Josh Bonzie, Lindsay Joy, Darrel Holnes, Alexis Scheer, and Calamity West. For more details, visit ticket link at left
PERFORMANCES: March 27-31, 2018
TIME: Evenings at 7:30pm
LENGTH OF SHOW: 60-90 min (Depending on show)
PRICE: $10.00
At IRT:154 Christopher st. NYC #3B (third floor)
Tuesday, March 27: one nation! under god! indivisible!
by Josh Bonzie, directed by Rachel Dart
A bittersweet glimpse of four lives on the day after the 2016 presidential election. Josh Bonzie is a Manhattan-based writer and actor. He's an alum of The University of Oklahoma and the Professional Training Company at Actors Theater of Louisville.
Wednesday, March 28: A Dagger in His Smile
by Lindsay Joy, directed by Lucy Gram
Macbeth gets a raucous Southern twist, set during a mayoral race in Louisiana, originally commissioned by Acadiana Repertory Theatre. Lindsay Joy was born and bred on the mean streets of rural New Hampshire and has since become a Brooklyn transplant. She writes emotional plays and uses laughter as a portal to get to a deeper and darker place.
Thursday, March 29: The Tragedy of Othello: The Moor of the NFL by Darrel Holnes, directed by Emily Jackson
Shakespeare hits the football field in this adaptation centered around OJ Simpson. Darrel Alejandro Holnes is a poet, playwright, and professor originally from Panama City, Panama, and the former Panama Canal Zone. He writes ethnographic plays based on research conducted using anthropologic methods.
Friday, March 30: 10 Days
by Alexis Scheer, directed by Jenny Lester
This quick-witted solo piece takes us on a young woman's birthright journey to Israel. Alexis Scheer is an actor/playwright based in Boston, MA. She writes plays that are brazenly millennial and fiercely feminist, often through a Latinx lens.
Saturday, March 31: In the Canyon
by Calamity West, directed by Kel Haney
A dark, time-traveling play about women and abortion, originally commissioned and developed by Jackalope Theatre Company. Calamity West is a Chicago-based, award-winning, Kilroys-cited playwright. She teaches playwrighting at the University of Chicago and Webster University. She is represented by The Gersh Agency.
About STC
Sanguine Theatre Company discovers and produces new plays, champions the exchange of theatrical work across regions, and cultivates an active community of artists and theatregoers. By telling vital human stories, Sanguine hopes to reflect, amplify, and contribute to the narrative of our time. www.sanguinenyc.org
"Sanguine Theatre Company is really doing a great thing for emerging playwrights and for theatre goers by having events such as [Project Playwright] where our voice as the audience counts."
– Emerging Playwright, 2013
 "At first glance, this may be a story you've heard before, but from the first scene, you know Flamingo is something unique."
– Theater is Easy on Flamingo, winner of Project Playwright 2014 and presented at IRT
 "Josh Drimmer explores what happens when one willingly revisits those feelings from the past, and the results both hit home and inspire laughter. Presented by Sanguine Theatre Company and directed by Logan Reed…lighthouse is a truly intimate experience with the souls of the characters laid bare only a few feet before you."
– StageBuddy on the lighthouse invites the storm, winner of Project Playwright 2015
IRT Theater is a grassroots laboratory for independent theater and performance in New York City, providing space and support to a new generation of artists. Tucked away in the old Archive Building in Greenwich Village,  IRT's mission is to build a community of emerging and established artists by creating a home for the development and presentation of new work. Some of the artists we have supported include Young Jean Lee, Reggie Watts and Mike Daisey.
This program is supported, in part, by public funds from the New York City Department of Cultural Affairs in Partnership with the City Council, New York State Council on the Arts, and The Nancy Quinn Fund, a project of ART-NY.
PLEASE NOTE: All sales final and there is no late seating at IRT Theater.
***IRT is a fully wheelchair-accessible facility.***