Axh Marie
RE/VOLU/TION
&nbsp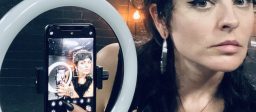 August 8 2021
IN RESIDENCE: JULY 18- AUGUST 8, 2021
"RE/VOLU/TION is a personal and communal investigation into the conscious & unconscious realms of life with a vacillating micro & macro scope. Incorporating elements of philosophy, science and history, ancestral veneration & objection, this ever growing project weaves in my interdisciplinary practice of Intuitive Collage & Psychic Creativity and invites artists in my community a chance to work freely within this practice. Music, performance, language & projection will engage the expanding themes I will be working with. Each "theme" is a world that can stand on its own that will be pieced together with other themes based on where the piece moves and travels."
For this first WIP phase of development I will be working with the themes: Confrontation, Destruction & Reclamation with collaborators Georgina Escobar, Santino DeAngelo & Ada Westfall.
The First Theme 'CON/FRONT/ATION' is a series of meditations on confrontation with the self, the world, nature and idealisms. This section is driven by a collage of found sounds; Robert Oppenheimer, a distressed man on a bus, a merry go round, gunshots, Joseph Campbell & religious scripture. The visual score aids with moments of dance, silhouettes & bible shredding, ending with an offering of love to the audience by picking and offering roses; a gesture for the ultimate confrontation we will all face: Death. Created by Axh Marie.
The Second Theme 'DE/STRUC/TION' is a visceral and physical investigation of destruction wherein I will perform a multidisciplinary score created by artist Georgina Escobar. Escobar is looking at all facets of Destruction: Fear/Politics, Entropy & Transformation. Including movement pieces, music, spoken word and herbology Georgina alchemizes the beauty and the horrific realities of Destruction in Nature and within our political structures.

The Third Theme 'RE/CLAM/ATION' is an invitation for a favorite writer of mine, Santino DeAngelo a chance to work with Intuitive Collage. Out of this has come a Reclamation Ritual that I will be performing. Santino developed this with witchcraft in mind so it will be both highly theatrical and deeply rooted in my own stepping into the Self through my practice. This piece will move out of the cerebral and into the visceral. The Ritual will contain a song developed by Ada Westfall containing themes of Ego Death and reclaiming of the Self.

Creative team:
Choreographer/Performer: Axh Marie
Concept Development/Writers: Georgina Escobar, Santino DeAngelo & Axh MarieMusical Composition: Ada Westfall

Bios of Creative Team:
Axh Marie is a New Mexico born Queer Interdisciplinary Artist Witch who uses tHEiR work to explore the intersection of surrealist performance and psychic development. She is a self-proclaimed autodidact and works in mediums across performance (acting, dancing, directing, design) creative writing (poetry, playwriting) and spiritual wellness & divination (tarot, palmistry, witchcraft). She received formal training from the University of New Mexico (BA Theatre '13) and Columbia University of New York (MFA Acting '18) and has worked and trained with various companies such as: Theatre Mitu, SITI Company, Shakespeare and Co, Funny School of Good Acting and more. She has also travelled the world to train and work with notable artists such as: Marina Abramovic (Generator, NYC, '14), Yoshito Ohno (workshops, Japan, '11) Eiko and Koma (workshop, New Mexico, '10) Anne Bogart (Columbia U. '18) Ruben Polendo (Workshop, Bangalore, India '17). tHEiR most recent solo RE/VOLU/TION was set to premier at Revolutions International Theater Festival in ABQ,NM but was postponed due to COVID 19. Axh is currently developing this project further and is looking to present in NYC this summer/fall as COVID restrictions change. Axh is also the owner and Divination worker of "Self Sovereign Healing" a collaborative space dedicated to the intersection of art, witchcraft & holistic practice. tHEy reside in Brooklyn, NY.

Georgina Escobar is a playwright and director originally from Ciudad Juarez, Chihuahua. She is a MacDowell Fellow, Djerassi Resident and recipient of the Kennedy Center Darrell Ayers Playwriting Award. Her work has been featured in the Kilroys List, The Texas Review, Los Bárbaros, McSweeney's Anthology, and New Passport Press. Her plays have been produced across the USA and internationally in Mexico, Denmark, and Sweden. Artistic homes and presenters include INTAR, New York Children's Theatre, Project Y, Clubbed Thumb, Lincoln Center, Bushwick Starr (NY), Two Rivers (NJ), Milagro (PDX), Aurora Theatre (GA), and Gregory Hancock Dance Theatre (IN). Recently Escobar penned the book for the upcoming musical Little Duende and is slotted as a librettist alongside composer Linda Bouchard for the opera Onset Was Sudden. Notably, she serves as a Visiting Professor of Practice in Playwriting at the University of Texas at El Paso and was a presenter at the Athens Institute for Education and Research (ATINER), Association for Theatre in Higher Education (ATHE) with "Artistic Ownership and the Frontera Aesthetic", and will be presenting at the upcoming Seventeenth International Conference on Technology, Knowledge, and Society, at University of Melbourne with "Reunión Revolución and Accidental Innovation"Santino DeAngelo is a New York based playwright, composer + lyricist, and producer of musical theater, plays, orchestra, ballet, and film. Described by the New York Times as having a "gift for engaging melodies", Santino's full-length plays and musicals include Foolerie (winner of NYMF 2015 Next Link Project), The Outposters (NYC PrideFest 2019), and Narcissus: An Ancient Roman Pantomime (recorded for television broadcast on PBS/WSKG in 2016). His vocal arrangements appear on Doug Jabara's upcoming album Swing A Song of Sondheim, featuring Broadway legends Sutton Foster, Norm Lewis, and Rachel York. Santino assisted John Weidman on the 2017 off-Broadway revival of Pacific Overtures and was mentored by Alan Menken. Santino works with Tom Kirdahy Productions to preserve and further the incredible legacy of Terrence McNally. MFA Playwriting, Columbia '18. santinodeangelo.com / @santinodeangelo

ADA WESTFALL is a writer, composer, multi-instrumentalist, performer, and proud transgender woman whose mission is to disrupt, interrogate, and diversify the canon, trends, and methodology in the field of music as it intersects all types of performance and the collaborative arts at large. She is experienced at taking on a number of roles often simultaneously (composer, music director, lead actor, onstage musician, et al.) on a wide variety of productions – everything from large-scale commercial spectacle to research-based experimental performance. Career highlights include Another Rose(Virgin Voyages), a 2020 Lucille Lortel Award nomination (Outstanding Musical) for In the Green (Lincoln Center LCT3), Joan of Arc: Into the Fire (The Public Theater), Death of a Salesman (BAM), and a 2010 Drama Desk Award nomination (Outstanding Music in a Play) for A Play On War (The Connelly Theater). She has worked as a guest teaching artist at educational institutions such as NYU, NYU Abu Dhabi, Princeton University, University of the Arts, The American Academy of Dramatic Arts, Mark Morris Dance Center, and Tamagawa University, and she has performed at the Edinburgh Fringe Festival, the Prague Fringe Festival, MESS Festival, the Cairo International Festival for Experimental Theater, across the United States, and the globe: Japan, The United Arab Emirates, Lebanon, Egypt, Bosnia-Herzegovina, Poland, The Czech Republic, Chile, Italy, Mexico, and the UK. During her 15+ years calling New York City home, she has become an Associate Artist with two Brooklyn-based theater companies: Theater Mitu (since 2006) and The Civilians (since 2016) and has performed at fundraisers, galas, and awards shows for The Public Theater, American Conservatory Theater, The MacDowell Colony, NYCLU, The Lilly Awards, Williamstown Theater Festival, The Civilians' Michael Friedman Legacy Fund, Forum for Cultural Engagement, Fresh Ground Pepper, and The Richard Rogers School of the Arts and Technology (P.S. 166). An interview with Ada about her work as arranger, orchestrator, and MD appears in Volume #3 of Musical Theater Today, and she has been featured on podcasts LoveLink and The Rad Dudecast discussing her experience as a trans woman. A member of AEA, AFM Local 802, and BMI, she holds her undergraduate degree in theater from NYU Tisch School of the Arts, where she attended Playwrights Horizons Theater School and CAP 21. Ada resides in Brooklyn, NY where she writes and produces music out of her modest home project studio.