RatStar & Dyer Rhoads
BOUFFON! BOUFFON! BOUFFON!
&nbsp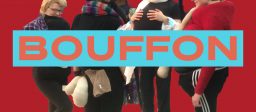 Mar 28-April 5 2020
CORONAVIRUS UPDATE:
In the interest of protecting the health and well-being of our artists and our patrons Bouffon! Bouffon! Bouffon! is closed.
IN RESIDENCE: March 24 – April 6, 2020
Ratstar Industries is proud to present, in partnership with IRT, the Ratstar Residency. Featuring a new play, The Bees by Dyer Rhoads; a late night cabaret of oddities and aberrations, Bouffon! Bouffon! Bouffon!; and a play reading series.
Bouffon! Bouffon! Bouffon!
Two weeks of riotous residence at IRT culminate in a late night cabaret of oddities and aberrations, Bouffon! Bouffon! Bouffon!
Preposterous parody, classy comedy, and mad music abound in a night of new, performer-generated material.
PERFORMANCES: April 4th and 5th
TIME:9pm
LENGTH OF SHOW: 45 min
PRICE: $20.00
At IRT:154 Christopher st. NYC #3B (third floor)
Co-produced by Dyer Rhoads, Chris Holtkamp, and Maddie Milligan
Facilitated and Directed by Dyer Rhoads
Featuring : Bailey Lee, Chris Holtkamp, Ariel Neema Blake, Emily DeForest, Jaevon Williams, Jamie Dawson, Meghan Kimberly Smith, Nadezhda Amé, Fred Hechinger, Siena Werber, Ben Kalish
BIOS
Dyer Rhoads is the artistic director of RatStar Industries. Dyer is a writer, director, teacher, and performer of theatre from Portland, Maine. He has worked with Lincoln Center Education, the Children's Theatre of Maine, The Celebration Barn Theatre, Figures of Speech Theatre Company, Shakespeare & Co, and the North Carolina Symphony.
Dyer seeks to create one-of-a-kind ensembles that perform with spontaneity and pleasure. His work embraces humor, idiosyncrasy, and surprise. He challenges traditional notions of the audience and often includes or implicates them in the work.
In 2016, he co-founded a summer retreat in Walpole, Maine for college aged artists to create new theatre. Over three summers, he grew the residency as its Artistic Director. The program, which came to be known as the Aris Project, hosted over 20 artists, oversaw the development of a range of material, from full length plays to ensemble devising to short films, and presented work at Playwrights Horizons in 2018.
Most recently his new play, Lesson For The Future, premiered at Lincoln Center. Other directing includes Super Trooper, also at Lincoln Center, and We Are Proud To Present a Presentation… by Jackie Sibblies Drury at UNCSA. His play, Humans Ar Peple To, was featured at the Barter Theatre College Playwrights Festival in 2019. His other plays include Space/Toes/Bed, The Bees, and Untitled Foley Studio Play. Dyer graduated from the University of North Carolina School of the Arts School of Drama in 2019. Dyer was also a 2019 William R Kenan Jr Fellow at Lincoln Center Education.www.dyerrhoads.com
Chris Holtkamp Chris is a NYC based actor and recent graduate of the drama program at UNCSA. Recent credits include Lesson for the Future (Slug) at Lincoln Center, Romeo & Juliet (Friar Laurence) at NC Symphony, Balm in Gilead (Fick), We Are Proud to Present… (Actor 3), and Middletown (Various) at UNCSA. He is founding member of The Aris Project, a theatrical summer residency in Maine.
Maddie Milligan Maddie is a New York based producer and arts administrator.  Currently, she is working as a Development Assistant at Playwrights Horizons. Previous experience includes Administrative and Development Fellow at SPACE on Ryder Farm; GM/Finance Intern at the Atlantic Theater Company; Co-Founder and General Manager at a theatrical summer residency, The Aris Project; and Administrative Assistant at UNCSA School of Drama.  Maddie most recently worked as a PR/Marketing Liaison for the US Premiere of Decky Does a Bronco Off-Broadway and is a Producer Alum of The 24 Hour Plays: Nationals.  She also holds a BFA in Acting from UNCSA.
IRT Theater is a grassroots laboratory for independent theater and performance in New York City, providing space and support to a new generation of artists. Tucked away in the old Archive Building in Greenwich Village,  IRT's mission is to build a community of emerging and established artists by creating a home for the development and presentation of new work.
This program is supported, in part, by public funds from the New York City Department of Cultural Affairs in Partnership with the City Council, New York State Council on the Arts, and The Nancy Quinn Fund, a project of ART-NY.
PLEASE NOTE: All sales final and there is no late seating at IRT Theater.
***IRT is a fully wheelchair-accessible facility.***