Lively Productions / Métropole Ink
Paper Dolls
&nbsp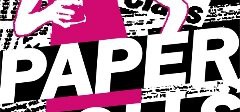 April 28 - May 4, 2008
NYC GOSSIP COLUMNIST CAUGHT IN SEX SCANDAL! By age 29, Claire Cunningham wields one of New York City's most poisonous pens. She has a devilishly handsome boyfriend, a permanent invite to the hottest parties, and the best of Hollywood sources — her brother Austin, a high-grossing action film star. Then a nasty bit of news changes everything. And when Claire's reunion with her ex-assistant, Tammy, turns out to be less than nostalgic, Claire and Austin become gossip targets. Will Claire's steamy sex life hit the front page? Will Austin's career hit the skids? Cue the entrance of a mysterious stranger, Isabel, who knows just a little bit too much about everyone, and this summer the heat will be in the headlines.
Lively Productions and Métropole Ink were proud to present the sold-out PAPER DOLLS as part of the 12th annual New York International Fringe Festival – FringeNYC. In his New York debut, New York Daily News Newsstand Junkie columnist and playwright Patrick Huguenin went behind the scenes of celebrity scandal and brought it to the stage. Gaye Taylor Upchurch directed a cast that won the Fringe award for Outstanding Ensemble which featured Allison Goldberg, Jen Jamula, Billy Magnussen, and Ashley Morris. David Newell served as both costume and scenic designer with Julia Meinwald composing original music. Lucrecia Briceno served as Lighting Designer and Whitney Berry as stage manager. Lisa Siciliano and Shane Marshall Brown of Lively productions and Metropole Ink produced the project.
Patrick Huguenin (Playwright) is a newspaper entertainment writer in New York City. He holds a degree in English from Yale University, where he returned in 2006 on a commission from the Yale Humanities Department for a play based on the love letters of Ben Franklin. This play, Franklin in Love, was presented as part of Yale's celebration of Franklin's tercentennial. Among Huguenin's favorite projects at Yale were the culinary exploration The Death of Julia Child, the interactive murder mystery Blood on the Floor, directed by Lisa Siciliano, and his senior thesis, The End of the World Party, directed by Eli Clark, about the turbulent social lives of the children of the smartest man in the world. Huguenin's play Cry Like the Devil was presented at the Provincetown Playhouse in a series of readings by the O'Neill Studio at Yale. He is a frequent commentator on VH1 and CNN Headline News' Showbiz Tonight.