Katt Lissard/memory lab
Outpost: Letter from Lesotho
&nbsp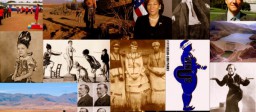 September 7 - October 3, 2010
"I don't quite know what this is, but you have to keep working on it … this thing has legs!" – Ruth Maleczech, about the Outpost performance for Mabou Mines' 2009 Resident Artist Suite
Outpost uses a simple set up (9 chairs, 9 actors, a screen, projections, a bell) and concerns a letter written from Lesotho, southern Africa. The piece begins as a reading, but quickly explodes away from the page as the actors engage with the narrative and the characters it elicits, and with tangents those characters pursue, and with the actors own observations and stories. It's a partially scripted, partially improvised performance piece with infinite narrative possibilities, controlled and not-controlled by the actors – but also controlled and not-controlled by the audience. Ultimate power rests with the little golden bell.
WORKSHOP PRESENTATIONS
OUTPOST: Letter from Lesotho
an experimental conversation
a work in progress
FREE
Saturday, October 2nd at 6pm
Sunday, October 3rd at 4pm
Reservations are not required, but seating is very limited.
For reservations email: memorylab.us@gmail.com
Include your first & last name, # of seats, and which show you would like to attend.
Reservations will be taken until noon on the day of each performance.
Outpost began as a one woman Little Theatre performance at Tonic. A distorted "travelogue" that couldn't quite keep on track, the piece grew to include more actors as the ensemble struggled to find a form that would encompass what was happening to the text, as it became more than just a Westerner's interrupted letter home – the single voice of the letter writer fragmenting into multiple storylines and tangents as she tries to chronicle her experiences in one of our planet's few remaining outposts.
The piece is still evolving. After the 2009 Resident Artist performance, Mabou Mines offered Outpost more development time and space – and in June 2010 the piece was performed again:
We're excited to find out what this next stage of development at IRT will bring. Outpost currently includes: a story from southern Africa, the Unabomber, the Thematic Apperception Test, a U.S. Ambassador, the Venus Hottentot, nature vs. nurture, the Napoleon of Intelligence, Decolonizing the Mind, insider/outsider, the Highlands Water Project, Margaret Mead, Coming of Age in Samoa, Zora Neale Hurston, Heart of Darkness, and Indian captives in the Old West.
memory lab is a loosely connected network of artists who've worked together on each other's projects in a variety of capacities since the 90s. In the past couple of years, core members began to hone in on some ideas we found compelling. Outpost has given us a frame within which to "think about" – via live performance – those ideas. (www.kattlissard.org)
BRIEF BACKGROUND
For the past five years, much of my artistic work/life has been connected to Lesotho, southern Africa. Since January 2005, when I arrived on a Fulbright to teach, research and direct shows at the National University, I've been navigating the tricky cultural terrain of the small, mountainous country and making theatre there.
Lesotho has the 3rd highest HIV infection rate in the world. In response to the pandemic and growing out of my early work there, eight colleagues from four countries (the U.S., U.K., South Africa and Lesotho) came together in 2006 to launch The Winter/Summer Institute (WSI) www.maketheatre.org. As WSI artistic director I've been part of creating ongoing collaborative theatre in Lesotho about HIV/AIDS, involving young performers from three continents and rural villagers from the country's impoverished mountains.
My time in Lesotho has transformed the way I look at and understand certain things. Outpost is an attempt to take those disparate observations, stories, lessons, absurdities and incongruities and make them into performance.
— Katt Lissard
ARTISTS
Cast: Haleh Abghari, Kelly Coffield Park, Nell Del Giudice, Vanessa R. Evans, Audrey Hailes, Hall Hunsinger, Cecil MacKinnon, Dan Shor, Seth Sibanda and Katt Lissard
Director: Gregor Paslawsky
Haleh Abghari is a native of Iran and makes her home in New York City. She has performed and recorded as a singer, actor, and voice-over artist in the U.S., Canada and Europe. The New York Times hailed her work in Georges Aperghis' Recitations for Solo Voice as "a virtuoso and winning performance" Her portrayal of King George III in Eight Songs for a Mad King by Peter Maxwell Davies was cited as one of the "Performances of 2007" by MusicWeb International. In addition to working with numerous living composers, Haleh has collaborated on projects and installation-performance pieces with visual and performance artists, and has worked as a music programmer and host for WNYC/WQXR (NYC's public radio station). Her awards include a Fulbright Scholar Grant to work on the vocal music of György Kurtág in Budapest.
Kelly Coffield Park has been acting in plays, films and television since she was 15. She studied and performed with The Children's Repertory Co., and holds a BFA from Marymount Manhattan College and an MFA from The Goodman School of Drama in Chicago. Although best known for her work on Fox TV's In Living Color, she has had recurring roles on If Not For You, 413 Hope St., Once And Again, and Seinfeld, as well as many guest appearances. Her film credits include Field Of Dreams, Jerry Maguire, The Specials, Scary Movie and Bride Wars. Kelly can be seen in the upcoming films, The One, Hillbilly Highway and The Beaver, directed by Jodie Foster. She lives in Brooklyn with her husband, actor Stephen Park, and their two beautiful kids. She is honored to be a part of this ensemble of artists.
Nell Del Giudice received an MFA in Creative Writing from Long Island University, Brooklyn last spring. She has aims of writing and farming and is very glad to be a part of this round of Outpost.
Vanessa R. Evans is an actor, dancer, playwright, and director based in Harlem. She has worked as an instructor and assistant director in a variety of theatre-based programs including Mindbuilders Creative Arts Team and JCCA's Theatre for Action. In addition, she has been an ensemble cast member of Big Apple Playback Theatre for an upcoming sixth year, acting and "conducting" performances throughout the tri-state area, as well as in New Orleans. She is the owner of the Talking Drum Theatre Arts Program, a youth theatre program that teaches conflict resolution strategies through a fusion of scriptwriting, acting, dance, and poetry. Vanessa is a graduate of SUNY Lehman College with a master's degree in Special Education and is pursuing a license in psychodrama.
Audrey Hailes is a recent graduate of Tisch School of the Arts, Experimental Theatre Wing. A singer, actor, choreographer and dancer, she is excited to be a part this experiment and thanks her family for their healing support.
Hall Hunsinger's most recent appearance was as King Basilio, in new bilingual adaptation by Maria del Puy Navarro Amador of Calderon de la Barca's Life is a Dream (La Vida es Sueño), presented at The Culture Project in a co-production between Amnesty International and The Culture Project. Hall is a long-time actor/collaborator with Conway and Pratt Projects, most notably in A Woman's Work is Never Done. He's also appeared at HB Playwright's Foundation Theatre, Queens Theatre in the Park, P.S. 122, the Vineyard, Ensemble Studio Theatre, Studio Arena Theatre, Nassau Repertory Theatre, Adelphi Festival Theatre, Atlanta Civic Opera, and with Circus Flora's National Tour. Hall's last outpost was in Toronto; he's glad to be back.
Katt Lissard was a 2009-2010 Resident Artist at Mabou Mines Theatre where Outpost was first developed. In 2008, also in IRT's 3B Series, she work shopped Excavation. She was awarded a 2008 Lanesboro Residency to create a performance/installation piece with flood survivors in Minnesota; and received a 2007 Art Matters individual artist grant for her ongoing theatre work in Lesotho, Africa. Katt spent most of 2005 in Lesotho on a Fulbright – teaching in the National University's Theatre Unit, producing and directing plays, and researching the theatrical response to the HIV/AIDS pandemic. As an outgrowth of her work, The Winter/Summer Institute (WSI) was launched in June of 2006, of which she is Artistic Director (www.maketheatre.org). A two time MacDowell Colony fellow, she teaches in the Individualized Masters Program at Goddard College.
Cecil MacKinnon's most recent credits include directing Much Ado About Nothing at the Portland Stage Company and Life is A Dream at the Classical Theatre Festival of Spain. She has performed and directed at Shakespeare and Company extensively; favorites include Comedy of Errors, Merry Wives of Windsor, Love's Labours Lost, and Romeo and Juliet in collaboration with the Buffalo Philharmonic. She was a member of experimental theater companies: Section Ten, The Shaliko Company, in residence at La Mama, and the Manhattan Project. In circus she was a member of the Pickle Family Jugglers which expanded into the Pickle Family Circus. Currently, Cecil directs and performs as white-face clown for Circus Flora, and is an Arts Professor at NYU's Experimental Theatre Wing.
Gregor Paslawsky just appeared in Michele Lowe's Inana at The Contemporary American Theater Festival. He spent most of 2008 and 2009 as the character Rahim Khan in a world premiere production of Khalid Hosseini's The Kite Runner at the San Diego Rep; and then in two subsequent productions at San Jose and Phoenix. A long-time collaborator with Mike Taylor's mixed mess@age, he was part of the ensemble cast for her June 2009 production not knowing at The Kitchen. Gregor is also the fabricator and a co-designer for the performance installations of Conway & Pratt Projects – designing/constructing structural and environmental elements using salvaged materials found near Conway & Pratt's site-specific performance locations. Gregor specializes in melodrama and clown and is teaching at Columbia University this fall.
Daniel Shor, a New York native, spent the last five years directing and teaching in outposts in Saipan, Guam, Hong Kong, and Cebu, Philippines. Prior to that he'd spent two decades in Hollywood as an actor, writer and director in films, television and the theatre. Acting credits include films Air Force One, Bill and Ted's Excellent Adventure and John Huston's Wise Blood; TV films and mini-series Friendly Fire, Elvis and the Colonel and The Blue and the Gray (People's Choice Award). He was a series regular on several TV shows, including as a Ferengi doctor on Star Trek: The Next Generation. In addition to writing the award winning play He Who Gets Slapped, he also co-wrote two screenplays with Czech film director Jiri Weiss. Visit Daniel's video production company at www.ShodaVision.com
Seth Sibanda was born in Alexandra Township, South Africa. He co-founded the experimental multi-racial South African theatre company Workshop '71 and co-authored its first production, Crossroads. Subsequent Workshop '71 productions included uNosilimela, ZZZIP! and uHlanga. In 1977, the company brought the play Survival (which he also co-authored) to the U.S. to perform and tour the West Coast. During the tour Survival was banned by the South African Government, forcing the actors to either return to South Africa and face arrest or be exiled. They stayed. In 1978, Survival was performed in New York where members of the company chose to remain. New York theatre credits include: The Song of Jacob Zulu, Poppie Nongena, Sizwe Banzi is Dead, Brightness Falling, Bloodknot and Born in the R.S.A. Seth is on the staff of St. Clement's.