Peter Macklin
OLIVER AND ME
&nbsp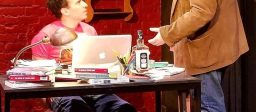 March 2021
IN RESIDENCE: March 2021
Oliver Sipple saved President Ford from Sarah Jane Moore's assassination attempt in 1975. As a result, Oliver's life was ruined because he was outed as gay. It's high time his story gets told and he gets the credit he so rightly deserves– only thing, it's up to the troubled playwright, Me, to write it: Me writes himself into his own play and, there, Oliver and Me have quite the unexpected fast-paced meeting as gay men who both struggle with the time in which they live. Can they help each other survive and find peace?
Artists:
Peter Macklin (playwright, Me)
Ed Valentine (Oliver Sipple)
Eric Nightengale (director)
Bios:
PETER MACKLIN (playwright, Me) Before covid, Peter's play The Right Here, Right Now was to be a part of Bay Street Theater's New Play Festival in May 2020. For now, it's still planned to be a part of their programming but when is uncertain. His first play, Someplace Warm, won the Samuel French Inc. one-act competition and is published by them. It last had a production in Bristol, U.K in 2019. Peter's play Oliver and Me enjoyed a workshop production with The New Circle Theater Company and his play A Beautiful Building had a staged reading directed by Francesca Zambello and produced by The Acting Company. Peter is also the screenwriter of the award winning short film Dinner at 40. During the pandemic, Peter's play Pop was part of a podcast produced by The Ensemble Theater of Chattanooga. Peter was a member writer of Gingold Group's Speaker's Corner, had work workshopped at The Pawling Theater Exchange and continues to be a part of The Playground Experiment. Also an actor, Peter most recently appeared at Barrington Stage's 10×10 New Play Festival where the show ended March 8th, 2020. He's also acted at/with: Baltimore Centerstage, Bard Summerscape, Shakespeare & Company, The Acting Company, Glimmerglass Festival, Alabama Shakespeare Festival, Bay Street Theater, Law & Order SVU and more.
ED VALENTINE (Oliver Sipple) has played Oliver Sipple in Oliver and Me (workshop: New Circle Theatre Company), Estragon in Waiting For Godot (showcase: Abbey Theater, Dublin), Bottom in A Midsummer Night's Dream (Theater At Monmouth Maine), and Renfield in Dracula (The Kraine NYC). In his other life as a television writer, Ed is a 4-time Daytime Emmy winner for his writing on Sesame Street, and has been a story editor and writing workshop leader for Sesame Workshop's co-productions in Afghanistan, Bangladesh, and India. Ed was the head writer of the upcoming animated series Sharkdog (Nickelodeon/Netflix), and has written for Fairly OddParents, Doc McStuffins, My Little Pony: Friendship Is Magic, and many other shows. As a playwright, Ed's works have been performed across the U.S. and in Europe; they include 27 Pigs, Betsy Ross LIES!, and Bunyan's Body. His puppet plays The Séance Project and Lives and Deaths of the Sea Monkeys premiered at the La Mama Puppet Slam in recent years. Ed has been a Dramatists Guild Fellow, a Nickelodeon Writing Fellow, and an Emerging Artist at The O'Neill's National Puppetry Conference. Please check out more of Ed's work at edvalentine.comand cardium.org.
ERIC NIGHTENGALE (director) Recent engagements: Concrete Temple, Anthropological Theatricals, HERE, The Brick, Playfactory Manbangzen, New Circle Theatre, Penguin Rep, Yellow Bomb, Dixon Place, Flint Rep, LaMama, The Acme Corporation, Seoul-New York joint creation video performance of The Waitress and the Robber, available on K-ARTS; film version of KENNEDY: Bobby's Last Crusade, available on Broadway On Demand.
This program is supported, in part, by public funds from the New York City Department of Cultural Affairs in Partnership with the City Council, New York State Council on the Arts, and The Nancy Quinn Fund, a project of ART-NY.