Soul Strata Theater
Of Rivers, Of Days
&nbsp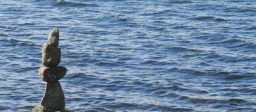 Developing Feb 1-27 | Performances Feb 22-27 2011
A theatrical adaptation of Henry David Thoreau's first book, A Week on the Concord and Merrimack Rivers, performed in movement, song, sign, and the spoken word. With live musical score by Cornelius Dufallo.
Performances:
February 22-27, 8pm // with 2pm matinee Saturday the 26th
IRT: 154 Christopher Street , #3B (3rd floor)
Tickets – $15
Purchase at Brown Paper Tickets
Hank and Jonna (re-interpreted versions of Henry and John Thoreau) set off in "a vessel of spirit placed on the medium of nature"— a journey in a boat handcrafted by the two adventurous siblings to explore the legendary Concord and Merrimack rivers. This duo finds itself guided on a quest to find the means to heal the profound trauma that befell Hank, a great American activist, scientist, and man of letters. Set in the lands that mark the birthplace of the American Revolution, Hank and Jonna experience the ancient ways in which the human soul resonates and interfaces with nature, while witnessing the lives of country folk and the living world's growing relationship with modernization.
An adaptation of the story behind Thoreau's first book, A Week on the Concord and Merrimack Rivers, Of Rivers, Of Days is a journey through the mind of this great writer during his darkest hours. A play with a powerful musical landscape, it challenges conventional theater through movement, song, sign, and the spoken word. The story is framed through the lens of a modern eye, helping to connect the audience to Thoreau's timeless musings.
Of Rivers, Of Days has four central characters – Hank, the brother; Jonna, the sister; their omnipresent guide; and the River they travel on. This River is an original music score composed by Cornelius Dufallo, violinist of the avant-garde string quartet, Ethel.
Soul Strata Theater is a family of theater artists dedicated to helping one another develop artistic voice and vision in an effort to impact the world. www.soulstrata.net
ARTISTS
Danyon Davis is movement teacher at the Juilliard School Drama Division and Circle in the Square Theater School, where he assists Moni Yakim, the Head of Movement and Physical Acting programs. Danyon also teaches private movement classes. Danyon is a veteran regional theater actor. He notably performed with the SITI Company across the United States and Europe from 2001-2006. Danyon was an Artist Resident at studio111, a live/ workspace located in Williamsburg, Brooklyn from 2004-2007, where he began to working on OF RIVERS, OF DAYS and its' companion etude, MONODY. In early 2008, Danyon spent time at the Harveyville Project in Harveyville, Kansas during which he deepened his analysis of movement. In the summer of 2008, Danyon performed MONODY with Abby Gerdts and Ali Sohaili, while hosted by Orlando Pabotoy at California State Long Beach. Danyon and Abby went on to begin development of OF RIVERS, OF DAYS in Los Angeles that summer, and would go on to continue their researches in Istanbul, New York City, and New Hampshire intermittently over the next few years.
Abby Gerdts would like to thank Danyon for all of his dedication to making OF RIVERS OF DAYS come to life – It's been an honor. In 2006, Abby helped to found a non-profit organization called ASTEP (Artists Striving To End Poverty) that seeks to use the arts as a tool to empower young people in underserved communities around the world. She continues to work for ASTEP in New York City and has also implemented similar programming independently in communities in the United States, The Dominican Republic, South Africa, and Turkey. At home and abroad, Abby has performed in plays, musicals, children's theater, and jazz clubs. Abby is a graduate of The Juilliard School's Drama Division.
Ali Sohaili is a member of Soul Strata Theater who also happens to be in his 2nd year of training as a member of the 42nd Group to be admitted to the Juilliard Drama Division. So, he's busy.
Alexandria Wailes has a BFA in Modern Dance from University of the Arts. She was classically trained in dance from the age of three and since university, has choreographed numerous pieces that combine visual/non-verbal expression with contemporary dance. As a Deaf artist, Ms. Wailes always felt at ease with dance and movement. She discovered early on that the communications of the body, through dance, is universal and defies spoken languages.
In 2008, Ms. Wailes was the choreographer for the artist- Sia- and her music video: SOON WE WILL BE FOUND. 2005 premiered NEITHER YOU NOR I, a piece she co-choreographed and performed for Chashama Summer Festival in NYC. During the summer of 2002, one of her choreographies was featured at Deaf Way 2; LUCID FLIP. Between 1999- 2002 She choreographed a few pieces for MSSD'S Winter Dance Concerts and Gallaudet University's Young Scholars Program.
In addition to being well-versed in dance, her professional credits as an actor include Broadway: BIG RIVER; NY/Regional: MOTHER COURAGE (w. Meryl Streep), FETES DE LA NUIT, PIPPIN, THE WILD BOYS, SLEEPING BEAUTY WAKES, BIG RIVER; Television: LAW & ORDER: CRIMINAL INTENT, NURSE JACKIE, CONVICTION; Film: ALWAYS CHASING LOVE, FREEDOM IS NOT FREE. Ms Wailes received a 2007 LA Ovation nomination for 'Best Lead Female in a Musical' for SLEEPING BEAUTY WAKES. In her spare time, she's working on original plays, is a teaching artist for drama/movement, teaches ASL and is an educator at several museums in NYC.
Image by futurestreet (via Flickr)