New Light Theater Project
Darkroom Developed Festival
&nbsp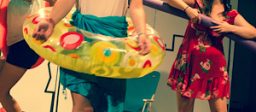 April 10-May 2 2020
CORONAVIRUS UPDATE:
In the interest of protecting the health and well-being of our artists and our patrons Darkroom Developed Festval is closed.
IN RESIDENCE: April 7 – May 4, 2020
Darkroom 16 returns as a low-key arts party presenting five 15-minute selections of material from a curated group of rising indie theater artists in a relaxed environment where networking is prioritized.
The next 3 weekends will highlight 3 exciting new plays that prominently feature our resident artists. The line-up includes: Janie Wants a Dog by Jan Rosenberg; This Wrestling Place based on the novel 'Motherhood' by Sheila Heti & adapted by Sarah Norris & Emma Sandall; Dirty, Dirty by Amy Gijsbers van Wijk
PERFORMANCES:
Old School' Darkroom Series 16
featuring new work from Jessica Kahkoska, Molly Beach Murphy, Iraisa Ann Reilly, Gina Stevensen & Rat Queen Theatre Company
April 10 & 11 at 7:30pm
Janie Wants a Dog
by Jan Rosenberg
April 17 & 18 at 7:30pm
This Wrestling Place
based on the novel 'Motherhood' by Sheila Heti
adapted by Sarah Norris & Emma Sandall
executive produced by Ben Folds
April 24 & 25 at 7:30pm
Dirty, Dirty
by Amy Gijsbers van Wijk
May 1 & 2 at 7:30pm
LENGTH OF SHOW:* All run times approximately 90 minutes, no intermission. *
PRICE: PAY-WHAT-YOU-CAN
At IRT:154 Christopher st. NYC #3B (third floor)
Darkroom 16 (April 10 & 11):
In alphabetical order of playwright, 15-minute snippets of:
Nia
by Jessica Kahkoska
directed by Sarah Wansley with music by Tommy Crawford
Molly Murphy Is Gina Haspel On The Eve of Her Confirmation As The First Female Director of the Central Intelligence Agency
created and performed by Molly Beach Murphy
Good Cuban Girls
by Iraisa Ann Reilly
Untitled Alice in Wonderland Climate Change Project
by Gina Stevensen
directed by Will Steinberger
TBD from Rat Queen Theatre Company
Janie Wants a Dog (April 17 & 18)
By Jan Rosenberg
This Wrestling Place (April 24 & 25):
Based on the novel 'Motherhood' by Sheila Heti
Adapted & Directed by Sarah Norris
Music & Movement by Emma Sandall
Executive Produced by Ben Folds
Dirty, Dirty (May 1 & 2)
By Amy Gijsbers van Wijk
Led by Artistic Director Sarah Norris and Producing Director Michael Aguirre, New Light is an ensemble-driven theater company that strives to support independent and emerging artists by providing and promoting growth opportunities through exposure to New York City audiences. Since 2013, New Light has mounted over 30 productions which have received critical praise including a Sold Out Run and 'Best of EdFringe 2019' (The Stage for Hitler's Tasters), Best of Theater 2014 (The L Magazine for Picture Ourselves in Latvia),TimeOut NY Critics' Pick (Everything is Super Great, The American Tradition, Breeders, and Bubba), resident company of Theatre Row and recipients of The Flea Theater's Anchor Program, Woodstock Byrdcliffe Residency Fellowship, Chicago Dramatists Grafting Project, and the Access Theater Residency Program. New Light is a 501(c)3 organization. Productions at 59E59 include: Hitler's Tasters (East to Edinburgh Festival), Imagining Madoff, Hal & Bee, and Less Than 50%. Follow New Light on Facebook @New Light Theater Project; Twitter @NewLightTheaterProj; Instagram @NewLightTheaterProject; and NewLightTheaterProject.com.
Photo by Jordan Chlapecka
IRT Theater is a grassroots laboratory for independent theater and performance in New York City, providing space and support to a new generation of artists. Tucked away in the old Archive Building in Greenwich Village,  IRT's mission is to build a community of emerging and established artists by creating a home for the development and presentation of new work.
This program is supported, in part, by public funds from the New York City Department of Cultural Affairs in Partnership with the City Council, New York State Council on the Arts, and The Nancy Quinn Fund, a project of ART-NY.
PLEASE NOTE: All sales final and there is no late seating at IRT Theater.
***IRT is a fully wheelchair-accessible facility.***