Neon Caviar & Sarah Todes
Lifetime Supply
&nbsp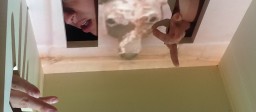 June 23-26 2016
IN RESIDENCE: June 21-27, 2016
Neon Caviar Producing a play created by Sarah Todes in memoriam of 21-year- old set designer Noah Goldstein, killed by hit and run driver June 18th.
"Lifetime Supply" is a live graphic novel; a play supplemented by projected images and animation, that tells the story of Hannah, our isolated protagonist, as she collects a lifetime supply of Acai-Berry supplements in her basement to win back the heart of the man she loves.
When faced with a brutal rejection, Hannah attempts to commit suicide by swallowing all of the pills. Instead of killing her, however, the pills imbue Hannah with powers beyond her wildest imagination as the basement transforms into a jungle landscape of which Hannah is Queen. Plunging into an ocean of Acai, Hannah discovers a world beyond the dark secrets of her past.
Hannah is played by four performers; a different performer takes over each time Hannah makes a life-altering choice, exploring the idea that our choices define us. "Lifetime Supply" looks at the ways we cope with trauma by rebuilding our world from the inside out; the creation and rebirth that so often result from loss.
PERFORMANCES:June 23rd, 24th, 25th, and 26th (Thurs-Sun)
TIME: 8pm
LENGTH OF SHOW: 80 min (approx)
PRICE: $30.00
At IRT:154 Christopher st. NYC #3B (third floor)
The team includes Noah Goldstein (Set), Daniel Loveridge (Lights), Matt Otto (Sound), Steven M. Rotramel (Costumes), Aleksey Nuzhnov (Illustration), Andy Evan Cohen (Projection Coordinator), Kristina Lew (Stage Manager) and Grace Hannoy (Associate Producer).
Starring Gabrielle Adkins, Stephanie Jean Lane, Ashil Lee, and Sarah Todes. Michael Shattner on live Cello; Bob Jaffe on v/o.
Noah Goldstein (Scenic Designer) is a graduate from Fordham University, majoring in Design/Production with an emphasis on set design.Selected Fordham Credits: The Most Massive Woman Wins (SD), An Informal Presentation… (SD), The Mojo and the Sayso (SD), Anna Bella Eema (SD), The Man Who Built His House to Heaven (SD). Professional: ANT Fest 2013 (Ars Nova, PA), Children of the Stars (BPM Nightclub, Video Op), Albert Herring (Hampstead Garden Opera, ASM), Match Play (New York Live Arts, Asst. TD).
Jessi D. Hill (Director) recent and upcoming play development projects include work at New York Theatre Workshop, The Public Theater/Joe's Pub, The Playwrights' Center, Primary Stages, Labyrinth, Ensemble Studio Theatre, and many more. She has been a director in professional training programs at Yale School of Drama, Fordham University, The Eugene O'Neill Theatre Center, Long Island University, Powerhouse/NY Stage & Film, NYU/Tisch, and others. Her work has been seen internationally in Edinburgh, London, New Zealand, Bucharest, Berlin and Hamburg. www.jessidhill.com
Sarah Todes (Playwright, Hannah 2) is the founder of NEON CAVIAR, and a graduate of NYU Tisch through Playwrights Horizons and The Atlantic Theater Company. Current projects include her web comedy series with Diana Oh, "Gwen and Mina's Puppetopia"; an existential comedy about snack foods called "Snak Storeez" most recently performed at Cloud City, Brooklyn, a role in Korean zombie film "Simbi Zombies", and a site specific performance of "Given The Present" directed by Jimmy Maize at the BOSSS festival. www.neoncaviar.com; www.sarahmtodes.com
IRT Theater is a grassroots laboratory for independent theater and performance in New York City, providing space and support to a new generation of artists. Tucked away in the old Archive Building in Greenwich Village, IRT's mission is to build a community of emerging and established artists by creating a home for the development and presentation of new work. Some of the artists we have supported include Young Jean Lee, Reggie Watts and Mike Daisey.
This program is supported, in part, by public funds from the New York City Department of Cultural Affairs, Office of Council Member Corey Johnson and The Nancy Quinn Fund, a project of ART-NY.