Allison Svagdis and Samantha Toy Ozeas | She NYC
Intentions
&nbsp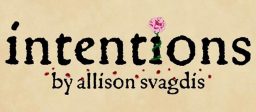 August 5, 2021
IN RESIDENCE: June 26 – July 3, 2021
Intentions tell the story of a young woman in a cyclical pattern of past
relationships in which she unsuccessfully attempts to break out of her unhappiness, all underscored by her mounting courage to confront the sexual assault trauma of her past. As guilt, self-blame, and anger manifest into an inescapable physical adversary, Girl must reclaim her autonomy by facing her demons- inside and out.
Developed by Allison Svagdis and Samantha Toy Ozeas

Bios:
Allison Elaine Svagdis — Playwright, "Her"Allison Svagdis (she/her) is a New York City based playwright and actress, who holds a BFA in Acting from Point Park University. Past credits include The Scarlet Letter, Vinegar Tom and Horse Girls, and various cheeky zoom performances. She'd like to thank SheNYC, the Intentions team, Samantha, Becky and her family for their endless support. allisonsvagdis.com @alli_laine

Samantha Toy Ozeas — DirectorSamantha Toy Ozeas (she/her) is a Chinese-American director and playwright raised in Los Angeles. Her plays have explored themes including PTSD, internet anonymity, racial bias in academic institutions, alt-right hatred, and gendered violence. She has recently been interested in staging theatre in unconventional spaces— parking lots, backyards, parks, etc.Recent work: r/TheRedPill, Park Song, God Has Retired, earth's most customer-centric company, Pride and Prejudice (Santa Cruz Shakespeare)Samantha is currently studying directing at the Carnegie Mellon School of Drama with a minor in Gender Studies. Other interests include watercolors, beekeeping, flower arranging, and walking too fast.More credits at samanthabug.wixsite.com/samanthaozeas and @samo.zeas

Avery Wood — Stage Manager
Avery is delighted to be stage managing Intentions with SheNYC. They are currently pursuing a BFA in Drama at New York University in the Playwrights Horizons studio. Recent stage management credits include Philoctetes, Time-lapse of the Universe, and (a new) Blood Wedding all of which are original plays produced in collaboration with Playwrights Horizons Theatre School. When they're not Stage Managing, they can be found writing and directing in the nearest coffee shop. You can find them on instagram @averyawood.

Lena Banchero — Set DesignerLena Banchero is delighted to be making her New York design debut with Intentions at the SheNYC Festival. She had incredible honor of collaborating with the creator, Allison, to shape the vision of this new work. Her recent design projects include Birds and Beansprouts (New Development), In my Dreams (Carnegie Mellon) and the short film Season of Expectations. She also assisted Carey Xu on Semele (Pittsburgh Opera) and Katherine Sharpless on Into the Woods (Carnegie Mellon). She has worked as a commissioned painter and muralist and currently works in television. In her free time, she enjoys running, reading, and drawing. Find her work at lenabanchero.com, and on Instagram @lenabanchero2

Annie Nguyen — Sound DesignerAnnie Nguyen is an undergraduate sophomore at Carnegie Mellon School of Drama studying Sound Design and Dramaturgy. She calls Houston, Texas home and is grateful for this opportunity to ease back into art-making.

Allie Re — "Girl"Allie Re is thrilled to be making her Off-Broadway and New York theatre debut! Recent credits include Joan in BURDEN OF PROOF (Exit Left). BFA Musical Theatre from the University of Michigan. Big thank you to SheNYC and the INTENTIONS Team for making this first in-person theatrical experience a lovely one! @allierebae

Max Johnson — "A"Max Johnson is a working actor, teaching artist, and deviser based in Washington, DC. He recently appeared in the premier production of Serious Adverse Effects in Baltimore and is excited to be working with such a wonderful company and team in Intentions. More information about Max can be found at his website: maxjohnsonactor.com

Drew Bos — "B/C/D"Drew (he/him) is currently studying at Carnegie Mellon University, where he will be graduating in 2023 with a degree in Acting and Business Administration. He was most recently seen in Bess Wohl's Small Mouth Sounds with Southern Plains Productions, which was among the first unmasked productions in Oklahoma City in 2021. This is his professional New York theatre debut, and he could not be more honored to be a part of the cast of Intentions!

Michael Morley — "Therapist"Michael Morley (Therapist) is thrilled to return to this festival, after being part of the virtualproduction last year. He is currently playing the role of Cecil Cardew in The Importance OfBeing Earnest(ly LGBTQ+) Off Broadway! Some other credits include: The PittsburghPlayhouse: World Premiere of PUMP UP THE VOLUME! (Mark/Hard Harry), Much Ado AboutNothing (Borachio), Reagle Music Theatre: La Cage Aux Folles (Angelique), The Music Man,Anything Goes. Conservatory Credits: The History Boys (Hector), Cabaret (Bobby), Kiss MeKate! (Hortensio). Training: LaGuardia Arts Highschool, B.F.A. Point Park University 2020,Shakespeare & Company '19. Thanks to the creative team, cast, & his wonderful friends and family! www.michaelmorley.net. Please consider making a donation to the trans-led collective, www.forthegworls.party.