Stable Cable Lab Co. in association with The Farm Theater
Hope You Get To Eleven or What are we going to do about Sally
&nbsp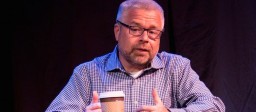 April 25- May 2 2017
IN RESIDENCE: April 18- May 8, 2017
Hope You Get To Eleven or What are we going to do about Sally? is a solo show on the topic of suicide, written and performed by Padraic Lillis and directed by Scott Illingworth. The show is a very personal sharing of the ways of the mind, techniques for survival, and an invitation to talk about an issue that if left unspoken is deadly

PERFORMANCES:
Tuesday, 4/25 at 7pm
Sunday, 4/30 at 7pm
Tuesday, 5/2 at 7pm
LENGTH OF SHOW: 60 minutes (no intermission)
PRICE: $18 in advance, $20 at the door
At IRT:154 Christopher st. NYC #3B (third floor)
Awarded Best Solo Show at Planet Connections Festivity and The Planet Advocate Award for raising awareness and funds for suicide prevention.
"It felt like all of the collective suicidal thoughts that had ever entered the audience's heads came to sit alongside us in the theatre, right next to the ghosts of loved ones who had chosen to exit this life at their own hands. We were immersed in the temporary nature of existence, and it felt cathartic to have the storyteller say out loud our ruminations and impossible questions on choosing to leave our lives too soon. It is a brave work. It's scary and necessary. It will certainly go down on my list of "Perfect Moments." –NYTheatreguide
"Hope You Get to Eleven is an emotionally driven solo piece that discusses things that can be hard to admit. Inspired by his own story, Lillis smartly doesn't tip toe around the subject. He brings dry humor to balance the gravitas. And there is a hell of a lot of gravitas in this play."
–Theaterinthenow.com
Padraic Lillis (playwright/performer) Founding Artistic Director of The Farm The- ater, is an award winning director, published playwright, and educa- tor. This past year Padraic was in- ducted into the Indie Theater Hall of Fame. He was awarded the New York Innovative Theater Award for Outstanding Direction and named New York International Fringe Festival's Outstanding Director. His plays are published with Dramatists Play Services and Indie Theater Now. He was awarded the Dayton Hudson Distinguished Artist Fellowship and a Drama League Directing Fellowship. He served as chairman of the education committee for the internationally recognized Labyrinth Theater Company where he designed and oversaw all of their educational pro- gramming. He taught with NYU's Dramatic Writing Program for over a decade and is a life long Yankee fan.
SCOTT ILLINGWORTH (Director) is a freelance director based in New York City. He is a Member of the Playwrights/Directors Unit at The Actors Studio, serves as Associate Director at Barefoot Theatre Com- pany, and is an Artistic Advisor for The Farm Theater. Scott is an Assistant Arts Professor and Head of Special Projects at NYU's Tisch School of the Arts' Graduate Acting Program and is a regular teacher of Mas- terclasses for LAByrinth Theater Co. He holds an MFA in Di- recting and a BFA in Acting from The Theatre School, DePaul University and is a member of the Stage Directors and Cho- reographers Society (SDC).
Stable Cable Lab Co. is a non-profit organization that strives to create an environment for new work  and theater artists to flourish.  We do this through developmental readings and workshops, ensemble laboratories and training, and productions.  We are dedicated to producing new plays that are intrinsically theatrical, ensemble-driven and bold.
The Farm Theater is a non-profit organization, whose name is inspired by the 'farm' system of baseball, that cultivates early career theater artists through workshops, productions, and mentoring. 
IRT Theater is a grassroots laboratory for independent theater and performance in New York City, providing space and support to a new generation of artists. Tucked away in the old Archive Building in Greenwich Village,  IRT's mission is to build a community of emerging and established artists by creating a home for the development and presentation of new work. Some of the artists we have supported include Young Jean Lee, Reggie Watts and Mike Daisey.
This program is supported, in part, by public funds from the New York City Department of Cultural Affairs, New York State Council on the Arts, and The Nancy Quinn Fund, a project of ART-NY.
PLEASE NOTE: All sales final and there is no late seating at IRT Theater.
***IRT is a fully wheelchair-accessible facility.***