Lucie Pohl/ Jessi D. Hill
Hi, Hitler
&nbsp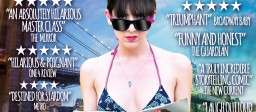 October 22-November 2 2014
IN RESIDENCE: October 21- November 3 2014
Fresh off the heels of a smash hit, sold out Edinburgh Fringe debut, a debut on London's West End and a sold-out off-Broadway preview run at 59E59 , Lucie Pohl brings her 5 star show Hi, Hitler back to New York to IRT. Meet a German-Jew, who grows up in a wild family of artists, is fascinated by der Fuhrer from age four and uprooted from Hamburg to NYC at eight. As Bertolt Brecht's real-life niece, Lucie yearns for normalcy, but being different seems to run in her bloodline and escaping her inherited high-drama-destiny might just be impossible. A pinch of Hitler, a cup of hip hop and a dash of Hasselhoff.
PERFORMANCES:October 22-November 2 2014
TIMES:Wed-Sat at 7:30 & Sun. At 2:30
LENGTH OF SHOW:60 Min.
PRICE:$15.00
At IRT:154 Christopher st. NYC #3B (third floor)
Written and performed by Lucie Pohl
Directed by Jessi D. Hill
Developed in Matt Hoverman's GoSolo Workshop
Sound design by Matt Otto
Made possible with the generous support of NYFA
Lucie Pohl is a German.born NYC raised actor, comedian, writer and solo show performer. Her solo shows Hi, Hitler and Cry Me A Liver have been performed all over the East Coast, the West End in London and the Edinburg Fringe Festival to great critical acclaim. Film: Magi (J-Plan), Not Fade Away (Paramount Vantage), El Cielo Es Azul (Vox3 Films) a.o.. Theatre: Three Graces (Immigrant's Theater Project/3-LD), Alma Mahler: Widow of the 4 Arts (The Los Angeles Theatre), Vocal Migrations (LaMaMa) MFA in Acting from the University of the Arts in Berlin. www.luciepohl.com
Jessi D. Hill is a NYC-based theatre director, producer and Associate Artistic Director of terraNOVA Collective where she co-created and curates the Groundbreakers Playwrights Group and Groundworks new works program. Her latest projects include Virginia Grise's Making Myth (Site-Specific Workshop), Melissa Li and Kit Yan's Interstate: A Musical (Workshop, Dixon Place), Jen Silverman's Wink (terraNOVA Collective), Adam Koplan and Topher Paine's Medicine Showdown (4th St Theatre at NYTW), Alicia Jo Rabins' A Kaddish for Bernie Madoff (Joe's Pub, NYC), We Play for the Gods (co-creator, Women's Project), Andrea Kuchlewska's Human Fruit Bowl (Baruch Performing Arts Center, NY Fringe), Melisa Tien's Refrain (The Wild Project, NYC), Sladjana Vujovic's The Tender Mercies (One Year Lease at Teatro Circulo, NYC), Mia McCullough's Lucinda's Bed (Chicago Dramatists), Alena Smith's It or Her (terraNOVA Collective at ps122, NYC), Jeff Grow's Creating Illusion (terraNOVA Collective at DR2, NYC), Johnna Adams' Angel Eaters (Flux Theatre Ensemble), and others.
Matt Otto is a Composer and Sound Designer based in New York. His recent credits are Square Peg Round Hole for Tectonic Theatre Project (NYC), Wink and Tranquil for TerraNOVA (NYC), and Orestes for Columbia University (NYC) Other regional credits include Stones in His Pockets at Yale Rep (CT), Of Ogres Retold and Secret in the Wings for the Yale Summer Cabaret (CT), Clybourne Park and the world premiere of K of D at Woolly Mammoth Theatre Company (DC), Four of Us at Theatre J (DC), CharloAe's Web at Adventure Theatre (MD), and Johnny Meister and the Stitch with Solas Nua (DC), which earned Matt a Helen Hayes nominaOon in Outstanding Sound Design. Ma# received his BFA from Boston University and his MFA from the Yale School of Drama. More of Ma#'s work can be found at www.mattottosound.com.
Matt Hoverman through his popular solo show workshops, has midwived over a hundred solo shows since 2001, including winners of the 2005, 2009, 2010, 2012 & 2013 FringeNYC Best Solo Show Awards.  As a playwright, his plays include Who You See Here (Optioned for Broadway by Nelle Nugent, producer; Christopher Ashley, director), The Glint; In Transit (FringeNYC Best Playwriting Award), The Student (Samuel French OOB Short Play Festival Winner), The Audience (co-book writer, Drama Desk Best New Musical Award Nominee), Christmas Shorts: 5 Merry Little Comedies (published by Samuel French and quickly becoming a new holiday staple at theatres across the country.) Matt writes for the multi-Emmy Award winning PBS Kids show Arthur. Brown University, BA in Playwriting; UCSD, MFA in Acting.   www.MattHoverman.com
★★★★★ "An absolutely hilarious master class." – The Daily Mirror
★★★★★ "Hilarious and poignant." –One4Review
★★★★★ "Like a Tasmanian devil-chameleon hybrid Pohl is a master of her own unique craft." –Broadway Baby
★★★★ "A fresh breath of comedic air." –Edinburgh Evening News
★★★★ "Destined for stardom." –Metro
"Hilarious and honest." – The Guardian
"Laugh out loud funny…Pohl is a class act!" – The Scotsman
"A truly incredible storytelling comic." –The New Current