#HealMeToo Festival
Let's talk about healing
&nbsp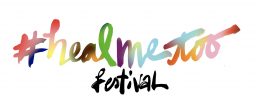 Mar 27-Apr 14 2019
IN RESIDENCE: March 26- April 15, 2019
For three weeks this spring, the #HealMeToo Festival will present performances, panels, workshops and podcasts to create an intersectional space for conversation that inspires healing and cultural change.
In honor of sexual violence awareness month, let's ask how we can heal.
Visit healmetoofest.com for schedule and ticketing, artist lineup, and full event details.
While you're there, join the mailing list!
And follow @healmetoofest on Insta, Twitter, and Facebook to see every announcement.
Please also consider helping to make this extraordinary, nonprofit community event possible, with a tax-deductible donation in any amount to our crowdfunding campaign at: tinyurl.com/helphealmetoo
At IRT:154 Christopher st. NYC #3B (third floor)
TICKETS: Performances: $30, Other events: from $20 to $0!
ABOUT THE #HealMeToo Festival
In 30+ multi-disciplinary performances, extraordinary special events, expert-led workshops, discussion panels and podcasts, we'll raise critical questions about addressing and preventing sexual and gendered violence. We'll also explore many approaches to healing: from activism, to bodywork, to the latest therapeutic advances, to creative writing, art, music and dance.
Our roster of artists boasts award-winning talents, with celebrities and Broadway stars, and members of the #TimesUp and #TheaterToo movements.
Event topics are expected to include:
-Intersectional truth-telling and reconciliation
-Reclaiming intimacy and pleasure after sexual violence
-Restorative approaches to Justice
-How we can advocate to get consent and pleasure taught in sex ed
-Healing through creative writing, art, music and dance
-Identifying "the predator" in the era of #MeToo
-Student activism and community organizing strategies
-Bodywork, neuroscience, and the latest therapeutic advances
-Mindfulness and spiritual practice as tools in healing
The #HealMeToo Festival is founded by Artistic Director and Executive Producer, Hope Singsen, with Managing Producer Charlotte Arnoux, Festival Producer Paige Carter, and Executive Producer Rachel Hills.
IRT Theater is a grassroots laboratory for independent theater and performance in New York City, providing space and support to a new generation of artists. Tucked away in the old Archive Building in Greenwich Village, IRT's mission is to build a community of emerging and established artists by creating a home for the development and presentation of new work. Some of the artists we have supported include Young Jean Lee, Reggie Watts and Mike Daisey.
This program is supported, in part, by public funds from the New York City Department of Cultural Affairs in Partnership with the City Council, New York State Council on the Arts, and The Nancy Quinn Fund, a project of ART-NY.
Learn more at healmetoofest.com
Make a tax-deductible donation: tinyurl.com/helphealmetoo
Follow @healmetoofest on Twitter, Instagram and Facebook
For more information, contact healmetoofestival@gmail.com
PLEASE NOTE: All sales final and there is no late seating at IRT Theater.
***IRT is a fully wheelchair-accessible facility.***