The H-D GROUP
ETHER: The Strange Afterlife of Harry Houdini and Sir Arthur Conan Doyle
&nbsp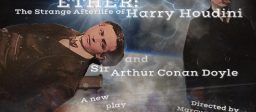 Dec 19-22 2019
IN RESIDENCE: December 17 – 23, 2019
ETHER is a play within a play, a story told with the aid of projections, puppetry, and stage magic. Doyle and Houdini's afterlife is a continuation of a passionate personal war about the nature of life and death. Yet their worlds are contained within the afterlife–our present in abstracted media. Their wives, Bess and Lady Doyle, are aware of this, yet tethered to their husband's worlds. They join forces to resolve the bitter conflict so all can move on. The journey starts with the origins of Houdini's persona, his escapes and Doyle's vocation and revelations. Together they investigate mediums, famous and infamous; Mr. Powell, Margery, Eva C and even Lady Doyle. Each instance they emerge with dramatically opposite narratives. As evidence mounts up. Subjective and objective truths erupt in a transcendent conclusion.
PERFORMANCES: December 19-22, 2019
TIME: 7:30pm
LENGTH OF SHOW: 90 min
PRICE:General $10.00 , Students and Seniors 5.00
At IRT:154 Christopher st. NYC #3B (third floor)
Susan I. Weinstein's plays have been produced by A.C.T., at The Harold Clurman Theater (Something About That Face), read or performed at The Public Theater (WhiteWalled Babes), Trinity Rep & Truant Arts. In 2014 she adapted Anderson's The Little Mermaid, for a Bun Raku production. In 2018 The Wapshot Whatever: The Secret lives of Computer Programs was performed at Dixon Place, as was a staged reading of ETHER's first act (2019). Susan is also the author of The Anarchist's Girlfriend, Paradise Gardens, and Tales of the Mer Family Onyx (Pelekinesis 2018).
Marcus Gualberto (Director)Marcus directed William M. Hoffman's As Is and co-directed Tennessee Williams' Small Craft Warnings for Regeneration Theatre, which he co-founded. Other NY credits include: Richard Curtis' Dead Zone and Lunch with Your Editor (NY Lives Festival). For four consecutive summer seasons with Actors Conservatory Ensemble/TreePeople, he produced and directed An Alfred Hitchcock Radio Play Double Feature (Rebecca and Shadow of a Doubt starring Academy Award nominee Robert Forster; Lifeboat and Strangers on a Train; The Thirty Nine Steps and Suspicion; Mr. & Mrs. Smith and Notorious) at the S. Mark Taper Foundation Amphitheatre. Upcoming NY projects: Quiet Enjoyment by Richard Curtis (October 2019); The Shadow Box by Michael Cristofer (February 2020); and will be co-directing Dennis by Jon Spano (March 2020).
Charlie Kanev (Scenographer) is a New York based puppeteer, puppet and set designer. Past credits include; The Adventures of Maya the Bee, The Cat Who Went to Heaven, Don Cristobal- Billy Club Man, Kung- Fu, Retire for the Evening, AUDL promotional video, Pip's Island. He is currently working on a puppetry adaptation of Hans Christian Andersen's "The Little Mermaid."
Kelley Alogna (stage Manager),stage manager, is working on shows in New York.
Lauren Elizabeth (Bess Houdini) heads her own production company, Street Cirque, which combines traditional stage and circus. Her production, BOUDICCA, was produced at Dixon Place in 2018.
Chelsea Rodriguez (Lady Doyle) is a choreographer & drag performer, who has performed at Dixon Place , Brooklyn Arts Exchange, The Producers' Club, Joyce SoHo. Ballerina Bizet is her stage name for gender fluid drag.
IRT Theater is a grassroots laboratory for independent theater and performance in New York City, providing space and support to a new generation of artists. Tucked away in the old Archive Building in Greenwich Village, IRT's mission is to build a community of emerging and established artists by creating a home for the development and presentation of new work.
This program is supported, in part, by public funds from the New York City Department of Cultural Affairs in Partnership with the City Council, New York State Council on the Arts, and The Nancy Quinn Fund, a project of ART-NY.
PLEASE NOTE: All sales final and there is no late seating at IRT Theater.
***IRT is a fully wheelchair-accessible facility.***