Caborca in association with IATI Theater's Performing Arts Marathon 2012
El correo de la noche
&nbsp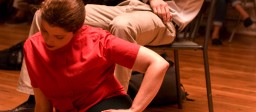 August 2-5, 7pm
In Residence: July 23-August 5, search 2012
A multilingual, stuff interdisciplinary performance resembling a bad dream about a first date on the first night of an ill-planned trip. Presented as a series of vignettes, dances, ruminations and games, the show mines the company's real and imagined experiences of foreign cities at night, plunging into our fear of the unknown. Using multiple languages that are spoken, recorded, and projected, the piece exists between our need to communicate and the obstacles that keep us from doing so.
Performances:
August 2-5, 2012 7pm
At IRT: 154 Christopher st. #3B (third floor)
$18 Tickets
– Running time 1 hour
Co-Directors: 
Javierantonio González
Eloísa Jaramillo
Performers:
Veraalba Santa
Meiyin Wang
David Skeist
Jose "Pepe" Álvarez
Yaremis Felix
Tania Molina

Javierantonio González (Co-Director) holds a BA from the University of Puerto Rico and an MFA in directing from Columbia where he studied under Anne Bogart. He was a member of the Public Theater's Emerging Writers Group in 2010 and 2011. His work has been seen at The Public, Classic Stage Company, Repertorio Español, Teatro IATI, Teatro LATEA, London's CASA Festival, and in numerous theatres in Puerto Rico. His play FLORIDITA, my Love was published in Plays and Playwrights 2011 by New York Theater Experience and he was selected by NYTheatre.com as a "Person of the Year" in 2010.
Eloísa Jaramillo (Co-Director) is an interdisciplinary fine arts investigator and creator. She holds an interdisciplinary Masters in Theater and Live Arts from the Universidad Nacional of Colombia and a Literature degree from Universidad de los Andes. She is a certified instructor of the Biodanza System. Her work has developed in the exploration of the therapeutic and pedagogic dimensions of fine arts and literature. She's a founding member of the Colombian Red Interdiscipinar de Artes Vivas. Recent credits include: Delirio Lear (Teatro Varasanta 2012), Proyecto Tempestad(Festival Impulsos 2011, Festival de Teatro clásico de Almagro 2011), Las Cardinal (II Encuentro de Artes Vivas, 2009), among others.
Led by playwright/director Javierantonio González, CABORCA is an experimental theatre company making plays that move seamlessly between the irreverent and poetic, the personal and political, and the highly entertaining and intellectually challenging – inspired by Brecht's view that to be challenged is also to be entertained. Based in New York City and working in both English and Spanish, our work includes new plays, classical adaptations and devised creations. A gang of sorts, we began working together in 2002 at the University of Puerto Rico, continued collecting at Columbia's MFA Theatre Program, and officially became a company in 2009. CABORCA steals its name from the novel The Savage Detectives, by Roberto Bolaño, in which a magazine of the same name is the official organ of visceral realism. We are Yaremis Félix, Ricardo Hinoa, Erin Koster, Tania Molina, David Skeist, Marcos Toledo and Javierantonio
González.
"A joyous and thrilling work of theatre, one that is full of magic and wonder and surprise. This is a delicious and challenging theatrical adventure of the most exciting and engaging sort."
-Martin Denton, nytheatre.com (on FLORIDITA, my Love)
"There was no time to react. Caborca took me by surprise on an absurd, hilarious and erotic ride."
-SilentAudience, New York (on Barceloneta, at Night)