Reggie Watts / Tommy Smith
Dutch A/V
&nbsp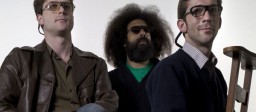 November 27 - December 5, 2009 | Workshop performances Dec 3-5
Catch Dutch A/V in the 2011 Under the Radar Festival
Infused with sonic landscapes performed live by Reggie Watts, physician Dutch A/V is a live-edited environmental film that seeks to replicate the first hand experience of being a flâneur in another city. In March 2009, Reggie — with collaborator/playwright Tommy Smith and Seattle journalist Brendan Kiley — traveled to Holland and shot over 26 hours of footage, exploring its cities using spy-glasses that recorded everything they saw and heard. Dutch A/V seeks to re-present this footage using projection technology and stereophonic sound, turning the walls of interior spaces into portals to a foreign landscape thousands of miles away. Winner of the 2009 MAP Fund Award.
ARTISTS
Reggie Watts (performer, composer, musician, writer) and Tommy Smith (director, writer) create absurd experimental comedic theatricals for modern performance spaces. Transition played at the 2008 Portland Institute for Contemporary Art's Time Based Art Festival, the 2009 Under The Radar Festival at The Public Theater and On The Boards in Seattle; it was also the winner of the 2008 MAP Fund Award and 2009 Creative Capital award. Their previous theater piece Disinformation was seen at the 2008 UTR Festival, PICA: TBA 07, The Museum of Contemporary Art (Chicago) and The Warhol Museum (Pittsburgh). Radio Play premiered at Ars Nova (New York) and will play at the Seattle Rep during Bumbershoot 2009 and Redhouse in Syracuse, March 2010. Reggie and Tommy also regularly host OCCURRENCE, a cabaret of alternative performers, which has been seen at Ars Nova, Galapagos, The Tank, Leftbank (Portland) and various unconventional spaces. All shows are currently touring through the United States of America. They live in Brooklyn and other places. See more of their work at http://reggiewatts.com/theater/.
Dutch A/V Sample:
Photograph by Sabina Theijs; Sample edited by Joby Emmons.