Dirt [contained] Theatre Company in association with The How
Crushing Baby Animals
&nbsp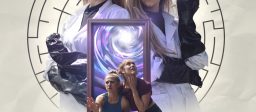 August 6-9 2019
IN RESIDENCE: July 23 – August 19, 2019
Crushing Baby Animals is a new semi-autobiographical play. After sharing a dream, Tana and Maria open up a wormhole that sucks them into a timeless ether where they come face to face with their own antagonistic Dopplegangers, the perils of the human psyche, and the absurd pitfalls of human identity.
PERFORMANCES:
August 6th, 7th, 8th and 9th
TIME: 8pm
LENGTH OF SHOW: 2 hours, including intermission
PRICE: $25
At IRT:154 Christopher st. NYC #3B (third floor)
Cast/Creator: Maria Swisher & Tana Sirois
Associate Producer: Charlotte Meyers
Assistant Director: Landon Alexander
Projection Designer: Taylor Edelle Stuart
Stage Manager: Kristina Voznick
Composer: Marco Baratto
In an ego-driven and narcissistic world, two women possess the distinct anxiety of calling themselves artists. In a last ditch effort before they throw in the proverbial towel and become accountants, the pair begin work on what they hope will be their magnum opus, an ambitious and hellish physical-theatre adaptation of Dante's Inferno. Crushing Baby Animals follows two traumatized women growing up in the millennial age as they accidentally open a cosmic wormhole that sucks them through space, time and the human mind. This meta work takes us on an uncharted and timely adventure through parallel dimensions and personal hells, bringing us face to face with our own antagonistic Dopplegangers, the perils of the human psyche, and the absurd pitfalls of human identity. The play blends physical theatre, multimedia, improvisation, and a healthy dose of humor in a unique artistic experience.
Maria Swisher (creator/performer) studied at New York University and Strasberg Studio for Theatre and Film and graduated with a first class degree from the Liverpool Institute for Performing Arts. Her first play, The Last Eden, was produced with support from the Arts Council England under Dirt [contained] in 2011. In London she co-produced and performed with Craft Theatre Company. In 2016 she had her New York directorial debut with Garden of Delights, also at the Plaxall Gallery with Dirt [contained], which was attended by its 88 year old author, Fernando Arrabal. Acting credits include Elizabeth (When the Rain Stops Falling), Semiramis (The Chairs), Freda Caplan (Dangerous Corner), Mrs. Lovett (Sweeney Todd), Lady (Orpheus Descending) and Estelle (No Exit, Fusion Theatre).
Tana Sirois (creator/performer) graduated from The Liverpool Institute For Performing Arts, with a first class degree in Acting. Directing credits include The Last Eden (The Kazimier), Tomorrow In The Battle (An Ars Nova Fling), Alice In Wonderland (The Players' Ring), and The Yellow Wallpaper (Edinburgh Fringe Festival). Acting highlights include Froggy (Blackbird), Tracy (Seascape With Sharks And Dancer), Nina (Stupid F*cking Bird), Alice (Painted Alice), and Lais in Garden Of Delights, which she also co-produced under Dirt [contained] Theatre Company at The Plaxall Gallery. Tana is the Performing Arts Director for Long Island City Artists Inc., and can also be found touring the country raising money for Planned Parenthood and The ACLU with the musical sketch comedy group, Katie Goodman's Broad Comedy.
"Profoundly rewarding"
– Broadway World
"A feat of rare cerebral physicality"
– HiLoBrow (Garden of Delights)
"Over the top hilarious…worthy of this generation"
– Lime Hawk (Easy Laughter)
"Inventive and inspiring…earnest and thought provoking"
– Made Up Liverpool (Last Eden)
IRT Theater is a grassroots laboratory for independent theater and performance in New York City, providing space and support to a new generation of artists. Tucked away in the old Archive Building in Greenwich Village, IRT's mission is to build a community of emerging and established artists by creating a home for the development and presentation of new work. Some of the artists we have supported include Young Jean Lee, Reggie Watts and Mike Daisey.
This program is supported, in part, by public funds from the New York City Department of Cultural Affairs in Partnership with the City Council, New York State Council on the Arts, and The Nancy Quinn Fund, a project of ART-NY.
PLEASE NOTE: All sales final and there is no late seating at IRT Theater.
***IRT is a fully wheelchair-accessible facility.***