The Arctic Group
Daphne & Pomegrenade
&nbsp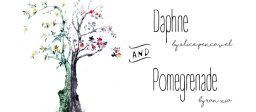 Sep.13– 24 2017
IN RESIDENCE: August 29, 2017- September 25, 2017
DAPHNE: Daphne is a tree. But she wasn't always. In fact, she'd do anything to be human again. Even if it means undergoing the ax… Spun from a love of vegetation and Greek mythology, Daphne is a hero's journey of survival, symbol, and poetic endurance.
POMEGRENADE: Hades wasn't planning to abduct Persephone, but frankly the world isn't much of a safe place lately; to make things worse, Elysium is at capacity with all the refugees pouring in; then there's the matter of Ares, who's been eyeing the resources of the underworld to give his war game a boost.
PERFORMANCES: September 13– September 24, 2017
DAPHNE performs on
14th 8pm, 16th 6pm (Opening), 17th 7pm, 19th 8pm, 21st 8pm, 23rd 8pm, and 24th 3pm.
POMEGRENADE performs on
13th 8pm, 15th 8pm, 16th 8pm (Opening), 17th 3pm, 20th 8pm, 22nd 8pm, 23rd 2pm, and 24th 7pm.
LENGTH OF SHOW:
Daphne- 60 minutes
Pomegrenade- 90 minutes
PRICE: General-$18.00, 9/16 Joint opening package  $32
At IRT:154 Christopher st. NYC #3B (third floor)
Daphne is written by Alice Pencavel
Pomegrenade
Written by Ran Xia
Directed by Ran Xia and Jake Beck
Assistant Director Julia Levine
Composer Kelly Catlin
Performers Include Charlotte Arnoux, Isaac Bush, Finn Kilgore, Lizzy Ana Lincoln, Jordon Waters, etc.
Alice Pencavel: Work includes The Glowing Boot (Best Emerging Actress, United Solo Festival; Portland Fringe Festival), Pie Shop Play (finalist, Bay Area Playwrights Festival), The Dutch Goose (semi-finalist, Eugene O'Neill Playwright's Conference), Totally Wholesome Foods; Bubbles; Nanners in da Face; Oh My God (Politico-Comico reading series); A Box in the Mountains (reading, Naked Angels), Nightmare (Theater in the Room, Kiev, Ukraine), Field Trip: A Climate Cabaret, (Superhero Clubhouse), Nettles (semi-finalist, Manhattan Rep), A Call From the Devil (Oh Force Theatre Co.), Jeans Make Art (Romanian/American New Play Exchange), The Spider & The Wasp; How it Happens; Fly Away; What I Knead; and Yours, Truly (New School). BFA Acting, Ithaca College; MFA Playwriting New School for Drama.
RAN XIA: interdisciplinary dramatist, co-founder of The Arctic Group and co-curator of The Polar Bear Plunge at Lucky Jack's NYC.
Past visual arts projects include Art Takes Times Square, Stories of the Creative (SEE.ME), Dacia Gallery (Times Square Arts Centre), Spiegel Me (Installation at Fountains Foundation, Columbia College, Chicago).
Recent theatre credits include Harmony (a prerecorded virtual audio play), De Profundis, The Enchanted Realm of Rene Magritte (Co-Writer, Exquisite Corpse Company), Wanda, Daisy, & the Great Rapture (Director, Exquisite Corpse Company), Disability (Director, play by Ivan Faute, Planet Connections Festival), Princess Anybody (Dir. Rachel Graf Evans, A physical performance piece/forum theatre), Word Play (Radioactive Festival and Midtown International Theatre Festival 2016), [AI] (An adaptation of Ayn Rand's Novella Anthem at Brick Theater), Baby Fat: Act I (A punk rock opera based on Screeching Weasel's album of same title, Dir. Michael Scholar, Jr. with Columbia Stages and LA MAMA)
"Playwright and director Ran Xia has dropped us into an ocean of darkness and coaxes us toward sound and light in this delicate, dreamlike play… It's a delightful fantasy…"
–– Jacquelyn Claire, NYTheatreGuide
De Profundis's celebration of sound finds its full expression in writer/director Ran Xia's lyrical text … Like the hybrid creatures it evokes, beckons from a dreamlike liminal world…"
—Emily Cordes, Theatre Is Easy
IRT Theater is a grassroots laboratory for independent theater and performance in New York City, providing space and support to a new generation of artists. Tucked away in the old Archive Building in Greenwich Village,  IRT's mission is to build a community of emerging and established artists by creating a home for the development and presentation of new work. Some of the artists we have supported include Young Jean Lee, Reggie Watts and Mike Daisey.
This program is supported, in part, by public funds from the New York City Department of Cultural Affairs, New York State Council on the Arts, and The Nancy Quinn Fund, a project of ART-NY.
PLEASE NOTE: All sales final and there is no late seating at IRT Theater.
***IRT is a fully wheelchair-accessible facility.***