Church of the Millennials
The AMERIKA! Series
&nbsp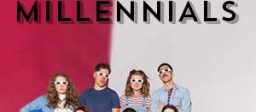 April 3-16, 2018
IN RESIDENCE: April 3-16, 2018
AMERIKA! Episode 3
A professor. a socialite. a newscaster. a housewife. a doctor.
a cul-de-sac.
a message.
an invasion.
Houston, we might have a problem.
After an arduous journey, our Ingenues have landed out West. Will they be seduced by the cameras, or will they succumb to a white picket fence and a 401k? What happens when five strangers have five secrets to keep, and not enough time to mow the lawn before sunset? In a vicious game of who's who, join us for the tumultuous finale of AMERIKA.

PERFORMANCES:
Wednesday, April 11th @ 7:30 PM
Thursday, April 12th @ 7:30 PM
Friday, April 13th @ 7:00 PM
Friday, April 13th @ 9:00 PM
Sunday, April 15th @ 2:00 PM
Sunday, April 15th @ 6:00 PM
PRICE:
$15 General Admission
$30 Reserved Seating–Church Donation
At IRT:154 Christopher st. NYC #3B (third floor)
Created and Performed by Church of the Millennials
Church is operated by ABBY ADLER, ANTONIO IRIZARRY, DANA SAVAGE, KEDIAN KEOHAN and REEVES MORRIS-STAN.
Lighting Design by Ebony Burton
Sound Design by Keenan Hurley
Stage Management by Anya Kopischke
Assisted by Karly Thomas and Asher Simonson
CHURCH OF THE MILLENNIALS is a Brooklyn-based theater company comprised of seven theatrical workers dedicated to the cultivation and conservation of artistic service. Church develops devised material that is carefully curated into bizarre and abstract pastiches. They create original work that incorporates plays, dances, lectures, videos, puppet-shows, happenings and memes.
AMERIKA! Episode 2 premiered at Ars Nova in ANT Fest and AMERIKA! Episode 1 premiered in Upstart Festival at Brooklyn Arts Exchange. As a company, they have presented original work at The Wild Project, Porterspace, Woods Cooperative, and the Richard B. Fisher Center for the Performing Arts. Church has collaborated with Erwin Wurm on One Minute Sculptures (Lehmann Maupin Gallery) and with Marcel Zaes on Landscape 1 – 3 (Residency 108). Its members are also Creative Production Associates on Geoff Sobelle's upcoming piece HOME (Brooklyn Academy of Music, Next Wave Festival).
IRT Theater is a grassroots laboratory for independent theater and performance in New York City, providing space and support to a new generation of artists. Tucked away in the old Archive Building in Greenwich Village,  IRT's mission is to build a community of emerging and established artists by creating a home for the development and presentation of new work. Some of the artists we have supported include Young Jean Lee, Reggie Watts and Mike Daisey.
This program is supported, in part, by public funds from the New York City Department of Cultural Affairs in Partnership with the City Council, New York State Council on the Arts, and The Nancy Quinn Fund, a project of ART-NY.
PLEASE NOTE: All sales final and there is no late seating at IRT Theater.
***IRT is a fully wheelchair-accessible facility.***