Daniel James Belnavis
bye bye self-love, hello pop-tarts
&nbsp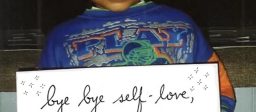 January 24 2022
IN RESIDENCE: January 18 – 24, 2022
bye bye self-love, hello pop-tarts is an interdisciplinary storytelling project conceived by Daniel James Belnavis. It is inspired by both the pain and beauty of his experience as a gay Black man navigating a world steeped in systemic racism, homophobia, and "other debilitating oppressions spawned by patriarchy". Through a series of personal essays, anecdotes, and anthropological examinations, in adjunct with vocal performances and visual media, Daniel will explore topics such as body image, heterosexism, mental illness, systemic racism, normativity (both hetero and homo), disordered eating, Black joy, millennial dating culture, and more. Ultimately, bye bye self-love, hello pop-tarts is about analyzing and confronting the early messages and cognitive distortions that marginalized people internalize from a young age and learning to celebrate the fullness of oneself.
ONLINE WORKSHOP PRESENTATION:
Monday, 1/24 – Email with link to show will be shared
LENGTH OF SHOW: 45 Minutes 
PRICE: FREE

Daniel James Belnavis (he/him) is an award-winning singer, writer, and performer whose voice has been described as "rich and resonant" by The Boston Globe. Theatre credits include HAMILTON: AN AMERICAN MUSICAL (Angelica Company), DREAMGIRLS (International Tour), VIOLET (SpeakEasy Stage Company), IN THE HEIGHTS (The Gallery Players), MEMPHIS (Weathervane Repertory Company), LITTLE SHOP OF HORRORS (Cohoes Music Hall), and FIVE GUYS NAMED MOE (Mason Street Warehouse). Daniel is the recent recipient of the Karen Wendy full Scholarship to the Unicorn Authors Club— a prestigious, online writing community. Montclair, NJ native. BFA in Musical Theatre from the University of Michigan. Social: @danielbelnavis
IRT Theater is a grassroots laboratory for independent theater and performance in New York City, providing space and support to a new generation of artists. Tucked away in the old Archive Building in Greenwich Village,  IRT's mission is to build a community of emerging and established artists by creating a home for the development and presentation of new work.
This program is supported, in part, by public funds from the New York City Department of Cultural Affairs in Partnership with the City Council, New York State Council on the Arts, additional funding provided in part through  Alliance of Resident Theatres/New York (A.R.T./New York)