Caps Lock Theatre and Jack Sharkey
Baby Mama: One Woman's Quest to Give Her Child to Gay People
&nbsp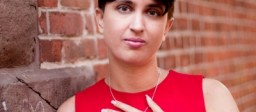 Jan. 5-29 2017
IN RESIDENCE: January 3- 30, 2017
Baby Mama: One Woman's Quest to Give Her Child to Gay People tracks one birth mother's true adoption journey, from conception to placement with the gay couple of her dreams—while still living her life, dating, and attending the occasional orgy. From adoption agencies to vaginal discharge, from burlesque to good­byes, this intimate night of storytelling is up close and personal. Winner of The Dr. Robert J. Thierauf Producer's Pick Award of the Cincy Fringe. Bring hankies.
Written and performed by Mariah MacCarthy
Directed by Sara Lyons
PERFORMANCES: January 5-8, 12-15, 19-22,  25-29
TIME:7pm
LENGTH OF SHOW:70 Min.
PRICE: $25.00
At IRT:154 Christopher st. NYC #3B (third floor)
Mariah MacCarthy (Writer/Performer) has had her work developed and presented at Ensemble Studio Theatre, Rattlestick, Primary Stages, Culture Project, New Dramatists, La MaMa, HERE, Dixon Place, The Brick, Atlantic Stage 2, Fringe NYC, various New York apartments, and Paris. Indie Theater Hall of Fame ("Person of the Year" 2012), PoNY nominee. Plays include Baby Mama: One Woman's Quest to Give Her Child to Gay People (winner of the Dr. Robert J. Thierauf Producer's Pick Award; viewed over 41,000 times on YouTube), Honors Students (Kilroys List Honorable Mention; EST/Youngblood Unfiltered), Safeword (Dixon Place), Magic Trick (FringeNYC and Theatre Row; winner of the Doric Wilson Independent Playwright Award and Lotos Foundation Prize in the Arts and Sciences), Mrs. Mayfield's Fifth-Grade Class of '93 20-Year Reunion ("sweet and boisterous…a lot of fun" -The New York Times), The Foreplay Play (two NYIT Award nominations), Ampersand: A Romeo & Juliet Story (twenty Looking Glass Forum Awards, FringeNYC "Outstanding Performance"), and The All-American Genderf*ck Cabaret ("f*cking brilliant" – Kate Bornstein; performed in Baltimore, Fort Lauderdale, Chicago, and New York). Mariah is a Friend of Flux, a writer-in- residence of The Propulsion Lab, a member of Youngblood and Lather, Rinse, Repeat, Executive Artistic Director of Caps Lock Theatre, and Associate Artistic Director-at- Large of The Brick.
Sara Lyons (Director) is a director, queer and feminist performance-maker, and teaching artist creating new work across performance disciplines. Based in NYC and Pittsburgh, she seeks to explode convention in form and politic, creating work that is critically embodied around issues of gender, sexuality, and race, and engages with contemporary experiences of technology. As a director, performer, and writer her work has been presented at Ensemble Studio Theatre, HERE Arts Center, Fordham University, Culture Project, LaMaMa ETC, Dixon Place, and many more.  She has taught performance and created new work with students of all ages across New York City as well as Mexico and South Africa. Sara holds a B.A. in Theatre and Gender Studies from the University of Wisconsin-Madison; is an alum of DirectorsLabChicago and the EMERGENYC program for political performance-makers at NYU's Hemispheric Institute; and is currently studying for her MFA as a John Wells Directing Fellow at Carnegie Mellon University.
"Sweet and boisterous…and a lot of fun, too." -The New York Times on MacCarthy's Mrs. Mayfield's Fifth-Grade Class of '93 20-Year Reunion
"Hilarious, gross, heartbreaking, courageous. All throughout, you can hear the love in her voice."-Upworthy
"Critic's Pick! Refreshingly bold, completely vulnerable. There's no pretense."-Cincinnati Citybeat
"Brutally truthful, but in ways both refreshing and educational. MacCarthy never at any point loses her intimate connection with the audience. Charming and touching: lighthearted at times, heart-wrenching at others, and not to be missed."– San Diego Reader
IRT Theater is a grassroots laboratory for independent theater and performance in New York City, providing space and support to a new generation of artists. Tucked away in the old Archive Building in Greenwich Village, IRT's mission is to build a community of emerging and established artists by creating a home for the development and presentation of new work. Some of the artists we have supported include Young Jean Lee, Reggie Watts and Mike Daisey.
This program is supported, in part, by public funds from the New York City Department of Cultural Affairs, New York State Council on the Arts, Office of Council Member Corey Johnson and The Nancy Quinn Fund, a project of ART-NY.