anecdota
And Now Is Gone
&nbsp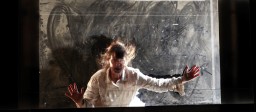 January 25 2016
IN RESIDENCE: January 5-25 2016

" a pair whose theatrical acumen matches the formidability of their subject… there's so much imagination and talent at work here that it makes me look forward with anticipation to what anecdota will be up to next."  BACKSTAGE
anecdota is the artistic partnership of Jill A Samuels and Erica Fae, as well as a shifting ensemble of collaborators.  Creating innovative works mined from historical, visual, and physical research — we employ movement, dance, sound, song, film, video, puppetry and poetry – as each unique project demands.
PERFORMANCES:Invited rehearsal on Monday, Jan 25, 3-4
PRICE: FREE, INVITE ONLY
At IRT:154 Christopher st. NYC #3B (third floor)
TAKE WHAT IS YOURS was a Critics' Pick in the New York Times and Backstage and received glowing notices in The New Yorker, The Huffington Post, and several other publications, as well as a nomination for the American Theater Wing's Henry Hewes Design Award.  It was developed in residency at IRT, NYTW's Readings at 3, New Georges, the Old American Can Factory and with the support of the Foundation for Contemporary Arts, Ms. Magazine, and the Distracted Globe Foundation.  It was the inaugural production of the New OHIO Theater, transferred off-Broadway to 59E59 Theatres, and was reprised at the Living Theater.
 "… a psychological thriller about the woman's suffrage movement… The script … is both horrifying and riveting.  The execution… positively Hitchcockian… terrifying… powerful…"  The New York Times
Jill & Erica are currently writing a mini-series for TV, and have guest-lectured together at Europe's premier film academy, Baden-Wurttemberg in Germany.  Erica also performs on film and TV (most recently in recurring roles on HBO's Boardwalk Empire and Doll & Em).  She also teaches at Yale School of Drama & the New School for Drama, and has just written & directed her first feature film TO KEEP THE LIGHT.  Jill's theater and performance work has appeared in more than 60 venues & festivals, and she has recently produced five exhibitions at The Museum of Modern Art . She is currently researching and writing a series of projects for producers in the U.S. and Europe.
IRT Theater is a grassroots laboratory for independent theater and performance in New York City, providing space and support to a new generation of artists. Tucked away in the old Archive Building in Greenwich Village, IRT's mission is to build a community of emerging and established artists by creating a home for the development and presentation of new work. Some of the artists we have supported include Young Jean Lee, Reggie Watts and Mike Daisey.
This program is supported, in part, by public funds from the New York City Department of Cultural Affairs, Office of Council Member Corey Johnson and The Nancy Quinn Fund, a project of ART-NY.