Hard Sparks
Bareback Ink
&nbsp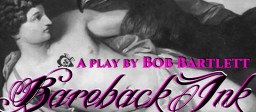 March 4-18 2017
IN RESIDENCE: February 28- March 20, 2017
Looking down from the heavens, Zeus could not take his eyes off the boy, the most beautiful of the race of men. So the king of gods, taking the form of an eagle, descends from a fierce thunderstorm, seizes the Trojan prince and hides him among the stars…
PERFORMANCES:
March 4, 5, 6, 8, 9, 11, 15, 17 at 7pm
March 12, 18 at 3pm
LENGTH OF SHOW: 90 minutes
PRICE: $25.00 for one show
Greco-Roman Special! See BOTH Bareback Ink and The Cabaret At The End Of The World for just $35.
At IRT:154 Christopher st. NYC #3B (third floor)
The Rape and Abduction of Ganymede – in all its celebrated and problematic forms – has been the subject of artists, writers, and thinkers since antiquity, and remains emblematic of the treatment of generations of men and boys at the hands of powerful and sometimes corrupt systems. In Bob Bartlett's modern reimagining of the myth, directed by Obie-winner David Drake and featuring NYIT Award nominees J.Stephen Brantley and Todd Flaherty, Ganymede confronts the complexity of his iconography and comes of age while receiving a large tattoo.
Commanded by a mysterious patron, a young man enters a noirish, purgatory-like tattoo shop where an isolated and withdrawn artist inks the boy's back over the course of several months. Both men are prisoners, one stolen as a boy and ascended to the heavens, the other cast out and fallen to earth. In this erotic tale of desire and possession, Bartlett's modern-day Ganymede – rejected by family, community, and culture – subverts our oldest gay myth by fighting back.
BOB BARTLETT (Playwright) is a DC-based dramatist whose plays include The Orbit of Mercury, Swimming with Whales, happiness (and other reasons to die), The Accident Bear, Falwell, Kuchu Uganda, Greetings from Youngstown and Kansas. His work has been commissioned, produced, and developed at Seven Devils Playwrights Conference, Lark New Play Development Center, Kennedy Center's Page-to-Stage Festival, Theater Alliance, Source Festival, First Draft, Active Cultures, Rorschach Theatre, The Theatre Lab, Iron Crow Theatre Company, The DC Queer Theatre Festival, the Edinburgh, Capital, and Annapolis Fringe Festivals, Bowie State University, and The Welders.
DAVID DRAKE (Director) is an Obie Award winner for his long-running solo show The Night Larry Kramer Kissed Me. He recently helmed J.Stephen Brantley's The Jamb, as well as his acclaimed musical memoir Chicken-Fried Ciccone for the 2014 FRIGID Festival (which received two NYIT Award nominations). David has twice been a directing fellow at Sundance Theater Lab, as well as residencies at DTW and the Kimmel Center. He developed and directed The Be(a)st of Taylor Mac (New York Times, TONY, New Yorker Critic's picks) which played Under the Radar at The Public before an extensive global tour, as well as the world premiere of Mac's Obie Award-winning epic The Lily's Revenge at HERE. David has been the writer and director of Migguel Anggelo's Another Son of Venezuela (NY Magazine Critic's Pick) at Joes's Pub and on international tour.
IRT Theater is a grassroots laboratory for independent theater and performance in New York City, providing space and support to a new generation of artists. Tucked away in the old Archive Building in Greenwich Village, IRT's mission is to build a community of emerging and established artists by creating a home for the development and presentation of new work. Some of the artists we have supported include Young Jean Lee, Reggie Watts and Mike Daisey.
This program is supported, in part, by public funds from the New York City Department of Cultural Affairs, Office of Council Member Corey Johnson and The Nancy Quinn Fund, a project of ART-NY.