IRT Theater, Kennedy Center, Monique Holt & Luane Davis Haggerty
HandShake
&nbsp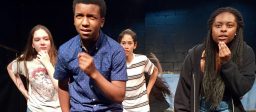 July 15 2017
IN RESIDENCE: July 3- 15, 2017
What happens when Deaf and hearing emerging artists come together to devise new work? IRT's Westside Experiment through a very special John F. Kennedy Center for the Performing Arts VSA brings you a performance of original theater pieces created over a two week development process.
PERFORMANCES: July 15, 2017
TIME: 11am & 1pm
LENGTH OF SHOW: 1hr
PRICE: Pay What You Can
At IRT:154 Christopher st. NYC #3B (third floor)
Featuring:
Jasmin Castillo
Jess Curtin
Amos Flether
Elizabeth Fuire
Kijani Ali Gaulman
Genezieve Gray
Elghin Hebrado
Tysheen Jordan
Danielle Kiminyo
Jack Malaby
Michael Montoya
Justin Muschette
Amato Muschette
Violet Newman
Stardasia Oramas
Nayeli Rodriguez
Danielle  K. Williams
Jojo Barnett
Lead teaching artists include:
Monique Holt- (Lead Teaching Artist) Monique Holt is a performer, director, acting coach, script translator (including Shakespearean text to artistic sign language), visual/tactile interpreter and Director of Artistic Sign Language working with interpreters interpreting the shows. For 8 years, she worked as a teaching artist for MTC/Theatre Education Program and TDF/Theatre Access Project – Education Program. Under TDF, she visited 22 'K-12′ public/private schools and bring the students to see the Broadway matinee shows. Her trainings came from Merce Cunningham, Butoh, Commedia dell'Arte, Grotowski, Visual Gestural Communication (VGC) and Visual Vernacular (VV). She got her BFA in Acting, NYU and MFA in Theatre, Towson University.
Luane Davis Haggerty– (Lead Teaching Artist) Luane Davis Haggerty, Ph.D. is a Senior Lecturer at RIT/NTID in Creative and Cultural Studies. She is a professional actress and has appeared on Broadway as a featured performer. Her Off-Broadway credits include thirteen Gilbert and Sullivan operettas and premieres of works by Robert Patrick and Joyce Carol Oates. Her regional and stock credits range from Shakespeare to Sondheim and she has been heard in a range of commercial voiceovers. Notable awards for her theater work include an Off-Off-Broadway Review award for Best Director in an NYC Showcase, and a Pulitzer nomination for her play "Windows of the Soul."
HONORARY GUEST TEACHERS:
Julia C. Levy is Executive Director of Roundabout Theatre Company. In her 25 years with Roundabout, Julia has guided its growth from a small off-Broadway company to a leading not-for-profit institution. Prior to Roundabout, she held positions at the Boston Symphony Orchestra and Lincoln Center for the Performing Arts. She received her BS the University of Vermont and attended Harvard Business School Executive Education program. She currently serves on the Times Square Alliance Board of Directors and the NYC Department of Education Advisory Council for Arts Education. She is a frequent lecturer on arts management, sponsorship, governance and fundraising.
Alexandria Wailes is a professional actress. Broadway: Spring Awakening (associate choreographer & Adult Woman), Big River. NY/Regional: Mother Courage (with Meryl Streep), A Kind of Alaska, Pippin, Sleeping Beauty Wakes (LA Ovation nomination). Television: Law & Order: Criminal Intent, Nurse Jackie. Film: The Hyperglot. Web Series: High Maintenance, Don't Shoot The Messenger. AT&T's Feel the Music campaign: Walk The Moon's Different Colors. Ms. Wailes is also a member of the Heidi Latsky Dance Company. Besides endeavors within the performing arts fields, she is a museum educator for the Whitney Museum, The Jewish Museum and the Lower East Side Tenement museum.
Kim Weild is a Drama Desk nominated director, whose work has been seen at Lincoln Center Theater, Carnegie Hall, Teatro alla Scala, New York Theater Workshop, Theater Row, Primary Stages, New York Live Arts, Mark Taper Forum and Williamstown Theater Festival. She is the Founding Artistic Director of OUR VOICES, a company dedicated to investigating themes of otherness in society. They created a world premiere American Sign Language production of Pinter's A Kind of Alaska, weaving three forms of ASL into the text. Weild is a Visiting Associate Professor of Theater at Wesleyan University.
This program is provided in 2016-2017 under a contract with the John F. Kennedy Center for the Performing Arts. It is designed to provide enriching career development opportunities to Deaf and Hard-of-Hearing youth through the Westside Experiment.
IRT Theater is a grassroots laboratory for independent theater and performance in New York City, providing space and support to a new generation of artists. Tucked away in the old Archive Building in Greenwich Village,  IRT's mission is to build a community of emerging and established artists by creating a home for the development and presentation of new work. Some of the artists we have supported include Young Jean Lee, Reggie Watts and Mike Daisey.
This program is supported, in part, by public funds from the New York City Department of Cultural Affairs, New York State Council on the Arts, and The Nancy Quinn Fund, a project of ART-NY.
PLEASE NOTE: All sales final and there is no late seating at IRT Theater.
***IRT is a fully wheelchair-accessible facility.***