terraNOVA Collective, One-Eighth & IRT
UBU
&nbsp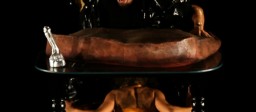 December 4 – 16, 2012
terraNOVA Collective, viagra One-Eighth and IRT Theater are proud to announce the remount of UBU after a highly successful run in the 2012 soloNOVA Arts Festival. Inspired by Ubu Roi, UBU is the King of the Great Expanding Universe who will allow a privileged few into his mansion to watch him eat steak. Along the way, he may play music, read you poetry and tell of his lost loves and purchased politicians – it all depends on the mood of the King. Join this kinetic romp through the absurdist world of the most powerful CEO in the universe.
Performances:
December 4 – 16 , Tuesday – Sunday (Mondays dark) at 8:30pm
Ticket Price: $20.00
Location: IRT Theater, 154 Christopher st. #3B (third floor)
Running time: 1 hour
UBU
Written by Adam Szymkowicz
Directed and Performed by Daniel Irizarry
UBU Servants- Shang-Ho Huang & Homa Hynes
Scenic Design- Mikiko Suzuki Macadams
Sound Design- Marcelo Anez
Lighting Design- Lucrecia Briceno
Assistant Director- Laura Butler Rivera
Puppets- Frankenstudio
Costume Design- Edith Raw
Stage Manager- Zina Goodall
Marketing- David Altman
"…a monster of mammoth size and ravenous appetite, sort of like the Tasmasian Devil on steroids.."
nytheatre.com by Martin Denton
'…Irizarry's singular stage presence and the productions beautifully grotesque little world make this…expanding universe worth a good look.'
New York Theatre Review by Olivia Jane Smith
DANIEL IRIZARRY (Director/ UBU) after UBU, he is directing and performing in 'Cho H Cho' for the 2012 undergroundzero festival at Flamboyán Theater July 11th-15th. Directed Anton Chekhov's 'The Bear', and 'The Festivities' in Seoul, Korea, and a reconstitution of Anton Chekhov's 'The Proposal' for the undergroundzero festival. He was a 2008 & 2011 Mabou Mines Resident Artist. He has taught Acting at Columbia University's MFA Acting Program, The Eugene Lang College, 'Actors without Boarders' at La MaMa, CAVE, German Stat Theater Timisoara, Freie University in Berlin, Syowa Ongaku University Tokyo, The University of Puerto Rico, and Kookmin University in Seoul. This summer he's been invited to teach at The New York Conservatory for Dramatic Arts. Performed and co-directed 'The Orphans' at La MaMa Theater (2011 IT Award nominee for best Choreography/Movement). He is featured in The Feature film 'Asylum Seekers' as Dr. Raby. He holds an MFA in acting from Columbia University and a BA in Drama from the University of Puerto Rico.
ADAM  SZYMKOWICZ (Playwright) Szymkowicz's plays have been produced throughout the U.S., and in Canada, England, The Netherlands, Germany and Lithuania. They are published by DPS and Samuel French. Adam  studied playwriting at Columbia and Juilliard and is a two-time Lecomte du Nouy Prize winner, a member of the Dramatists Guild, Writer's Guild of America, Primary Stages' Dorothy Strelsin New American Writer's Group, and MCC Playwright's Coalition. He was in residence at the William Inge Center and The Chance Theater, received a grant from the CT Commission on Culture & Tourism and was commissioned by South Coast Rep.