Jonny and Troy Schremmer / Dusty Brown
The Ballad of Rusty and Roy
&nbsp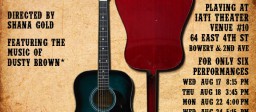 August 16, 2011
The New York International Fringe Festival
FringeNYC
A Production of The Present Company
and Smokin' Holes Theatre Co.
presents
THE BALLAD OF RUSTY AND ROY
By Jonny Schremmer and Troy Schremmer
Music by Dusty Brown
Workshopping at IRT before opening at the New York International Fringe Festival, The Ballad of Rusty and Roy was inspired by Dusty Brown's music. The play is about two half-brothers, both singer/songwriters in their own right, who reconnect after years of a strained relationship. The play creates an environment where the storytelling and songs of these characters combine and creates a unique and moving experience between performer and audience.
Premiering this month at the New York International Fringe Festival. Performances at IATI Theater, August 17-28 (6 shows only!)
Half-brothers Rusty and Roy come from the same Texas trailer park but have little in common besides their guitars and step-dads. Impending fatherhood brings them together again in this screwed-up-family singalong for adult children of alcoholics written by Jonny and Troy Schremmer with music by Dusty Brown, starring Dusty Brown and Troy Schremmer, directed by Shana Gold.
CAST
Dusty Brown and Troy Schremmer
Directed by Shana Gold
Stage Manager Veronica Graveline
Sound Design Shannon Slaton
Lighting Design Jeff Dodson
Fight Choreography Dan Renkin
Authorized Company Representative Mike Marchetta
IATI Theater
64 East 4th Street
(Bowery & 2nd Avenue)
Opening Night: WED 8/17 @ 8:15PM
Performance #2: THR 8/18 @ 3:45PM
Performance #3: MON 8/22 @ 4:00PM
Performance #4: WED 8/24 @ 5:15PM
Performance #5: THURS 8/25 @ 8:15PM
Performance #6: SUN 8/28 @ 1:00PM
More info at: balladofrustyandroy.com and fringenyc.org